Rudolf Buchbinder - The Diabelli Project (Ultimate High Quality CD)
Rudolf Buchbinder - The Diabelli Project (Ultimate High Quality CD)
Mit Werken von:
Ludwig van Beethoven (1770-1827)
,
Lera Auerbach (geb. 1973)
,
Brett Dean (geb. 1961)
,
Toshio Hosokawa (geb. 1955)
,
Christian Jost (geb. 1963)
,
Brad Lubman (geb. 1962)
,
Philippe Manoury (geb. 1952)
,
Max Richter (geb. 1966)
,
Rodion Schtschedrin (geb. 1932)
,
Johannes Maria Staud (geb. 1974)
,
Tan Dun (geb. 1957)
,
Jörg Widmann (geb. 1973)
, Johann Nepomuk Hummel (1778-1837), Friedrich Kalkbrenner (1785-1849), Conradin Kreutzer (1780-1849), Franz Liszt (1811-1886), Ignaz Moscheles (1794-1870), Franz Xaver Mozart (1791-1844), Franz Schubert (1797-1828), Carl Czerny (1791-1857)
und weitere
2 CDs
CD (Compact Disc)
Herkömmliche CD, die mit allen CD-Playern und Computerlaufwerken, aber auch mit den meisten SACD- oder Multiplayern abspielbar ist.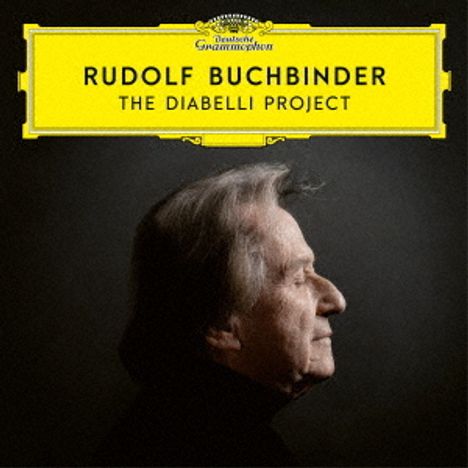 Nur noch 1 Stück am Lager. Danach versandfertig innerhalb von 1-3 Tagen (soweit verfügbar beim Lieferanten)
Beethoven: Diabelli-Variationen op. 120
+Diabelli-Variationen von Hummel, Kalkbrenner, Kreutzer, Liszt, Moscheles, FX Mozart, Schubert, Czerny
+Auerbach: Diabellical Waltz
+Dean: Variation for Rudi
+Hosokawa: Verlust
+Jost: Rock it Rudi
+Lubman: Variation for R. B.
+Manoury: Zwei Jahrhunderte später
+Max Richter: Diabelli
+Schtschedrin: Variation on a Theme of Diabelli
+Staud: A propos de Diabelli
+Dun: Blue Orchid
+Widmann: Diabelli-Variation
Künstler: Rudolf Buchbinder (Klavier)
Label: DGG, DDD, 2019
Bestellnummer:

9829728

Erscheinungstermin: 17.7.2020
*** Japan-Import
Rudolf Buchbinder, einer der profundesten Beethoven-Kenner und -Pianisten, veröffentlicht im Jubiläumsjahr von Ludwig van Beethoven ein besonderes Album.

The Diabelli Project umfasst neben Beethovens Meisterwerk, den kompletten Diabelli Variationen, auch einen Kompositionsauftrag an 11 zeitgenössische Komponisten, darunter Max Richter, Lera Auerbach, Brett Dean, Toshio Hosokawa, Brad Lubman, Tan Dun, Jörg Widmann, die diese Diabelli Variation auf ihre Art und Weise neu deuten sollten.

Rudolf Buchbinder, zu dessen ersten Einspielungen die Diabelli-Variationen gehörten, bezeichnete Beethovens Variationszyklus als eines der kompliziertesten Werke überhaupt, »technisch, geistig und physisch«, als einen »gewaltigen Berg, den man erklimmen muss«. Die Aufnahme des Projekts wird im März 2020 bei der Deutschen Grammophon veröffentlicht.

Im selben Monat findet die Uraufführung der elf Neukompositionen im Wiener Musikverein statt zusammen mit der Aufführung von Beethovens »Veränderungen« und einigen Werken aus Diabellis ursprünglichem Sammelband.
Rezensionen
»Trotz vieler guter Vorgängeraufnahmen: eine neue ›Diabelli‹-Referenz.​« (Stereo, Juli 2020)
Tracklisting

Details

Mitwirkende
Die Hörproben gehören zum Artikel Ludwig van Beethoven (1770-1827): Rudolf Buchbinder - The Diabelli Project (CD). Das Tracklisting kann bei diesem Artikel ggf. abweichen.
Disk 1 von 2 (CD)
33 Piano Variations In C, Op.120 On A Waltz By Anton Diabelli
1 Ludwig van Beethoven: Tema Vivace (Original Version)
2 Ludwig van Beethoven: Variation 1 Alla marcia maestoso (Original Version)
3 Ludwig van Beethoven: Variation 2 Poco allegro (Original Version)
4 Ludwig van Beethoven: Variation 3 L'istesso tempo (Original Version)
5 Ludwig van Beethoven: Variation 4 Un poco più vivace (Original Version)
6 Ludwig van Beethoven: Variation 5 Allegro vivace (Original Version)
7 Ludwig van Beethoven: Variation 6 Allegro ma non troppo e serioso (Original Version)
8 Ludwig van Beethoven: Variation 7 Un poco più allegro (Original Version)
9 Ludwig van Beethoven: Variation 8 Poco vivace (Original Version)
10 Ludwig van Beethoven: Variation 9 Allegro pesante e risoluto (Original Version)
11 Ludwig van Beethoven: Variation 10 Presto (Original Version)
12 Ludwig van Beethoven: Variation 11 Allegretto (Original Version)
13 Ludwig van Beethoven: Variation 12 Un poco più moto (Original Version)
14 Ludwig van Beethoven: Variation 13 Vivace (Original Version)
15 Ludwig van Beethoven: Variation 14 Grave e maestoso (Original Version)
16 Ludwig van Beethoven: Variation 15 Presto scherzando (Original Version)
17 Ludwig van Beethoven: Variation 16 Allegro (Original Version)
18 Ludwig van Beethoven: Variation 17 (Original Version)
19 Ludwig van Beethoven: Variation 18 Poco moderato (Original Version)
20 Ludwig van Beethoven: Variation 19 Presto (Original Version)
21 Ludwig van Beethoven: Variation 20 Andante (Original Version)
22 Ludwig van Beethoven: Variation 21 Allegro con brio - Meno allegro - Tempo I (Original Version)
23 Ludwig van Beethoven: Variation 22 Allegro molto: Alla "Notte e giorno faticar" di Mozart (Original Version)
24 Ludwig van Beethoven: Variation 23 Allegro assai (Original Version)
25 Ludwig van Beethoven: Variation 24 Fughetta Andante (Original Version)
26 Ludwig van Beethoven: Variation 25 Allegro (Original Version)
27 Ludwig van Beethoven: Variation 26 (Original Version)
28 Ludwig van Beethoven: Variation 27 Vivace (Original Version)
29 Ludwig van Beethoven: Variation 28 Allegro (Original Version)
30 Ludwig van Beethoven: Variation 29 Adagio ma non troppo (Original Version)
31 Ludwig van Beethoven: Variation 30 Andante, sempre cantabile (Original Version)
32 Ludwig van Beethoven: Variation 31 Largo, molto espressivo (Original Version)
33 Ludwig van Beethoven: Variation 32 Fuga Allegro - Poco adagio (Original Version)
34 Ludwig van Beethoven: Variation 33 Tempo di minuetto moderato, ma non tirarsi dietro (Original Version)
Disk 2 von 2 (CD)
33 Piano Variations In C, Op.120 On A Waltz By Anton Diabelli
1 Ludwig van Beethoven: Tema Vivace (Original Version)
2 Lera Auerbach: Diabellical Waltz
3 Brett Dean: Variation for Rudi
4 Toshio Hosokawa: Verlust
5 Christian Jost: Rock it Rudi
6 Brad Lubman: Variation for R.B.
7 Philippe Manoury: Zwei Jahrhunderte später
8 Max Richter: Diabelli
9 Rodion Schtschedrin: Variation on a Theme of Diabelli
10 Johannes Maria Staud: A propos de Diabelli
11 Tan Dun: Blue Orchid
12 Jörg Widmann: Diabelli-Variation
13 Johann Nepomuk Hummel: Var. 16 for Anton Diabelli's Waltz
14 Friedrich Kalkbrenner: Var. 18 for Anton Diabelli's Waltz
15 Conradin Kreutzer: Var. 21 for Anton Diabelli's Waltz
16 Franz Liszt: Var. 24 for Anton Diabelli's Waltz
17 Ignaz Moscheles: Var. 26 for Anton Diabelli's Waltz
18 Franz Xaver Mozart: Var. 28 for Anton Diabelli's Waltz
19 Franz Schubert: Var. 38 for Anton Diabelli's Waltz
20 Carl Czerny: Var. 6 for Anton Diabelli's Waltz
Mehr von Deutsche Grammophon