Tears For Fears: Rule The World: The Greatest Hits
Rule The World: The Greatest Hits
2 LPs
LP (Long Play)
Die gute alte Vinyl - Langspielplatte.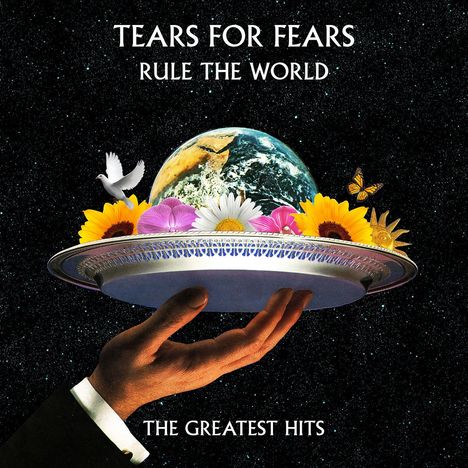 Vinyl liefern wir innerhalb Deutschlands immer portofrei.
Label: Virgin
Bestellnummer:

7831963

Erscheinungstermin: 1.12.2017
Weitere Ausgaben von Rule The World: The Greatest Hits
*** Gatefold Cover
Gesamtverkaufsrang: 6802
Verkaufsrang in LPs: 2380
Alte Hits, neue Songs
Seit 36 Jahren gestalten Tears For Fears nun schon die Musikwelt mit. Zeit, um einmal zurückzublicken. 2017 präsentiert das britische Synthie-Pop-Duo deshalb eine neue Best-of-Kompilation. Hier ist »Rule The World – The Greatest Hits«.

Auf der CD bzw. Doppel-LP versammeln Roland Orzabal und Curt Smith 14 ihrer größten Hits aus drei Dekaden und allen sechs Studioalben. Dazu gehören auch die beiden Nummer-eins-Singles »Shout« und »Everybody Wants To Rule The World«.

Außerdem warten auf »Rule The World – The Greatest Hits« noch zwei brandneue Tracks: »Stay« und die erste Singleauskopplung »I Love You But I'm Lost« – das erste neue Material der Band seit rund zwölf Jahren.

Die größten Hits und zwei großartige neue Songs auf einem Album: »Rule The World – The Greatest Hits« von Tears For Fears.


LP
1 Everybody wants to rule the world
2 Shout (7" Edit)
3 I Love You But I'm Lost
4 Mad world
5 Sowing the seeds of love
6 Advice for the young at heart
7 Head over heels
8 Woman in chains (Album Version)
LP
1 Change (Radio Edit)
2 Stay
3 Pale Shelter (2nd Single Version)
4 Mothers talk (U.S. Remix)
5 Break it down again
6 I Believe
7 Raoul and the kings of spain
8 Closest thing to heaven (Album Version)