Tears For Fears: Rule The World: The Greatest Hits
Rule The World: The Greatest Hits
CD
CD (Compact Disc)
Herkömmliche CD, die mit allen CD-Playern und Computerlaufwerken, aber auch mit den meisten SACD- oder Multiplayern abspielbar ist.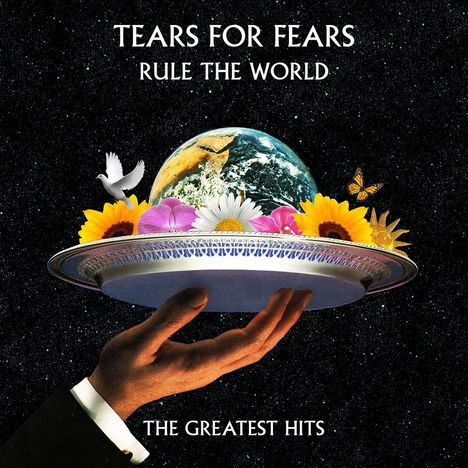 Label: Virgin
Bestellnummer:

7831939

Erscheinungstermin: 10.11.2017
Weitere Ausgaben von Rule The World: The Greatest Hits
Gesamtverkaufsrang: 9828
Verkaufsrang in CDs: 4580
Alte Hits, neue Songs
Seit 36 Jahren gestalten Tears For Fears nun schon die Musikwelt mit. Zeit, um einmal zurückzublicken. 2017 präsentiert das britische Synthie-Pop-Duo deshalb eine neue Best-of-Kompilation. Hier ist »Rule The World – The Greatest Hits«.

Auf der CD bzw. Doppel-LP versammeln Roland Orzabal und Curt Smith 14 ihrer größten Hits aus drei Dekaden und allen sechs Studioalben. Dazu gehören auch die beiden Nummer-eins-Singles »Shout« und »Everybody Wants To Rule The World«.

Außerdem warten auf »Rule The World – The Greatest Hits« noch zwei brandneue Tracks: »Stay« und die erste Singleauskopplung »I Love You But I'm Lost« – das erste neue Material der Band seit rund zwölf Jahren.

Die größten Hits und zwei großartige neue Songs auf einem Album: »Rule The World – The Greatest Hits« von Tears For Fears.


Rezensionen
»Dabei präsentiert diese Zusammenstellung nicht nur die großen Hits wie ›Shout‹, ›Mad World‹, ›Head Over Heels‹, ›Woman In Chains‹ und ›Everybody Wants To Rule The World‹, sondern auch zwei brandneue Titel.​ Während das als Single ausgekoppelte ›I Love But I'm Lost‹ als kraftvolles Energiebündel daherkommt, ist ›Stay‹, die zweite Neukomposition, ein gefühlvoller Akustiksong.​« (Good Times, Dezember 2017/Januar 2018)
Disk 1 von 1 (CD)
1 Everybody Wants To Rule The World
2 Shout
3 I Love You But I'm Lost
4 Mad World
5 Sowing The Seeds Of Love
6 Advice For The Young At Heart
7 Head Over Heels
8 Woman In Chains (feat. Oleta Adams)
9 Change
10 Stay
11 Pale Shelter
12 Mothers Talk
13 Break It Down Again
14 I Believe
15 Raoul And The Kings Of Spain
16 Closest Thing To Heaven