The Offspring: Rise And Fall, Rage And Grace (7"-Single: 45 RPM) (Limited 15th Anniversary Edition) (Clean Lyrics)
Rise And Fall, Rage And Grace (7"-Single: 45 RPM) (Limited 15th Anniversary Edition) (Clean Lyrics)
1 LP, 1 Single 7"
LP (Long Play)
Die gute alte Vinyl - Langspielplatte.
Single 7''
Die gute alte Vinyl –Single.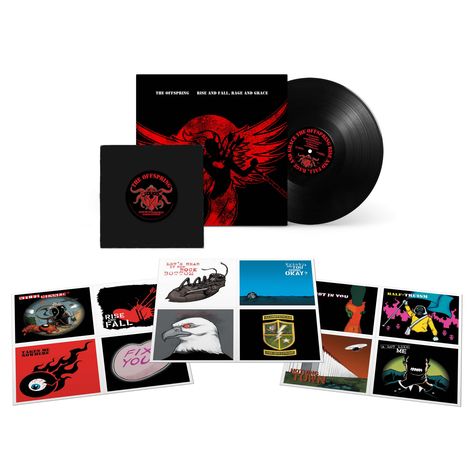 Vinyl liefern wir innerhalb Deutschlands immer portofrei.
Label: Universal, 2008
Bestellnummer:

11473157

Erscheinungstermin: 16.6.2023
Weitere Ausgaben von Rise And Fall, Rage And Grace
*** Gatefold Cover
Die 15-Jahres-Jubiläumsausgabe von »Rise and Fall, Rage and Grace« enthält eine 45er-Bonus-7" mit zwei neuen Live-Tracks vom Hellfest, ein neu gestaltetes Album-Cover und Kunst-Lithos zu jedem Song.
Die Hörproben gehören zum Artikel The Offspring: Rise And Fall, Rage And Grace (Explicit) (CD). Das Tracklisting kann bei diesem Artikel ggf. abweichen.
LP
1 Half-Truism
2 Trust In You
3 You're Gonna Go Far, Kid
4 Hammerhead
5 A Lot Like Me
6 Takes Me Nowhere
7 Kristy, Are You Doing Okay?
8 Nothingtown
9 Stuff Is Messed Up
10 Fix You
11 Let's Hear It For Rock Bottom
12 Rise And Fall
Single 7"
1 You're Gonna Go Far, Kid (Live At Hellfest, 2022)
2 Hammerhead (Live At Hellfest, 2022)