The Beatles: 1 (Limited Deluxe Edition)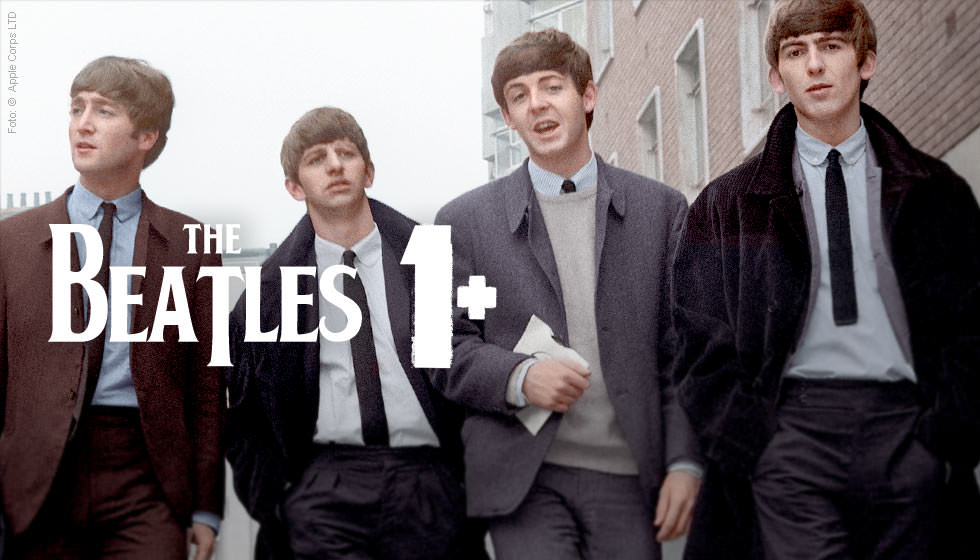 27 Hits, 27 Videos
Zum ersten Mal in der Geschichte der Beatles erscheinen mit »1« alle Musikvideos und Promotionfilme ihrer 27 Nummer-1-UK- und US-Singles auf einer DVD bzw. Blu-ray Disc. Von »Love Me Do« über »Penny Lane« bis hin zu »Yellow Submarine« und »Let It Be« bietet die Sammlung einen spektakulären Einblick in die filmische Geschichte der legendären Band.

Dafür wurden alle Videos höchst aufwendig restauriert und neu gemastert und erscheinen nun in nie dagewesener Bild- und Tonqualität. Die Deluxe Edition enthält zudem weitere Videos mit alternativen Versionen aber auch selten gezeigtes Film- und Videomaterial.

1 (Limited Deluxe Edition)
1 CD, 2 DVDs
CD (Compact Disc)
Herkömmliche CD, die mit allen CD-Playern und Computerlaufwerken, aber auch mit den meisten SACD- oder Multiplayern abspielbar ist.
DVD
Die meisten angebotenen DVDs haben den Regionalcode 2 für Europa und das Bildformat PAL. Wir bieten aber auch Veröffentlichungen aus den USA an, die im NTSC-Format und mit dem Ländercode 1 auf den Markt kommen. Dies ist dann in unseren Artikeldetails angegeben.
Label: Apple
Bestellnummer:

8359553

Erscheinungstermin: 6.11.2015
Filmausschnitte/Videotrailer
Sound:PCM Stereo/Dolby Digital 5.1/DTS 5.1;Bild:16:9/NTSC;Ländercode:All;
Laufzeit:205 Min.
Gesamtverkaufsrang: 8255
Verkaufsrang in CDs: 3355
Die Beatles »Nummer-1-Filmografie«

Nachdem die Beatles ihre letzte Tournee gespielt hatten und es sich als unmöglich erwies, rund um die Welt zu reisen, um neue Veröffentlichungen zu promoten, nutzte die Band zunehmend das Medium so genannter »Minispielfilme«. Diese wegweisenden Promotionfilme und Videos haben einen wesentlichen Einfluss gehabt auf die Art und Weise, wie wir heutzutage Musik visuell wahrnehmen.

Die hier präsentierten Filmarbeiten begleiten nun die 27 No. 1 UK- und US-Singles. Diese neu restaurierte und erweiterte The Beatles »1« wird in unterschiedlichen Konfigurationen am 6. November von Apple Corps Ltd / UMG weltweit veröffentlicht.

Jeweils 27 Tracks umfassen die CD, DVD oder Blu-ray und stellen jedem Song ein umfassend restauriertes Video zur Seite. Alle Songs erscheinen im neuen Stereo- sowie 5.1-Dolby-Digital- und DTS-HD-Surround-Mix. Das Set mit CD und zwei DVDs bzw. zwei Blu-rays enthält insgesamt 50 Promotionfilmen und Videos mit einer Gesamtlänge von über 200 Minuten (inkl. Buch). Auf einer weiteren Disk gibt es nochmals 23 Videos mit alternativen Versionen aber auch selten gezeigtes Film- und Videomaterial. Die einfache, 27 Tracks umfassende Audio-CD enthält ebenfalls die neuen Stereo-Mixe.

So hat man The Beatles noch nie gesehen: alle Nummer-1-Hits komplett restauriert. Ein wahres Fest zum Fest für die deutschen Beatles Fans!
Rezensionen

»50 mal Freude: das satteste Beatles-Bewegtbild-Package ever.« (musikexpress, Dezember 2015)
Disk 1 von 3
1 Love Me Do
2 From Me To You
3 She Loves You
4 I Want To Hold Your Hand
5 Can't Buy Me Love
6 A Hard Day's Night
7 I Feel Fine
8 Eight Days A Week
9 Ticket To Ride
10 Help!
11 Yesterday
12 Day Tripper
13 We Can Work It Out
14 Paperback Writer
15 Yellow Submarine (Revolver Version)
16 Eleanor Rigby
17 Penny Lane
18 All You Need Is Love (Magical Mystery Tour Version)
19 Hello, Goodbye
20 Lady Madonna
21 Hey Jude
22 Get Back
23 The Ballad Of John And Yoko
24 Something
25 Come Together
26 Let It Be
27 The Long And Winding Road
Disk 2 von 3
1 Love Me Do
2 From Me To You (Live Royal Variety Performance / 10th November 1963)
3 She Loves You
4 I Want To Hold Your Hand
5 Can't Buy Me Love
6 A Hard Day's Night (With Spoken Word Intro / Live)
7 I Feel Fine (Version 1)
8 Eight Days A Week
9 Ticket To Ride
10 Help!
11 Yesterday (With Spoken Word Intro / Live)
12 Day Tripper (Version 2 / Black Outfits)
13 We Can Work it Out (Version 2 / Black Outfits)
14 Paperback Writer (Version 1 / Chiswick Park)
15 Yellow Submarine (Re-edited / From " Yellow Submarine")
16 Eleanor Rigby (From "Yellow Submarine")
17 Penny Lane
18 All You Need Is Love
19 Hello, Goodbye (Version 1)
20 Lady Madonna (Version 2)
21 Hey Jude
22 Get Back (1969 Promo Clip)
23 The Ballad Of John And Yoko
24 Something
25 Come Together
26 Let It Be (1970 Promo Clip)
27 The Long And Winding Road (From "Let It Be" / No Strings)
Disk 3 von 3
1 Twist And Shout
2 Baby It's You (1995 Promo Clip)
3 Words Of Love (2013 Promo Clip)
4 Please Please Me
5 I Feel Fine (Version 2 / I Feel Fried Version)
6 Day Tripper
7 Day Tripper (Version 3 / White Outfits)
8 We Can Work it Out (Version 3 / White Outfits)
9 Paperback Writer (Version 2 / Abbey Road / Colour)
10 Rain (Version 1 / Chiswick Park)
11 Rain (Version 5 / New Edits Of Versions 3 & 4 / Abbey Road / Black & White)
12 Strawberry Fields Forever
13 Within You Without You / Tomorrow Never Knows
14 A Day In The Life
15 Hello, Goodbye (Version 2)
16 Hello, Goodbye (Version 3)
17 Hey Bulldog (1999 Edit)
18 Hey Jude (Mix Of Versions 2 & 3 / David Frost Medley)
19 Revolution (Version 2)
20 Get Back (Naked Version 2003)
21 Don't Let Me Down (Naked Version 2003)
22 Free As A Bird
23 Real Love