Joe Jackson: Live At Rockpalast 1980 & 1983
Live At Rockpalast 1980 & 1983
2 CDs, 2 DVDs
CD (Compact Disc)
Herkömmliche CD, die mit allen CD-Playern und Computerlaufwerken, aber auch mit den meisten SACD- oder Multiplayern abspielbar ist.
DVD
Die meisten angebotenen DVDs haben den Regionalcode 2 für Europa und das Bildformat PAL. Wir bieten aber auch Veröffentlichungen aus den USA an, die im NTSC-Format und mit dem Ländercode 1 auf den Markt kommen. Dies ist dann in unseren Artikeldetails angegeben.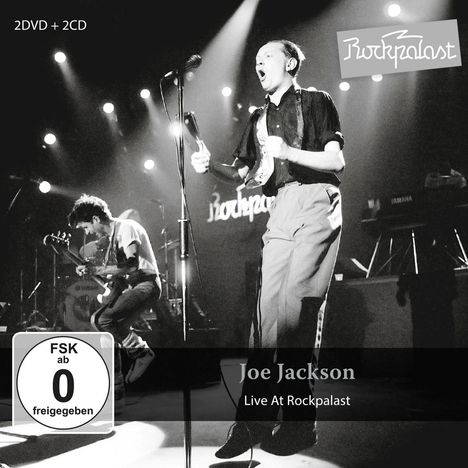 Nur noch 1 Stück am Lager. Danach versandfertig innerhalb 1-2 Wochen (soweit verfügbar beim Lieferanten)
Label: MIG
FSK ab 0 freigegeben
Bestellnummer:

3443930

Erscheinungstermin: 1.7.2016
Serie: Live At Rockpalast
Filmausschnitte/Videotrailer
DVDs:Sound:PCM Stereo/Dolby Digital 5.1;Bild:4:3;Laufzeit:266 Min.
*** Digipack
Gesamtverkaufsrang: 25196
Verkaufsrang in CDs: 11640
Ein weiterer Meilenstein in der mittlerweile zum Markenzeichen generierten »Rockpalast«-Serie des Hannover Labels MIG. »Live At Rockpalast« enthält je zwei DVDs und CDs. Auf diesen gibt es Joe Jacksons Konzerte im Kölner WDR-Studio (März 1980), in der Hamburger Markthalle (Februar 1983) sowie bei der »Rocknacht« in der Essener Grugahalle (April 1983) zu sehen und zu hören.

Damit stellt die Box ein Zeitdokument dar, das nicht nur den Anfang von Jacksons Karriere beleuchtet, sondern diesen auch im Zenit seines Schaffens zeigt. Für sein zweites Album »I'm The Man«, das 1979 erschienen war, posierte Jackson als Schwarzmarktverkäufer und sang Lieder von Zorn und Rache, ergänzt um wunderbare Balladen wie »It's Different For Girls« und »Amateur Hour«. Die Latino-Rhythmen von »Target«, »TV Age« und »Another World« begeisterten das Publikum zu einer Zeit, als von Weltmusik noch nicht die Rede war.

Der triumphale Auftritt in der Grugahalle beschloss Jacksons erfolgreichste Schaffensperiode. Sein Medley aus Motown-Klassikern – »Tears Of A Clown«, »Uptight«, »Heatwave« – entstand, bevor sich Phil Collins und Konsorten an diesem großen Erbe versuchten. Sämtliche Aufnahmen wurden für die Veröffentlichung komplett neu auf Grundlage der originalen 24-Track-Tapes gemischt.
Disk 1 von 4 (CD)
1 On Your Radio (Grugahalle Essen, Germany, 1983)
2 Another World (Grugahalle Essen, Germany, 1983)
3 Sunday Papers (Grugahalle Essen, Germany, 1983)
4 Look Sharp (Grugahalle Essen, Germany, 1983)
5 Breaking Us In Two (Grugahalle Essen, Germany, 1983)
6 Is She Really Going Out With Him (Grugahalle Essen,Germany,April 16th/1
7 Target (Grugahalle Essen, Germany, 1983)
8 TV Age (Grugahalle Essen, Germany, 1983)
9 Tuxedo Junction (Grugahalle Essen, Germany, 1983)
10 Steppin' Out (Grugahalle Essen, Germany, 1983)
11 Beat Crazy (Grugahalle Essen, Germany, 1983)
12 One More Time (Grugahalle Essen, Germany, 1983)
13 A Slow Song (Grugahalle Essen, Germany, 1983)
14 Uptight (Grugahalle Essen, Germany, 1983)
15 The Tears Of A Clown (Grugahalle Essen, Germany, 1983)
16 I'm Gonna Make You Love Me (Grugahalle Essen,Germany,April 16th/17th 19
17 How Sweet It Is To Be Loved By You (Grugahalle Essen,Germany,April 16th
18 Heatwave (Grugahalle Essen, Germany, 1983)
19 Uptight (Reprise) (Grugahalle Essen, Germany, 1983)
20 I'm The Man (Grugahalle Essen, Germany, 1983)
Disk 2 von 4 (CD)
1 Friday (WDR Studio Cologne, 1980)
2 Mad At You (WDR Studio Cologne, 1980)
3 Kinda Kute (WDR Studio Cologne, 1980)
4 Out Of Style (WDR Studio Cologne, 1980)
5 The Harder They Come (WDR Studio Cologne, 1980)
6 Fools In Love (WDR Studio Cologne, 1980)
7 Is She Really Going Out With Him (WDR Studio Cologne, 1980)
8 Don't Wanna Be Like That (WDR Studio Cologne, 1980)
9 Cancer (Markthalle Hamburg 1983)
10 Real Men (Markthalle Hamburg 1983)
11 Cosmopolitan (Markthalle Hamburg 1983)
12 Beat Crazy (Markthalle Hamburg 1983)
13 Motown Medley (Markthalle Hamburg 1983)
Disk 3 von 4 (DVD)
1 On Your Radio (Grugahalle Essen, Germany, 1983)
2 Another World (Grugahalle Essen, Germany, 1983)
3 Sunday Papers (Grugahalle Essen, Germany, 1983)
4 Look Sharp (Grugahalle Essen, Germany, 1983)
5 Breaking Us In Two (Grugahalle Essen, Germany, 1983)
6 Is She Really Going Out With Him (Grugahalle Essen,Germany,April 16th/1
7 Target (Grugahalle Essen, Germany, 1983)
8 TV Age (Grugahalle Essen, Germany, 1983)
9 Tuxedo Junction (Grugahalle Essen, Germany, 1983)
10 Steppin' Out (Grugahalle Essen, Germany, 1983)
11 Beat Crazy (Grugahalle Essen, Germany, 1983)
12 One More Time (Grugahalle Essen, Germany, 1983)
13 A Slow Song (Grugahalle Essen, Germany, 1983)
14 Uptight (Grugahalle Essen, Germany, 1983)
15 The Tears Of A Clown (Grugahalle Essen, Germany, 1983)
16 I'm Gonna Make You Love Me (Grugahalle Essen,Germany,April 16th/17th 19
17 How Sweet It Is To Be Loved By You (Grugahalle Essen,Germany,April 16th
18 Heatwave (Grugahalle Essen, Germany, 1983)
19 Uptight (Reprise) (Grugahalle Essen, Germany, 1983)
20 I'm The Man (Grugahalle Essen, Germany, 1983)
Disk 4 von 4 (DVD)
1 Friday (WDR Studio Cologne, 1980)
2 Mad At You (WDR Studio Cologne, 1980)
3 Kinda Kute (WDR Studio Cologne, 1980)
4 Out Of Style (WDR Studio Cologne, 1980)
5 The Harder They Come (WDR Studio Cologne, 1980)
6 Fools In Love (WDR Studio Cologne, 1980)
7 Is She Really Going Out With Him (WDR Studio Cologne, 1980)
8 Don't Wanna Be Like That (WDR Studio Cologne, 1980)
9 Cancer (Markthalle Hamburg 1983)
10 Real Men (Markthalle Hamburg 1983)
11 Cosmopolitan (Markthalle Hamburg 1983)
12 Beat Crazy (Markthalle Hamburg 1983)
13 Motown Medley (Markthalle Hamburg 1983)