Joseph Haydn: Sämtliche Klaviertrios
Sämtliche Klaviertrios
9 CDs
CD (Compact Disc)
Herkömmliche CD, die mit allen CD-Playern und Computerlaufwerken, aber auch mit den meisten SACD- oder Multiplayern abspielbar ist.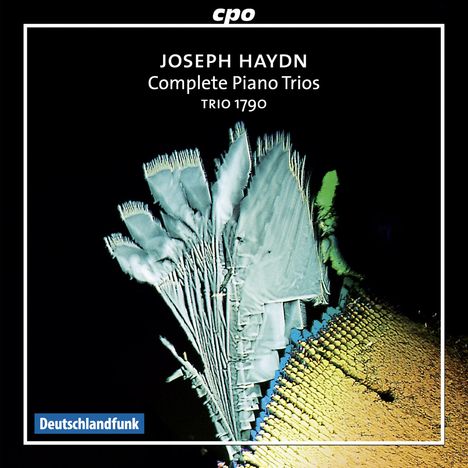 Klaviertrios H15 Nr. 1, 2, 5-14, 18-32, 34-38, 40, 41; Klaviertrios H15 f1 & C1
Künstler: Trio 1790
Label: CPO, DDD, 1995-2003
Bestellnummer:

3680097

Erscheinungstermin: 19.10.2011
Serie: cpo-Gesamteditionen
Produktinfo:

Joseph Haydn – Sämtliche Klaviertrios zum Spitzenpreis!

Das Klaviertrio nimmt im Schaffen Joseph Haydns einen seiner Bedeutung nach zwar hervorragenden, aber immer noch nur am Rande wahrgenommenen Platz ein. Dabei repräsentiert das Klaviertrio eine Gattung, in der Haydn dem Streichquartett annähernd vergleichbare Leistungen erbracht hat. Neben den Streichquartetten stellen die Klaviertrios den wichtigsten und charakteristischsten Zweig seiner Kammermusik dar. Waren es zu Beginn eigentlich Klaviersonaten mit Begleitung von Violine und Violoncello, so emanzipierten sich die beiden Streichinstrumente immer mehr. Diesen Monat bringen wir alle Trios auf 9 CDs zu einem absoluten Spitzenpreis in einer Box heraus – interpretiert auf historischen Instrumenten von dem von der Presse hochgelobten Trio 1790. »Mehr kann man von einer verantwortungsvollen Deutung dieser Haydn-Trios wohl kaum erwarten.« (klassik-heute. com 10 / 09)


Product Information

Joseph Haydn: The complete piano trios – at a bargain price!

Though Haydn's piano trios, judging from their importance, occupy a towering position in his oeuvre, they are still perceived as marginal. Yet his achievements in this genre almost rival those in the string quartet. Alongside the quartets, his piano trios form the most important and characteristic branch of his chamber music. If at first they were more akin to piano sonatas with violin and cello accompaniment, the two string instruments became increasingly emancipated at time marched on. This month we will present, at an unbeatable price, all of Haydn's trios in a boxed set of nine CDs, played on period instruments by the highly acclaimed Trio 1790. To quote
klassik-heute. com (October 2009), ›There is practically nothing left to be desired from a responsible reading of these trios‹.
Rezensionen
FonoForum 11/99: »Haydn Klaviertrios auf historischen Instrumenten zu musizieren, hat unzweifelhafte Vorteile.​ Der perkussive Effekt des Hammerflügels – und er steht im Mittelpunkt dieser im besten Sinne unterhaltenden Werke - lockert das gesamte Hörbild auf, macht die Struktur durchhörbar.​ Die feinsinnig gewbobene Faktur wird in all ihren Farbschattierungen intensiv durchleuchtet.​ Die Aufnahmetechnik hält bestens die Balance zwischen den drei Instrumenten.​ Profunder Einführungstext von Andreas Friesenhagen.​«
Fanfare 8/2000: »If its successors in the series live up to the standards it sets, we are like to be presented with the best modern alternative, and indeed superior successor, to the lovable Beaux Arts set on Philips that has dominated the Haydn trio discography for so long.​«
klassik.​com 02/12: »Und wieder einmal legt cpo eine Edition vor, die auf lange Zeit hin Maßstäbe setzen wird.​ Das Repertoire erfährt hier eine interpretatorische Umsetzung, die schlichtweg keinerlei Wünsche offen lässt.​«
Disk 1 von 9 (CD)
1 Keyboard Trio in F major, H. 15/6: Vivace
2 Keyboard Trio in F major, H. 15/6: Tempo di Minuetto
3 Keyboard Trio in D major, H. 15/7: Andante
4 Keyboard Trio in D major, H. 15/7: Andante
5 Keyboard Trio in D major, H. 15/7: Allegro assai
6 Keyboard Trio in B flat major, H. 15/8: Allegro moderato
7 Keyboard Trio in B flat major, H. 15/8: Tempo di Minuetto
8 Keyboard Trio in A major, H. 15/9: Adagio
9 Keyboard Trio in A major, H. 15/9: Vivace
10 Keyboard Trio in E flat major, H. 15/10: Allegro moderato
11 Keyboard Trio in E flat major, H. 15/10: Presto
Disk 2 von 9 (CD)
1 Keyboard Trio in E flat major, H. 15/11: Allegro moderato
2 Keyboard Trio in E flat major, H. 15/11: Tempo di Menuetto
3 Keyboard Trio in E minor, H. 15/12: Allegro moderato
4 Keyboard Trio in E minor, H. 15/12: Andante
5 Keyboard Trio in E minor, H. 15/12: Rondo. Presto
6 Keyboard Trio in C minor, H. 15/13: Andante
7 Keyboard Trio in C minor, H. 15/13: Allegro spirituoso
8 Keyboard Trio in A flat major, H. 15/14: Allegro moderato
9 Keyboard Trio in A flat major, H. 15/14: Adagio
10 Keyboard Trio in A flat major, H. 15/14: Rondo. Vivace
Disk 3 von 9 (CD)
1 Keyboard Trio in A major, H. 15/18: Allegro moderato
2 Keyboard Trio in A major, H. 15/18: Andante
3 Keyboard Trio in A major, H. 15/18: Allegro
4 Keyboard Trio in B flat major, H. 15/20: Allegro
5 Keyboard Trio in B flat major, H. 15/20: Andante cantabile
6 Keyboard Trio in B flat major, H. 15/20: Finale. Allegro
7 Keyboard Trio in G minor, H. 15/19: Andante - Presto
8 Keyboard Trio in G minor, H. 15/19: Adagio ma non troppo
9 Keyboard Trio in G minor, H. 15/19: Presto
10 Keyboard Trio in G major, H. 15/5: Adagio non tanto
11 Keyboard Trio in G major, H. 15/5: Allegro
12 Keyboard Trio in G major, H. 15/5: Allegro
Disk 4 von 9 (CD)
1 Keyboard Trio in C major, H. 15/21: Adagio pastorale - Vivace assai
2 Keyboard Trio in C major, H. 15/21: Molto Andante
3 Keyboard Trio in C major, H. 15/21: Finale. Presto
4 Keyboard Trio in E flat major, H. 15/22: Allegro moderato
5 Keyboard Trio in E flat major, H. 15/22: Poco Andante
6 Keyboard Trio in E flat major, H. 15/22: Finale. Allegro
7 Keyboard Trio in D minor, H. 15/23: Molto Andante
8 Keyboard Trio in D minor, H. 15/23: Adagio ma non troppo
9 Keyboard Trio in D minor, H. 15/23: Finale. Vivace
Disk 5 von 9 (CD)
1 Keyboard Trio in D major, H. 15/24: Allegro
2 Keyboard Trio in D major, H. 15/24: Andante
3 Keyboard Trio in D major, H. 15/24: Allegro ma dolce
4 Keyboard Trio in G major ('Gypsy Trio') H. 15/25: Andante
5 Keyboard Trio in G major ('Gypsy Trio') H. 15/25: Poco Adagio
6 Keyboard Trio in G major ('Gypsy Trio') H. 15/25: Finale. Rondo, in the Gipsies' style. Presto
7 Keyboard Trio in F sharp minor, H. 15/26: Allegro
8 Keyboard Trio in F sharp minor, H. 15/26: Adagio
9 Keyboard Trio in F sharp minor, H. 15/26: Tempo di Minuet
10 Keyboard Trio in E flat major, H. 15/31: Andante
11 Keyboard Trio in E flat major, H. 15/31: Allegro. Jacob's Dream
12 Keyboard Trio in G major, H. 15/32: Andante
13 Keyboard Trio in G major, H. 15/32: Allegro
Disk 6 von 9 (CD)
1 Keyboard Trio in C major, H. 15/27: Allegro
2 Keyboard Trio in C major, H. 15/27: Andante
3 Keyboard Trio in C major, H. 15/27: Presto
4 Keyboard Trio in E major, H. 15/28: Allegro moderato
5 Keyboard Trio in E major, H. 15/28: Allegretto
6 Keyboard Trio in E major, H. 15/28: Finale. Allegro
7 Keyboard Trio in E flat major, H. 15/29: Poco Allegretto
8 Keyboard Trio in E flat major, H. 15/29: Andantino e innocentemente
9 Keyboard Trio in E flat major, H. 15/29: Finale in the German Style. Presto assai
10 Keyboard Trio in E flat major, H. 15/30: Allegro moderato
11 Keyboard Trio in E flat major, H. 15/30: Andante con moto
12 Keyboard Trio in E flat major, H. 15/30: Presto
Disk 7 von 9 (CD)
1 Keyboard Trio in E major, H. 15/34: Allegro moderato
2 Keyboard Trio in E major, H. 15/34: Minuet
3 Keyboard Trio in E major, H. 15/34: Finale. Presto
4 Keyboard Trio in F minor, H. 15/f1: Allegro moderato
5 Keyboard Trio in F minor, H. 15/f1: Minuet
6 Keyboard Trio in F minor, H. 15/f1: Finale. Allegro
7 Keyboard Trio in A major, H. 15/35: Capriccio. Allegretto
8 Keyboard Trio in A major, H. 15/35: Menuet
9 Keyboard Trio in A major, H. 15/35: Finale. Allegro
10 Keyboard Trio in B flat major, H. 15/38: Allegro moderato
11 Keyboard Trio in B flat major, H. 15/38: Menuet
12 Keyboard Trio in B flat major, H. 15/38: Finale. Presto
13 Keyboard Trio in F major, H. 15/40: Moderato
14 Keyboard Trio in F major, H. 15/40: Menuet
15 Keyboard Trio in F major, H. 15/40: Finale. Allegro molto
Disk 8 von 9 (CD)
1 Keyboard Trio in G major, H. 15/41: Allegro
2 Keyboard Trio in G major, H. 15/41: Menuet
3 Keyboard Trio in G major, H. 15/41: Adagio
4 Keyboard Trio in G major, H. 15/41: Finale. Allegro
5 Keyboard Trio in F major, H. 15/37: Adagio
6 Keyboard Trio in F major, H. 15/37: Allegro molto
7 Keyboard Trio in F major, H. 15/37: Menuet
8 Keyboard Trio in C major, H. 15/C1 (possibly by Wagenseil): Allegro moderato
9 Keyboard Trio in C major, H. 15/C1 (possibly by Wagenseil): Menuet
10 Keyboard Trio in C major, H. 15/C1 (possibly by Wagenseil): Adagio
11 Keyboard Trio in C major, H. 15/C1 (possibly by Wagenseil): Var. 1
12 Keyboard Trio in C major, H. 15/C1 (possibly by Wagenseil): Var. 2
13 Keyboard Trio in C major, H. 15/C1 (possibly by Wagenseil): Var. 3
14 Keyboard Trio in C major, H. 15/C1 (possibly by Wagenseil): Var. 4
15 Keyboard Trio in C major, H. 15/C1 (possibly by Wagenseil): Var. 5
16 Keyboard Trio in C major, H. 15/C1 (possibly by Wagenseil): Var. 6
Disk 9 von 9 (CD)
1 Keyboard Trio in E flat major, H. 15/36: Allegro moderato
2 Keyboard Trio in E flat major, H. 15/36: Polones
3 Keyboard Trio in E flat major, H. 15/36: Finale. Allegro molto
4 Keyboard Trio in G minor, H. 15/1: Moderato
5 Keyboard Trio in G minor, H. 15/1: Menuet
6 Keyboard Trio in G minor, H. 15/1: Presto
7 Keyboard Trio in F major, H. 15/2: Allegro moderato
8 Keyboard Trio in F major, H. 15/2: Menuet
9 Keyboard Trio in F major, H. 15/2: Finale. Thema. Adagio
10 Keyboard Trio in F major, H. 15/2: Var. 1
11 Keyboard Trio in F major, H. 15/2: Var. 2
12 Keyboard Trio in F major, H. 15/2: Var. 3
13 Keyboard Trio in F major, H. 15/2: Var. 4
14 Keyboard Trio in F major, H. 15/2: Thema da Capo
Mehr von cpo