Daniel Ottensamer - The Clarinet Trio Anthology
Daniel Ottensamer - The Clarinet Trio Anthology
Mit Werken von:
Ludwig van Beethoven (1770-1827)
,
Arvo Pärt (geb. 1935)
,
Johannes Brahms (1833-1897)
,
Robert Kahn (1865-1951)
,
Wolfgang Rihm (geb. 1952)
,
Arnold Schönberg (1874-1951)
,
Alexander von Zemlinsky (1871-1942)
,
Friedrich Cerha (geb. 1926)
,
Carl Frühling (1868-1937)
,
Louise Farrenc (1804-1875)
,
Gabriel Faure (1845-1924)
,
Vincent d'Indy (1851-1931)
, Ferdinand Ries (1784-1838), Jörg Widmann (geb. 1973), Max Bruch (1838-1920), Michael Glinka (1804-1857), Paul Juon (1872-1940), Daniel Schnyder (geb. 1961), Isang Yun (1917-1995), Nino Rota (1911-1979), John Ireland (1879-1962), Mark-Anthony Turnage (geb. 1960), Robert Muczynski (1929-2010), Per Nörgard (geb. 1932), Magnus Lindberg (geb. 1958)
und weitere
7 CDs
CD (Compact Disc)
Herkömmliche CD, die mit allen CD-Playern und Computerlaufwerken, aber auch mit den meisten SACD- oder Multiplayern abspielbar ist.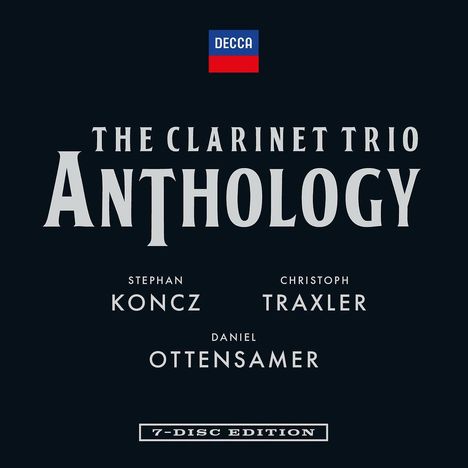 Ludwig van Beethoven: Klarinettentrio B-Dur op. 11 "Gassenhauer"; Klarinettentrio Es-Dur op. 38 (nach dem Septett op. 20)
+Arvo Pärt: Mozart-Adagio
+Johannes Brahms: Klarinettentrio a-moll op. 114
+Robert Kahn: Serenade f-moll op. 73 für Klarinettentrio; Klarinettentrio g-moll op. 45
+Wolfgang Rihm: Chiffre IV für Klarinettentrio
+Arnold Schönberg: Fragment d-moll für Klarinettentrio
+Alexander Zemlinsky: Klarinettentrio d-moll op. 3
+Friedrich Cerha: 5 Stücke für Klarinettentrio
+Carl Frühling: Klarinettentrio a-moll op. 40
+Louise Farrenc: Klarinettentrio Es-Dur op. 44
+Gabriel Faure: Klarinettentrio d-moll op. 120
+Vincent d'Indy: Klarinettentrio B-Dur op. 29
+Ferdinand Ries: Klarinettentrio B-Dur op. 28
+Jörg Widmann: Nachtstück für Klarinettentrio
+Max Bruch: 8 Stücke op. 83 für Klarinettentrio
+Michael Glinka: Klarinettentrio d-moll "Trio pathetique"
+Paul Juon: Trio-Miniaturen für Klarinettentrio
+Daniel Schnyder: A Friday Night in August für Klarinettentrio
+Isang Yun: Rencontre für Klarinettentrio
+Nino Rota: Klarinettentrio
+John Ireland: Klarinettentrio d-moll
+Mark-Anthony Turnage: Cortege for Chris für Klarinettentrio
+Robert Muczynski: Klarinettentrio op. 26 "Fantasy Trio"
+Per Nörgard: Spell für Klarinettentrio
+Magnus Lindberg: Clarinet Trio
Künstler: Daniel Ottensamer (Klarinette), Stephan Koncz (Cello), Christoph Traxler (Klavier)
Label: Decca, DDD, 2020/2021
Bestellnummer:

10884111

Erscheinungstermin: 10.6.2022
Wann hat man schon mal Zeit, sich ausführlich mit einem Nischengenre wie dem Klarinettentrio auseinanderzusetzen? Der erste Corona-Lockdown war so eine Gelegenheit für den Klarinettisten Daniel Ottensamer, den Cellisten Stephan Koncz und den Pianisten Christoph Traxler. Anders als vielen Künstlern in jenen Tagen ging es den dreien nicht um einen musikalischen Schnellschuss. Vielmehr wollten sie die Zeit des Stillstands nutzen, um tief hinabzutauchen in das Repertoire ihrer Konstellation, wollten erlauschen, welchen Einfluss die Meistertrios von Ludwig van Beethoven und Johannes Brahms auf andere Komponisten hatten, quer durch alle Zeiten und über alle Kontinente hinweg. »Angefangen haben wir mit den beiden großen Trios«, erklärt Ottensamer, »aber die Reise führte uns immer weiter, an immer spannendere Orte.« Tatsächlich erkundet die Anthologie ganz neue Gebiete, bereist das Frankreich der Jahrhundertwende, sammelt Einflüsse aus dem Jazz und der Neuen Musik, lässt sich nieder in Wien, wo das Trio sogar ein Fragment von Arnold Schönberg zum Klingen bringt, und kombiniert große Meisterwerke mit neuen Klängen. »Zunächst war da die Idee, die Standardwerke mit Neuer Musik zu konfrontieren, aber die Arbeit an unserem Projekt wurde immer ausufernder, und wir haben immer mehr Werke in unserer Konstellation gefunden, in denen die Klangvielfalt der Klarinette und das Zusammenspiel der drei Instrumente auf vollkommen unterschiedliche Weise ausgelotet wurden«, erklärt Stephan Koncz. Ottensamer und Koncz haben bereits im Sandkasten zusammen gespielt. Von beiden kam ein Elternteil in den 1970er Jahren aus Ungarn nach Wien, um Musik zu machen. Christoph Traxler stieß während des Studiums dazu. »Wir musizieren seit 15 Jahren miteinander«, sagt er, »und gerade bei einem solchen Projekt, das sich durch die Pandemie auf über ein Jahr ausgeweitet hat, das so viel gemeinsame Suche und Arbeit bedingt, war es wichtig, einander gut zu kennen und zu vertrauen, zusammen auf Entdeckungsreise zu gehen und in den Proben immer wieder neue Ansätze zu finden.« So haben die drei ganz unterschiedliche Facetten des Klarinettentrios und eine große kompositorische Bandbreite entdeckt. »Ich gehe davon aus, dass diese Besetzung bei Komponisten so beliebt ist, weil diese drei Instrumente unglaublich viele musikalische Möglichkeiten und Klangspektren eröffnen«, sagt Koncz. Der Tonumfang von Klarinette, Cello und Klavier ist im Vergleich zu anderen Musikinstrumenten sehr groß; zudem ist es der Klarinette möglich, rasend schnelle Tonfolgen zu meistern. Sie ist auch das Instrument, das nach der Klassik und Romantik für neue Stile steht wie den Jazz (hier besonders in der Komposition von Daniel Schnyder) oder die Klezmer-Musik. Das Klavier dient bei einigen der vorliegenden Stücke nicht nur als Harmonieinstrument, sondern auch als Perkussions- und Rhythmusinstrument. Gerade in modernen Kompositionen, wie denen von Jörg Widmann und Wolfgang Rihm, werden alle drei Instrumente bis an ihre Grenzen ausgereizt, was so weit geht, dass der Pianist mit einem Plektrum die Saiten zupft und nach Obertönen suchen muss. Allmählich wuchs das musikalische Projekt von einer Idee zu einer umfassenden Anthologie. Die drei beschlossen, nur Originalkompositionen für ihre Konstellation zu berücksichtigen und keine Arrangements (von denen es eine ganze Reihe gibt). Den Anfang macht Beethovens op. 11, das Finale bildet Magnus Lindbergs Klarinettentrio, in dem die Instrumente auf all ihre klanglichen und instrumentalen Möglichkeiten hin untersucht werden. Dazwischen liegt eine lange, aufregende musikalische Reise, die – wie die drei Musiker festgestellt haben – immer wieder Station in der Musiktradition ihrer Heimat Wien macht. »Es ist erstaunlich, wie oft Komponisten Anleihen bei Wiener Tänzen machen, indem sie etwa Ländler verarbeiten und sich auf jene Wiener Schule berufen, in der auch die beiden Urväter des Klarinettentrios, Beethoven und Brahms, zu Hause waren«, sagt Christoph Traxler.
Rezensionen
»27 Werke aus vier Jahrhunderten spielt das Trio, das seit 15 Jahren zusammen musiziert, mit Hingabe und Akribie.​ Der Kombination von Blas-, Streich- und Tasteninstrument entlocken die Musiker eine endlose Farbfülle.​« (Audio, September 2022)
Tracklisting

Details

Mitwirkende
Disk 1 von 7 (CD)
Piano Trio in B-Flat Major, Op. 11 "Gassenhauer"
1 Ludwig van Beethoven: I. Allegro con brio (Original Version)
2 Ludwig van Beethoven: II. Adagio (Original Version)
3 Ludwig van Beethoven: Iii. Tema Con Variazioni (Original Version)
4 Mozart-Adagio
Piano Trio in E-Flat Major, Op. 38 after the Septet, Op. 20
5 Ludwig van Beethoven: I. Adagio - Allegro con brio (Original Version)
6 Ludwig van Beethoven: II. Adagio cantabile (Original Version)
7 Ludwig van Beethoven: Iii. Tempo Di Menuetto (Original Version)
8 Ludwig van Beethoven: IV. Andante con variazioni (Original Version)
9 Ludwig van Beethoven: V. Scherzo. Allegro molto e vivace (Original Version)
10 Ludwig van Beethoven: VI. Andante con moto alla marcia - Presto (Original Version)
Disk 2 von 7 (CD)
Clarinet Trio in A Minor, Op. 114
1 Johannes Brahms: I. Allegro (Original Version)
2 Johannes Brahms: II. Adagio (Original Version)
3 Johannes Brahms: Iii. Andantino Grazioso (Original Version)
4 Johannes Brahms: IV. Allegro (Original Version)
Serenade, Op. 73
5 I. Allegretto grazioso e moderato - (Serenade, Op. 73)
6 Chiffre IV for Bass Clarinet, Cello and Piano
7 I. Allegro
8 II. Allegretto quasi andantino
9 Iii. Presto
Disk 3 von 7 (CD)
1 Clarinet Trio in D Minor "Fragment"
Piano Trio in D Minor, Op. 3
2 Alexander Zemlinsky: I. Allegro ma non troppo (Original Version)
3 Alexander Zemlinsky: II. Andante (Original Version)
4 Alexander Zemlinsky: Iii. Allegro (Original Version)
5 Stücke
5 I. Sehr ruhig (5 Stücke)
6 II. (5 Stücke)
7 Iii. (5 Stücke)
8 IV. Heftig (5 Stücke)
9 V. Ruhig (5 Stücke)
Clarinet Trio in A Minor, Op. 40
10 I. Mässig schnell (Original Version)
11 II. Anmutig bewegt (Original Version)
12 Iii. Andante (Original Version)
13 IV. Allegro vivace (Original Version)
Disk 4 von 7 (CD)
Clarinet Trio in E-Flat Major, Op. 44
1 I. Andante - Allegro moderato (Clarinet Trio in E-Flat Major, Op. 44)
2 II. Adagio (Clarinet Trio in E-Flat Major, Op. 44)
3 Iii. Minuetto. Allegro (Clarinet Trio In E-Flat Major, Op. 44)
4 IV. Finale. Allegro (Clarinet Trio in E-Flat Major, Op. 44)
Piano Trio in D Minor, Op. 120
5 1. Allegro, ma non troppo (Original Version)
6 2. Andantino (Original Version)
7 3. Allegro vivo (Original Version)
Clarinet Trio in B-Flat Major, Op. 29
8 I. Ouverture. Modéré (Trio in B-Flat Major, Op. 29)
9 II. Divertissement. Vif et animé (Trio in B-Flat Major, Op. 29)
10 Iii. Chant Élégiaque. Lent (Trio In B-Flat Major, Op. 29)
11 IV. Final. Animé (Trio in B-Flat Major, Op. 29)
Disk 5 von 7 (CD)
Piano Trio in B-Flat Major, Op. 28
1 I. Allegro (Piano Trio in B-Flat Major, Op. 28)
2 II. Scherzo. Allegro vivace (Piano Trio in B-Flat Major, Op. 28)
3 Iii. Adagio (Piano Trio In B-Flat Major, Op. 28)
4 IV. Rondo. Allegro ma non troppo (Piano Trio in B-Flat Major, Op. 28)
5 Nachtstück for Clarinet, Cello and Piano
8 Pieces for Clarinet, Viola and Piano, Op. 83
6 Max Bruch: 1. Andante (Original Version)
7 Max Bruch: 2. Allegro con moto (Original Version)
8 Max Bruch: 3. Andante con moto (Original Version)
9 Max Bruch: 4. Allegro agitato (Original Version)
10 Max Bruch: 5. Rumänische Melodie. Andante (Original Version)
11 Max Bruch: 6. Nachtgesang. Andante con moto (Original Version)
12 Max Bruch: 7. Allegro vivace, ma non troppo (Original Version)
13 Max Bruch: 8. Moderato (Original Version)
Disk 6 von 7 (CD)
Trio pathétique in D Minor
1 Michael Glinka: I. Allegro moderato (Original Version)
2 Michael Glinka: II. Scherzo. Vivacissimo (Original Version)
3 Michael Glinka: Iii. Largo (Original Version)
4 Michael Glinka: IV. Allegro con spirito (Original Version)
Trio-Miniaturen, Opp. 18a, 24a
5 1. Rêverie, Op. 18 No. 3 (Trio-Miniaturen, Opp. 18a, 24a)
6 2. Humoreske, Op. 18 No. 7 (Trio-Miniaturen, Opp. 18a, 24a)
7 3. Elegie, Op. 18 No. 6 (Trio-Miniaturen, Opp. 18a, 24a)
8 4. Danse phantastique, Op. 24 No. 2 (Trio-Miniaturen, Opp. 18a, 24a)
9 A Friday Night in August for Clarinet, Cello and Piano
10 Isang Yun: Rencontre for Clarinet, Piano and Cello
Clarinet Trio
11 I. Allegro (Original Version)
12 II. Andante (Original Version)
13 Iii. Allegrissimo (Original Version)
Disk 7 von 7 (CD)
Clarinet Trio in D Minor
1 I. Allegro non troppo (Clarinet Trio in D Minor)
2 II. Scherzo. Vivace (Clarinet Trio in D Minor)
3 Iii. Lento - Con Moto (Clarinet Trio In D Minor)
4 Mark-Anthony Turnage: Cortège for Chris
Fantasy Trio, Op. 26
5 I. Allegro energico (Fantasy Trio, Op. 26)
6 II. Andante con espressione (Fantasy Trio, Op. 26)
7 Iii. Allegro Deciso (Fantasy Trio, Op. 26)
8 IV. Andante molto e sostenuto - Allegro (Fantasy Trio, Op. 26)
9 Spell for Clarinet, Cello and Piano
Clarinet Trio
10 I. Sound Big Sound (Clarinet Trio in D Minor)
11 II. Like the Tranquillity We Seek (Clarinet Trio in D Minor)
12 Iii. Crash Wave, Crash (Clarinet Trio In D Minor)