The Who: The Who Sell Out (Digipack)
The Who Sell Out (Digipack)
2 CDs
CD (Compact Disc)
Herkömmliche CD, die mit allen CD-Playern und Computerlaufwerken, aber auch mit den meisten SACD- oder Multiplayern abspielbar ist.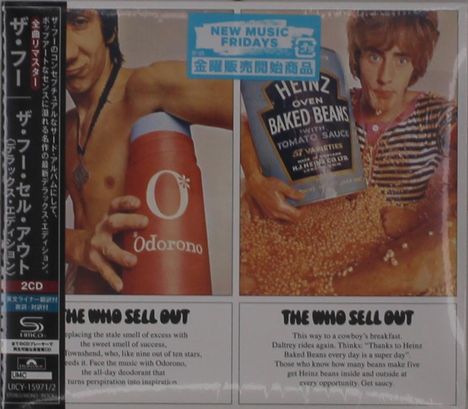 lieferbar innerhalb 2-3 Wochen
(soweit verfügbar beim Lieferanten)

Wir beschaffen die Ware speziell für Sie nach Bestelleingang.
Label: Universal, 1967
Bestellnummer:

10446159

Erscheinungstermin: 23.4.2021
Die Hörproben gehören zum Artikel The Who: The Who Sell Out (CD). Das Tracklisting kann bei diesem Artikel ggf. abweichen.
Disk 1 von 2 (CD)
1 MONO ALBUM:Armenia City In The Sky
2 Heinz Baked Beans
3 Mary Anne With The Shaky Hand
4 Odorono
5 Tattoo
6 Our Love Was
7 Can See For Miles
8 I Can't Reach You
9 Medac
10 Relax
11 Silas Stingy
12 Sunrise
13 Rael 1 & 2 / Track Records
14 BONUS TRACKS MONO:Pictures Of Lily (Original UK Track Single Mix)
15 Doctor, Doctor (Original UK Track Single Mix)
16 The Last Time (Original UK Track Single Mix)
17 Under My Thumb (Original UK Track Single Mix)
18 I Can See For Miles (Original UK Track Single Mix)
19 Marry Anne With The Shaky Hand (Original US Decca Single Mix)
20 Someone's Coming
21 Unused Radio London Ad / Early Morning Cold Taxi (Original 1967 Mono Mix)
22 Unused Radio London Bulletin Link / Jaguar (Original 1967 Mono Mix)
23 Unused Radio London Ad / Tattoo (Alterntaiv 1967 Mono Mix)
24 Rael (Early Rough Mix)
25 Sunn Equipment Promo Spots
26 Gread shakes Ad
Disk 2 von 2 (CD)
1 STEREO ALBUM:Armenia City In The Sky
2 Heinz Baked Beans
3 Mary Anne With The Shaky Hand
4 Odorono
5 Tattoo
6 Our Love Was
7 Can See For Miles
8 I Can't Reach You
9 Medac
10 Relax
11 Silas Stingy
12 Sunrise
13 Rael 1 & 2
14 BONU STRACKS STEREO:Rael Naive (Complete Wirh Organ Coda Ending)
15 Mary Anne With The Shaky Hand (US Single Version)
16 Someone's coming
17 Summertime blues
18 Glittering Girl
19 Early Morning Cold Taxi
20 Girl's eyes
21 Coke After Coke
22 Sodding About
23 Things Go Better With Coke
24 In The Hall Of The Mountain King
25 Jaguar
26 Rael (IBC Remake) / Track Records