The Who: The Who Sell Out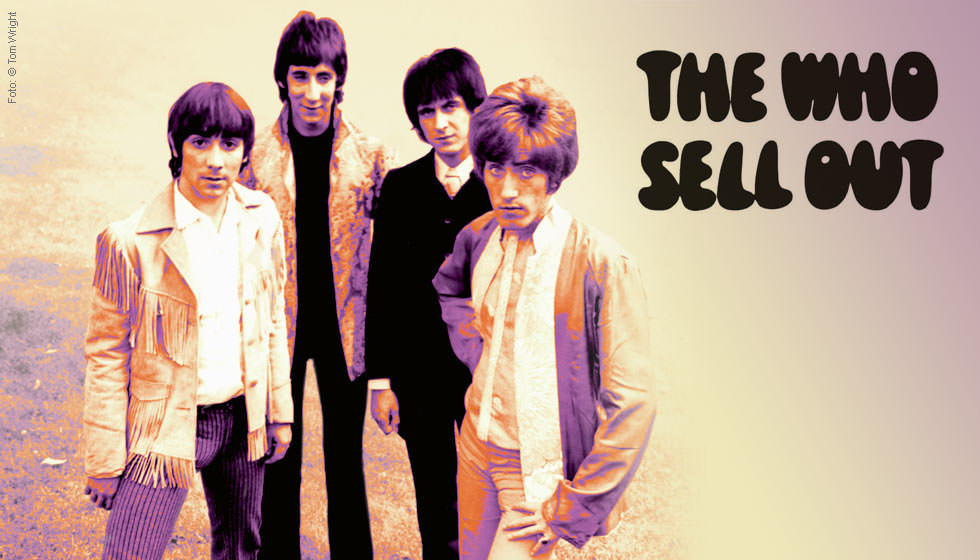 Der Meilenstein ist zurück
2021 wartete ein absolutes Highlight auf alle The-Who-Jünger: Die britischen Rock-Legenden legen ihren Meilenstein, ihr drittes Album »The Who Sell Out«, neu auf.

Das Reissue gibt es als Doppel-CD und Doppel-LP.
The Who Sell Out
2 CDs
CD (Compact Disc)
Herkömmliche CD, die mit allen CD-Playern und Computerlaufwerken, aber auch mit den meisten SACD- oder Multiplayern abspielbar ist.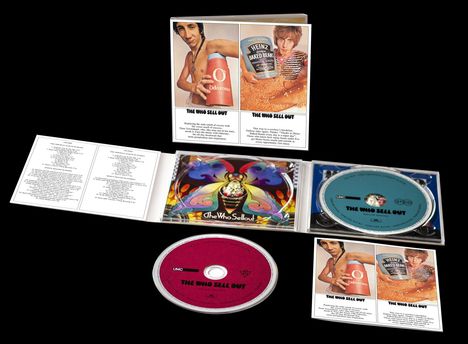 Artikel am Lager
Verlängerter Rückgabezeitraum bis 31. Januar 2024
Alle zur Rückgabe berechtigten Produkte, die zwischen dem 1. bis 31. Dezember 2023 gekauft wurden, können bis zum 31. Januar 2024 zurückgegeben werden.

Label: Polydor, 1967
Bestellnummer:

10443612

Erscheinungstermin: 23.4.2021
*** Digipack + 16-seitiges Booklet (englischsprachig)
Gesamtverkaufsrang: 8058
Verkaufsrang in CDs: 3508
Veröffentlicht im Dezember 1967 - das Album spiegelt ein bemerkenswertes Jahr in der Popkultur wider. Nicht nur, dass es für immer als der Moment verewigt wird, in dem die Gegenkultur und die "Love Generation" global wurden, 1967 brachte auch enorme musikalische Umwälzungen mit sich, als sich "Pop" in "Rock" verwandelte.

Das Album ist ein kühnes Abbild der Zeit, in der es entstanden ist - das Ende der 'Swinging-60s' trifft auf Pop-Art gemischt mit Psychedelia und geradlinigem Pop-Handwerk. Es ist eine glorreiche Mischung aus klassischer, kraftvoller Who-Instrumentierung, melodischen Harmonien und satirischen lyrischen Bildern, die sich für das erst dritte Album der Gruppe herauskristallisiert haben - der Ehrgeiz und der Umfang ist konkurrenzlos für die Who oder andere aus dieser Zeit.

Innerhalb des kühnen Konzepts gab es eine Reihe fabelhafter und vielfältiger Songs - I Can See for Miles (ein Top-Ten-Hit) ist ein Who-Klassiker, Rael, eine Townshend-"Mini-Oper" mit musikalischen Motiven, die in Tommy wieder auftauchten, und die psychedelische Explosion von Armenia City in the Sky und Relax gehören zum allerbesten Material der 1960er Jahre.

Eines der außergewöhnlichsten Alben jeder Ära - es ist das letzte 'Pop'-Album von The Who. Zwei Jahre später kam Tommy - ein Doppel-Konzeptalbum über ein taubstummes und blindes Kind...
Disk 1 von 2 (CD)
1 MONO ALBUM:Armenia City In The Sky
2 Heinz Baked Beans
3 Mary Anne With The Shaky Hand
4 Odorono
5 Tattoo
6 Our Love Was
7 Can See For Miles
8 I Can't Reach You
9 Medac
10 Relax
11 Silas Stingy
12 Sunrise
13 Rael 1 & 2 / Track Records
14 BONUS TRACKS MONO:Pictures Of Lily (Original UK Track Single Mix)
15 Doctor, Doctor (Original UK Track Single Mix)
16 The Last Time (Original UK Track Single Mix)
17 Under My Thumb (Original UK Track Single Mix)
18 I Can See For Miles (Original UK Track Single Mix)
19 Marry Anne With The Shaky Hand (Original US Decca Single Mix)
20 Someone's Coming
21 Unused Radio London Ad / Early Morning Cold Taxi (Original 1967 Mono Mix)
22 Unused Radio London Bulletin Link / Jaguar (Original 1967 Mono Mix)
23 Unused Radio London Ad / Tattoo (Alterntaiv 1967 Mono Mix)
24 Rael (Early Rough Mix)
25 Sunn Equipment Promo Spots
26 Gread shakes Ad
Disk 2 von 2 (CD)
1 STEREO ALBUM:Armenia City In The Sky
2 Heinz Baked Beans
3 Mary Anne With The Shaky Hand
4 Odorono
5 Tattoo
6 Our Love Was
7 Can See For Miles
8 I Can't Reach You
9 Medac
10 Relax
11 Silas Stingy
12 Sunrise
13 Rael 1 & 2
14 BONU STRACKS STEREO:Rael Naive (Complete Wirh Organ Coda Ending)
15 Mary Anne With The Shaky Hand (US Single Version)
16 Someone's coming
17 Summertime blues
18 Glittering Girl
19 Early Morning Cold Taxi
20 Girl's eyes
21 Coke After Coke
22 Sodding About
23 Things Go Better With Coke
24 In The Hall Of The Mountain King
25 Jaguar
26 Rael (IBC Remake) / Track Records