Sixties Alternative (180g)
Sixties Alternative (180g)
2 LPs
LP (Long Play)
Die gute alte Vinyl - Langspielplatte.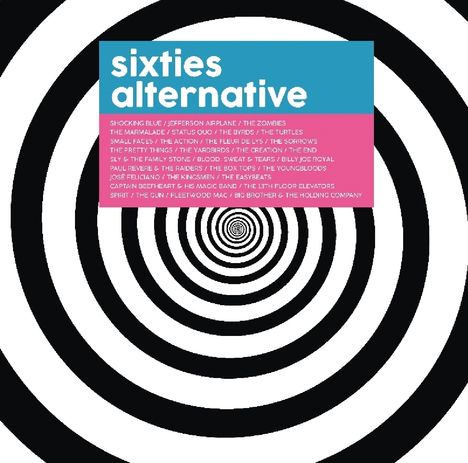 Lieferzeit beträgt mind. 4 Wochen
(soweit verfügbar beim Lieferanten)
Vinyl liefern wir innerhalb Deutschlands immer portofrei.
*** Gatefold Cover
30 alternative Tracks aus den 1960ern. Tauchen Sie ein in Musik aus Genres wie Soul, Mod, Psychedelic und Rock 'n' Roll - hier finden Sie selten gespielte Originalaufnahmen von Künstlern wie The Zombies, Status Quo, Fleetwood Mac, Small Faces, Sly & The Family Stone, Captain Beef Heart, The Yardbirds und vielen weiteren mehr.
LP
1 Shocking Blue - Venus
2 Jefferson Airplane – White Rabbit
3 The Zombies – She's Not There
4 The Marmalade – I See The Rain
5 Status Quo – Pictures Of Matchstick Men
6 The Byrds – So You Want to Be a Rock 'N' Roll Star
7 The Turtles – the Last Thing I Remember
8 Small Faces Afterglow (Of our Love)
9 The Action – I'll Keep On Holding On
10 The Fleur De Lys – Circles
11 The Sorrows – Take A Heart
12 The Pretty Things – Don't Bring Me Down
13 The Yardbirds – Over Under SEITEways Down
14 The Creation – how Dows It Feel To Feel (UK Version)
15 The End – Shades Of Orange
LP
1 Sly & The Family Stone – Everyday People
2 Blood, Sweat & Tears – Spinning Wheel
3 Billy Joe Royal – Hush
4 Paul Revere & The Raiders – I'm Not Your Stepping Stone
5 The Box Tops – Neon Rainbow
6 The Youngbloods – Get Together
7 Jose Feliciano – Light My Fire
8 The Kingsmen – Louie Louie
9 The Easybeats – Friday On My Mind
10 Captain Beefheart & his Magic Band - Zig Zag Wanderer
11 The 13 th Floor Elevators – You're Gonna Miss Me
12 Spirit Fresh - Garbage
13 The Gun – Race With the Devil
14 Fleetwood Mac – Need Your Love So Bad
15 Big Brother & The Holding Company - Summertime