The Beatles: Sgt. Pepper's Lonely Hearts Club Band (50th Anniversary Edition)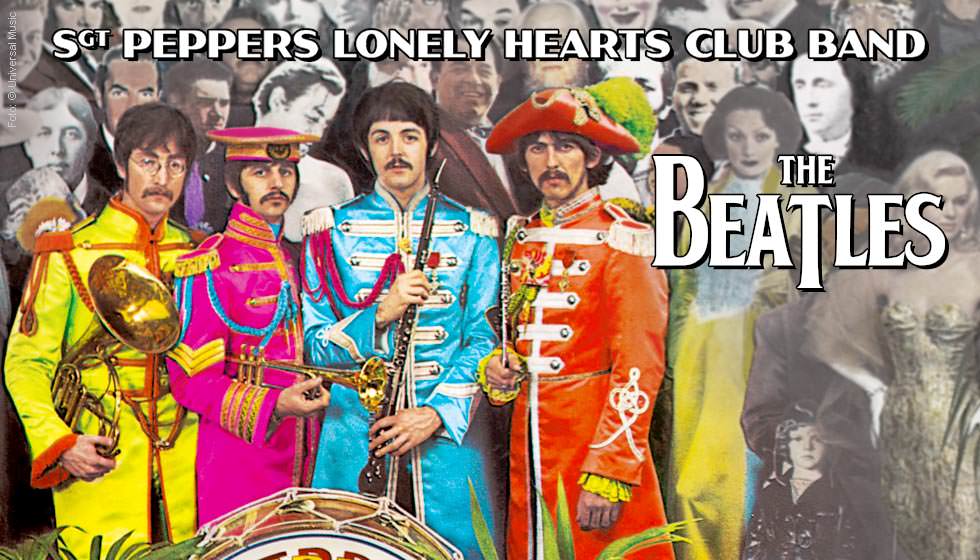 Ein Stück Musikgeschichte
»Sgt. Pepper's Lonely Hearts Club Band«, das legendäre Album der Beatles feiert in diesem Jahr seinen sage und schreibe 50. Geburtstag.

Es war eines der ersten Konzeptalben des Pop und gilt bis heute als absoluter Meilenstein der Musikgeschichte.

Passend zum großen Jubiläum gibt es jetzt gleich mehrere spannende 50th-Anniversary-Editionen des Albums.
Sgt. Pepper's Lonely Hearts Club Band (50th Anniversary Edition)
4 CDs, 1 Blu-ray Disc, 1 DVD
CD (Compact Disc)
Herkömmliche CD, die mit allen CD-Playern und Computerlaufwerken, aber auch mit den meisten SACD- oder Multiplayern abspielbar ist.
Blu-Ray Disc
Die Blu-Ray wurde als High-Definition-Nachfolger der DVD entwickelt und bietet ihrem Vorläufer gegenüber eine erheblich gesteigerte Datenrate und Speicherkapazität. Auf Blu-Rays können daher Filme mit deutlich besserer Auflösung gespeichert werden und bieten auf entsprechenden Bildschirmen eine enorm hohe Bildqualität. Blu-Ray-Player sind in der Regel abwärtskompatibel zu DVDs, so dass auch diese abgespielt werden können.
DVD
Die meisten angebotenen DVDs haben den Regionalcode 2 für Europa und das Bildformat PAL. Wir bieten aber auch Veröffentlichungen aus den USA an, die im NTSC-Format und mit dem Ländercode 1 auf den Markt kommen. Dies ist dann in unseren Artikeldetails angegeben.
umgehend lieferbar, Bestand beim Lieferanten vorhanden
Label: Apple, 1967
Bestellnummer:

6757458

Erscheinungstermin: 26.5.2017
*** Die Discs befinden sich in der LP-Hülle!
CD 1:
• neuer Album-Mix in Stereo

CDs 2 & 3:
• 33 zusätzliche Aufnahmen der Studio-Sessions, größtenteils bisher unveröffentlicht und erstmalig von den Vier-Spur-Aufnahmen abgemischt, chronologisch angeordnet nach den Aufnahmedaten
• Einen neuen Stereo-Mix von »Penny Lane« und den Stereo-Mix von »Strawberry Fields Forever« aus dem Jahre 2015

CD 4:
• Original-Album im Mono-Mix plus der Singles »Strawberry Fields Forever« und »Penny Lane«
• Promo-Mono-Single-Mix von »Penny Lane«, den Capitol Records seinerzeit für den US-Markt verwendet hatte
• bisher unveröffentlichte frühe Mono-Mixe von »She's Leaving Home«, »A Day In The Life« und »Lucy In The Sky With Diamonds« (ein Mix, von dem angenommen wurde, dass er von einem Tape aus dem Jahre 1967 gelöscht wurde, der jedoch bei den Archiv-Recherchen für die Jubiläums-Ausgabe wiederentdeckt wurde)

Discs 5 & 6 (Blu-ray and DVD):
• Neue 5.1 Surround-Audio-Mixe des Albums und »Penny Lane« von Giles Martin und Sam Okell sowie deren 5.1 Surround-Mixes von »Strawberry Fields Forever« aus dem Jahre 2015
• High-Resolution-Audio-Versionen der neuen Stereo-Mixe des Albums und von »Penny Lane« sowie der 2015er Stereo-Mix von »Strawberry Fields Forever«
• Video-Features: technisch in 4K restaurierte originale Promo-Filme für »Strawberry Fields Forever«, »Penny Lane« und »A Day In The Life« sowie »The Making of Sgt. Pepper«, einen ebenfalls technisch restaurierten, bisher unveröffentlichten Dokumentarfilm (im TV ausgestrahlt im Jahr 1992), welcher aufschlussreiche Interviews mit McCartney, Harrison und Starr beinhaltet sowie In-Studio-Material, das von George Martin kommentiert ist.

Die 6-Disc-Super-Deluxe-Box ist in einer 12" x 12" Box verpackt und kommt mit einem 144-seitigem Hardcover-Buch. Das Buch beinhaltet ein neues Einleitungswort von Paul McCartney und Giles Martin sowie umfangreiche Hintergrundinformationen zu den einzelnen Songs, das Cover-Design, die musikalischen Innovationen des Albums und ihren historischen Kontext; verfasst von einem Beatles-Historiker, dem Autor und Radioproduzenten Kevin Howlett sowie Komponist und Musikwissenschaftler Howard Goodall, dem Produzenten und Songschreiber Joe Boyd und den Journalisten Ed Vulliamy und Jeff Slate. Das Buch wurde mit seltenen Fotografien, reproduzierten handgeschriebenen Songtexten, Aufzeichnungen der Abbey Road Studios und Abdrucken von originalen »Sgt.-Pepper«-Werbeanzeigen komplettiert. Dazu gibt es eine Nachbildung des Original Beilegers sowie zwei Bonus Poster.
Rezensionen
»Der neue Mix klingt besser als alle bestehenden Versionen zuvor. Das hat deutlichen Druck und Präsenz. Als ob die Beatles erst gestern im Studio waren. (...) Dieses Album kann man für eine High-End-Präsentation verwenden.« (Audio, Juni 2017)

»Das ist eine Wucht: Stimmen kommen nicht mehr verschämt aus einem Kanal, sondern kraftvoll aus der Mitte, das Schlagzeug klingt viel prägnanter, bislang allenfalls erahnte Details werden hörbar, alles erscheint klarer, wie frisch poliert, ohne dass es falsch, unzeitgemäß oder gar verbrecherisch ›remixed‹ klingt. Diese Neu-Abmischung ist Herzstück einer prachtvollen Neu-Ausgabe, die jeder Beatles-Fan einfach haben muss.« (Good Times, August / September 2017)
Disk 1 von 6
1 Sgt. Pepper's lonely hearts club band
2 With a little help from my friends
3 Lucy in the sky with diamonds
4 Getting better
5 Fixing a hole
6 She's leaving home
7 Being for the benefit of Mr. Kite!
8 Within you without you
9 When I'm sixty-four
10 Lovely Rita
11 Good morning good morning
12 Sgt. pepper's lonely hearts club band (reprise)
13 A day in the life
Disk 2 von 6
1 Strawberry fields forever [take 1]
2 Strawberry fields forever [take 4]
3 Strawberry fields forever [take 7]
4 Strawberry fields forever [take 26]
5 Strawberry fields forever [stereo mix - 2015]
6 When I'm sixty-four [take 2]
7 Penny lane [take 6 instrumental]
8 Penny lane [vocal overdubs and speech]
9 Penny lane [stereo mix - 2017]
10 A day in the life [take 1]
11 A day in the life [take 2]
12 A day in the life [orchestra overdub]
13 A day in the life (hummed last chord) [takes 8, 9, 10 and 11
14 A day in the life (the last chord)
15 Sgt. Pepper's lonely hearts club band [take 1 instrumental]
16 Sgt. Pepper's lonely hearts club band [take 9 and speech]
17 Good morning good morning [take 1 instrumental, breakdown]
18 Good morning good morning [take 8]
Disk 3 von 6
1 Fixing a hole [take 1]
2 Fixing a hole [speech and take 3]
3 Being for the benefit of Mr. Kite! [speech from before take
4 Being for the benefit of Mr. Kite! [take 7]
5 Lovely rita [speech and take 9]
6 Lucy in the sky with diamonds [take 1 and speech at the end]
7 Lucy in the sky with diamonds [speech, false start and take 5)
8 Getting better [take 1 - instrumental and speech at the end]
9 Getting better [take 12]
10 Within you without you [take 1 - Indian instruments only]
11 Within you without you [George coaching the musicians]
12 She's leaving home [take 1 instrumental]
13 She's leaving home [take 6 instrumental]
14 With a little help from my friends (Take 1 - False Start and Take 2 - Instrumental)
15 Sgt. pepper's lonely hearts club band (reprise) (speech and take 8)
Disk 4 von 6
1 Sgt. Pepper's lonely hearts club band
2 With a little help from my friends
3 Lucy in the sky with diamonds
4 Getting better
5 Fixing a hole
6 She's leaving home
7 Being for the benefit of mr. kite!
8 Within you without you
9 When I'm sixty-four
10 Lovely rita
11 Good morning good morning
12 Sgt. Pepper's lonely hearts club band (reprise)
13 A day in the life
14 Strawberry fields forever [original mono mix]
15 Penny lane [original mono mix]
16 A day in the life [unreleased first mono mix]
17 Lucy in the sky with diamonds [unreleased mono mix - no. 11]
18 She's leaving home [unreleased first mono mix]
19 Penny lane [capitol records u.s. promo single - mono mix]
Disk 5 von 6
Disk 6 von 6