Bob Dylan: The Bootleg Series Vol. 16 (1980 - 1985) (Deluxe Edition)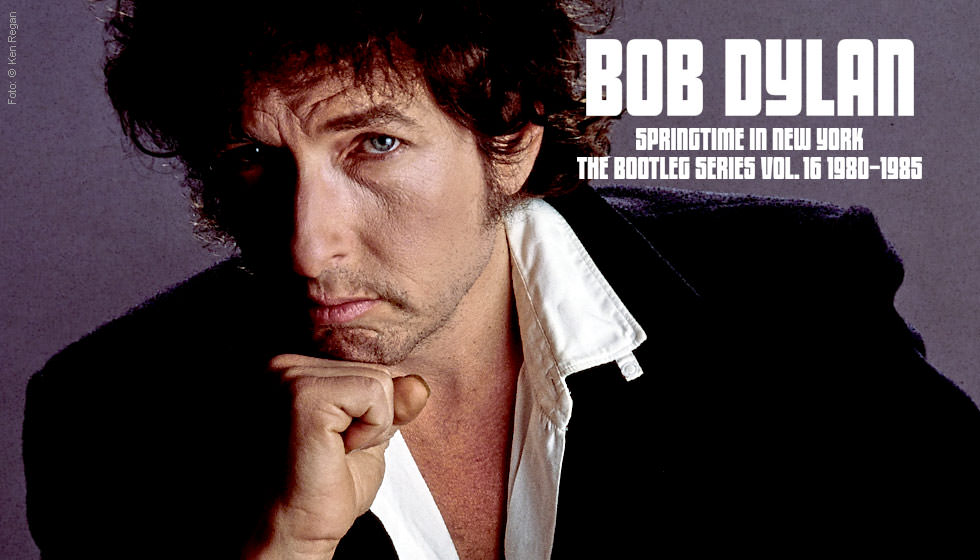 Dylans Frühling in New York
Sony präsentierte 2021 ein weiteres Kapitel der gefeierten Bob-Dylan-Bootleg-Serie von Columbia. »Volume 16« trägt den Titel »Springtime In New York« und widmet sich den Jahren von 1980 bis 1985.

Im Fokus stehen die drei Dylan-Alben dieser Ära: »Shot of Love«, »Infidels« und »Empire Burlesque«. Zudem warten bislang unveröffentlichte Outtakes, alternative Takes, Probeaufnahmen, Live-Auftritte und mehr.
The Bootleg Series Vol. 16 (1980 - 1985) (Deluxe Edition)
5 CDs
CD (Compact Disc)
Herkömmliche CD, die mit allen CD-Playern und Computerlaufwerken, aber auch mit den meisten SACD- oder Multiplayern abspielbar ist.
Label: Sony
Bestellnummer:

10671877

Erscheinungstermin: 17.9.2021
Filmausschnitte/Videotrailer
*** 5-CD im Schuber mit 100-seitigem Hardcover-Buch mit Fotos und Linernotes
Gesamtverkaufsrang: 13883
Verkaufsrang in CDs: 5808
Columbia Records/Legacy veröffentlicht »Bob Dylan - Springtime In New York/The Bootleg Series Vol. 16 (1980 - 1985)«.

Die neueste Folge der von Fans und der Kritik gleichermaßen hochgelobten Serie beschäftigt sich mit der etwas in Vergessenheit geratenen Schaffensphase Dylans in der ersten Hälfte der 1980er Jahre. In den frühen Achtzigern, wo sich die Musikindustrie mit vielen neuen medialen Trends und technischen Neuerungen konfrontiert sah, von MTV über die CD bis zum Digital Recording, schrieb Bob Dylan die Songs für die beginnende neue Dekade und schuf mit diesen Aufnahmen, die er auf insgesamt drei Alben (»Shot Of Love« 1981, »Infidels« 1983 und »Empire Burlesque« 1985) veröffentlichte, ein neues Kapitel in seinem Oeuvre. »Springtime In New York« beleuchtet diese spannende Periode mit bislang unveröffentlichten Outtakes, Alternativversionen von Songs, Probe- und auch einigen Live-Aufnahmen.

»Springtime In New York« erscheint bei Sony Music in drei physischen Formaten: das Deluxe Boxset enthält auf fünf CDs insgesamt 57 Tracks, bis auf drei Tracks alle bislang unveröffentlicht, und zusätzlich in gewohnter Ausstattung ein 100-seitiges Hardcover-Buch u.a. mit Fotos von seltenen Dylan-Memorabilien dieser Zeit. Eine Doppel-CD und eine 2-LP-Vinylausgabe beinhalten eine Auswahl von Highlights aus diesen 57 Tracks. Die ausführlichen Liner Notes dieser 16. Folge der Bootleg Series schrieb der britische Autor und Journalist Damien Love.


Disk 1 von 5 (CD)
1 Señor (Tales of Yankee Power) – Rehearsal
2 To Ramona – Rehearsal
3 Jesus Met the Woman at the Well – Rehearsal
4 Mary of the Wild Moor – Rehearsal
5 Need a Woman – Rehearsal
6 A Couple More Years – Rehearsal
7 Mystery Train – Shot of Love outtake
8 This Night Won't Last Forever – Rehearsal
9 We Just Disagree – Rehearsal
10 Let's Keep It Between Us – Rehearsal
11 Sweet Caroline – Rehearsal
12 Fever – Rehearsal
13 Abraham, Martin and John – Rehearsal
Disk 2 von 5 (CD)
1 Angelina – Shot of Love outtake
2 Price of Love – Shot of Love outtake
3 I Wish It Would Rain – Shot of Love outtake
4 Let It Be Me – International 7" Single B-side
5 Cold, Cold Heart – Shot of Love outtake
6 Don't Ever Take Yourself Away – Shot of Love outtake
7 Fur Slippers – Shot of Love outtake
8 Borrowed Time - Shot of Love outtake
9 Is It Worth It? - Shot of Love outtake
10 Lenny Bruce – Shot of Love alternate mix
11 Yes Sir, No Sir – Shot of Love outtake
Disk 3 von 5 (CD)
1 Jokerman – Infidels alternate take
2 Blind Willie McTell – Infidels outtake
3 Don't Fall Apart on Me Tonight [version 1] – Infidels alternate take
4 Don't Fall Apart on Me Tonight [version 2] – Infidels alternate take
5 Neighborhood Bully – Infidels alternate take
6 Someone's Got a Hold of My Heart – Infidels outtake
7 This Was My Love – Infidels outtake
8 Too Late [acoustic version] – Infidels outtake
9 Too Late [band version] – Infidels outtake
10 Foot of Pride – Infidels outtake
Disk 4 von 5 (CD)
1 Clean Cut Kid – Infidels outtake
2 Sweetheart Like You – Infidels alternate take
3 Baby What You Want Me to Do – Infidels outtake
4 Tell Me – Infidels outtake
5 Angel Flying Too Close to the Ground – Infidels outtake
6 Julius and Ethel – Infidels outtake
7 Green, Green Grass of Home – Infidels outtake
8 Union Sundown – Infidels alternate take
9 Lord Protect My Child – Infidels outtake
10 I and I – Infidels alternate take
11 Death is Not the End [full version] – Infidels outtake
Disk 5 von 5 (CD)
1 Enough is Enough [live] – Slane Castle, Ireland
2 License to Kill [live] – Late Night with David Letterman, March 22, 1984
3 I'll Remember You – Empire Burlesque alternate take
4 Tight Connection to My Heart (Has Anybody Seen My Love) – Empire Burlesque alternate mix
5 Seeing the Real You at Last – Empire Burlesque alternate take
6 Emotionally Yours – Empire Burlesque alternate take
7 Clean Cut Kid – Empire Burlesque alternate take
8 Straight A's in Love – Empire Burlesque outtake
9 When the Night Comes Falling from the Sky [slow version]– Empire Burlesque alternate take
10 When the Night Comes Falling from the Sky [fast version] – Empire Burlesque alternate take
11 New Danville Girl – Empire Burlesque outtake
12 Dark Eyes – Empire Burlesque alternate take