The Sweet: Action! The Ultimate Sweet Story (DVD Action-Pack)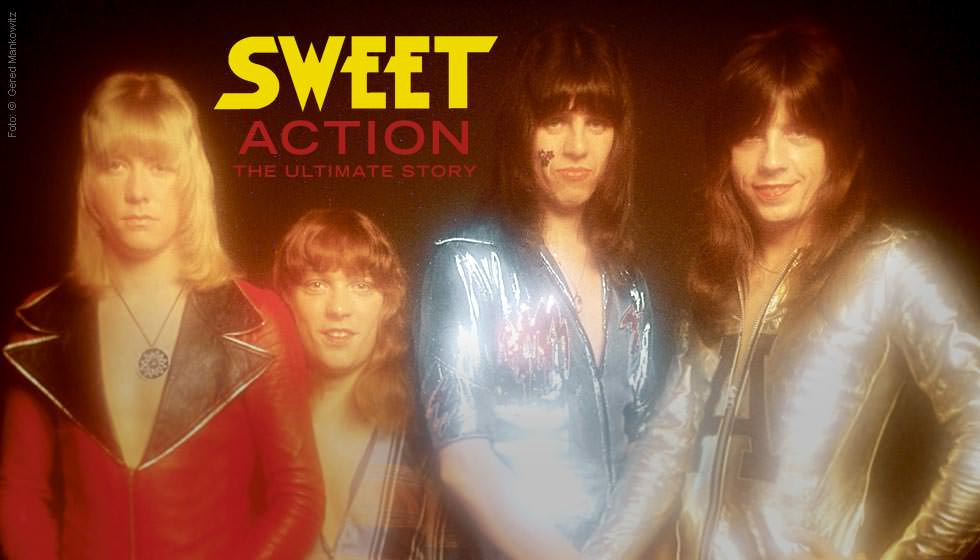 Die ganze Geschichte
Lange Haare, enge Glitzeroutfits, schrille Gitarren und rebellische Texte – Sweet gehören zu den Vätern des Glamrock. 1968 als »Sweet Shop« gegründet, erreichte die Band, die ihren Namen wenig später in »Sweet« änderte, im Laufe der Jahre Kultstatus.

2015 wollen es die Briten noch einmal wissen und gehen auf umfangreiche Europatournee. Damit Fans wissen, was sie dort erwartet, gibt es mit »Action! The Ultimate Sweet Story« gleichzeitig ein Best-of-Album sowie eine umfassende filmische Dokumentation.

Action! The Ultimate Sweet Story (DVD Action-Pack)
3 DVDs
DVD
Die meisten angebotenen DVDs haben den Regionalcode 2 für Europa und das Bildformat PAL. Wir bieten aber auch Veröffentlichungen aus den USA an, die im NTSC-Format und mit dem Ländercode 1 auf den Markt kommen. Dies ist dann in unseren Artikeldetails angegeben.
versandfertig innerhalb von 1-3 Tagen
(soweit verfügbar beim Lieferanten)
Label: Sony, 2015
FSK ab 12 freigegeben
Bestellnummer:

8285990

Erscheinungstermin: 18.9.2015
Weitere Ausgaben von Action! The Ultimate Sweet Story
Filmausschnitte/Videotrailer
Sound:Dolby Digital 2.0;Bild:4:3/NTSC;Spr:E;Ländercode:0;Laufzeit:446 Min.
*** DVDs mit Kopierschutz
Zufriedenheit garantiert

»Action« – Kaum ein Wort beschreibt die Band Sweet besser, denn wer die Glamrocker schon einmal live erlebt hat, weiß, dass es auf ihren Konzerten richtig zur Sache geht. Genau 40 Jahre nach der gleichnamigen Single gehen die Briten noch einmal auf Tour. Passend dazu gibt es ein neues Best-of der Band, und das heißt: »Action! The Ultimate Sweet Story«.

Wie der Name schon sagt, wird darauf die ganze Geschichte der Band musikalisch aufgearbeitet. Auf zwei CDs haben Sweet 32 ihrer größten Hits versammelt, darunter alle acht Nr.-1-Singles, zum Beispiel »The Ballroom Blitz«, »Teenage Rampage« oder »Fox On The Run«. Und obwohl die Band bereits seit 1982 kein neues Album mehr veröffentlicht hat, hat es mit »Defender« sogar ein ganz neuer Song auf die Platte geschafft.

Zusätzlich zum Best-of-Album ist »Action! The Ultimate Sweet Story« auch als DVD-Action-Pack erhältlich. Auf drei DVDs warten über sieben Stunden Filmmaterial der Band, darunter zahlreiche Musikvideos, TV-Auftritte, Dokumentationen, Andy Scotts Soloclips und ein bis dato unveröffentlichtes Live-Konzert.

»Satisfaction Guaranteed« lautet seit jeher das Motto von Sweet. Keine Frage, dass sie auch mit »Action! The Ultimate Sweet Story« ihre Fans ein weiteres Mal zufriedenstellen werden.


Rezensionen

»›Action! The Ultimate Sweet Story‹ hebt sich in dieser Hinsicht positiv ab, natürlich sind die großen Hits aus den 70er Jahren mit dabei, von ›Wig Wam Bam‹ über ›Hell Raiser‹, ›The Ballroom Blitz‹, ›Teenage Rampage‹ und ›Block Buster‹ bis zu ›Action‹, doch wird auch den späteren Zeiten ab 1979, als der 1997 verstorbene Brian Connolly ausstieg, gebührend Platz eingeräumt.«
(Good Times, Oktober/November 2015)


Disk 1 von 3
1 ON TV:Co-Co (Die Aktuelle Schaubude, Ndr, 06.11.1971)
2 Poppa Joe (Top Of The Pops, BBC, 11.03.1972)
3 Little Willy (Top Of The Pops, BBC, 22.07.1972)
4 Wig-Wam Bam (Top Of The Pops, BBC, 11.11.1972)
5 Blockbuster (Top Of The Pops, BBC, 25.01.1973)
6 Hell Raiser (Disco, ZDF, 23.06.1973)
7 The Ballromm Blitz (Silvester-Tanzparty 1974/75, ZDF, 31.12.1974)
8 Teenage rampage (Musikladen, Radio Bremen, 20.02.1974)
9 You're Not Wrong For Loving Me (45, ITV, 28.11.1974)
10 Lady Starlight (Supersonic, ITV, 13.12.1975)
11 Breakdown (The Geordie Scene, ITV, 30.11.1974)
12 Fox On The Run (Top Of The Pops, BBC, 23.12.1975)
13 Action (Supersonic, ITV, 16.10.1975)
14 Burn On The Flame (Supersonic, ITV, 16.10.1975)
15 The Lies In Your Eyes (Supersonic, ITV, 17.01.1976)
16 Lost angels (Musikladen, Radio Bremen, 11.12.1976)
17 Live For Today (Disco, ZDF, 20.08.1978)
18 Love Is Like Oxygen (Disco, ZDF, 20.03.1978)
19 Call me (Musikladen, Radio Bremen, 22.03.1979)
20 Burn on the flame (Live At Musikladen 11.11.1974)
21 No you don't (Live At Musikladen 11.11.1974)
22 Turn it down (Live At Musikladen 11.11.1974)
23 Breakdown (Live At Musikladen 11.11.1974)
24 Solid gold brass (Live At Musikladen 11.11.1974)
25 Sweet F.A. (Live At Musikladen 11.11.1974)
26 Andy Scott guitar solo (Live At Musikladen 11.11.1974)
27 Man with the golden arm (Live At Musikladen 11.11.1974)
28 The six teens (Live At Musikladen 11.11.1974)
29 Do Unto Others (Mr. Rose, ITV, 21.06..1968)
30 Co-Co (Disco, ZDF, 11.09.1971)
31 Blockbuster (Top Of The Pops, BBC, 01.02.1973)
32 Blockbuster (Disco, ZDF, 23.06.1973)
33 Blockbuster (Top Of The Pops, BBC, 25.12.1973)
34 Blockbuster (Alternative Take) (Top Of The Pops, BBC, 25.12.1973)
35 Sweet F.A. (Musikladen, Radio Bremen, 20.02.1974)
36 Turn it down (Live) (Musikladen, Radio Bremen, 13.11.1974)
37 Turn It Down (Disco, ZDF, 23.11.1974)
38 The Six Teens (45, ITV, 28.11.1974)
39 Lady Starlight (45, ITV, 28.11.1974)
40 Solid Gold Brass (The Geordie Scene, ITV, 30.11.1974)
41 Turn It Down (The Geordie Scene, ITV, 30.11.1974)
42 The Six Teens (Silvester-Tanzparty 1974/75, ZDF, 31.12.1974)
43 Blockbuster (Silvester-Tanzparty 1974/75, ZDF, 31.12.1974)
Disk 2 von 3
1 MUSIC VIDEOS:Alexander Graham Bell
2 Jeanie
3 Poppa Joe
4 The ballroom blitz
5 Teenage rampage
6 The six teens
7 Turn it down
8 Fox on the run
9 Action
10 The lies in your eyes
11 Lost angels
12 Fever of love
13 Love is like oxygen
14 Sixties man
15 Give the lady some respect
16 Lady Starlight
17 Krugerrands
18 All that glitters (Documentary)
19 Action (Top Of The Pops, BBC, 24.07.1975)
20 Fox On The Run (Silvester-Tanzparty 1975/76, ZDF, 31.12.1975)
21 Action (Silvester-Tanzparty 1975/76, ZDF, 31.12.1975)
22 Lost Angels (Disco, ZDF, 08.01.1977)
23 Hell Raiser (Kosmopol, Svt, 29.11.1991)
24 X-Ray Specs (Kosmopol, Svt, 29.11.1991)
25 Poppa Joe (Das Grosse Sommer-Hit-Festival, ZDF, 06.09.2001)
26 Do It All Over Again (ZDF-Fernsehgarten, ZDF, 23.06.2002)
27 The Ballroom Blitz (ZDF-Fernsehgarten, ZDF, 27.07.2008)
28 Fox On The Run (ZDF-Fernsehgarten, ZDF, 27.07.2008)
29 Fox On The Run (ZDF-Fernsehgarten, ZDF, 17.07.2011)
30 Join Together (ZDF-Fernsehgarten, ZDF, 17.07.2011)
31 Hit-Medley (Willkommen Bei Carmen-Nebel, ZDF, 11.05.2013)
32 Fox On The Run (ZDF-Fernsehgarten, ZDF, 06.07.2014)
33 Love Is Like Oxygen (ZDF-Fernsehgarten, ZDF, 06.07.2014)
Disk 3 von 3
1 ON STAGE:Action (Live At The Marque, London, UK, 12.02.1986)
2 Sweet F.A. (Live At The Marque, London, UK, 12.02.1986)
3 Restless (Live At The Marque, London, UK, 12.02.1986)
4 No you don't (Live At The Marque, London, UK, 12.02.1986)
5 Guitar segue (Live At The Marque, London, UK, 12.02.1986)
6 Burning / ...Someone else will (Live At The Marque, London, UK, 12.02.1986)
7 Drum solo (Live At The Marque, London, UK, 12.02.1986)
8 Love is like oxygen (Live At The Marque, London, UK, 12.02.1986)
9 Set me free (Live At The Marque, London, UK, 12.02.1986)
10 The ballroom blitz (Live At The Marque, London, UK, 12.02.1986)
11 Fox on the run (Live At The Marque, London, UK, 12.02.1986)
12 Action (Live At The Capitol, Hamburg, Germany, 19.11.1991)
13 AC/DC (Live At The Capitol, Hamburg, Germany, 19.11.1991)
14 Sweet F.A. (Live At The Capitol, Hamburg, Germany, 19.11.1991)
15 The six teens (Live At The Capitol, Hamburg, Germany, 19.11.1991)
16 X-ray specs (Live At The Capitol, Hamburg, Germany, 19.11.1991)
17 Burn on the flame (Live At The Capitol, Hamburg, Germany, 19.11.1991)
18 Cockroach (Live At The Capitol, Hamburg, Germany, 19.11.1991)
19 Lady Starlight (Live At The Capitol, Hamburg, Germany, 19.11.1991)
20 Love is like oxygen (Live At The Capitol, Hamburg, Germany, 19.11.1991)
21 Set me free (Live At The Capitol, Hamburg, Germany, 19.11.1991)
22 Blockbuster (Live At The Capitol, Hamburg, Germany, 19.11.1991)
23 Teenage rampage (Live At The Capitol, Hamburg, Germany, 19.11.1991)
24 Hell raiser (Live At The Capitol, Hamburg, Germany, 19.11.1991)
25 Fox on the run (Live At The Capitol, Hamburg, Germany, 19.11.1991)
26 The ballroom blitz (Live At The Capitol, Hamburg, Germany, 19.11.1991)