Steven Wilson Presents: Intrigue - Progressive Sounds In UK Alternative Music
Steven Wilson Presents: Intrigue - Progressive Sounds In UK Alternative Music
4 CDs
CD (Compact Disc)
Herkömmliche CD, die mit allen CD-Playern und Computerlaufwerken, aber auch mit den meisten SACD- oder Multiplayern abspielbar ist.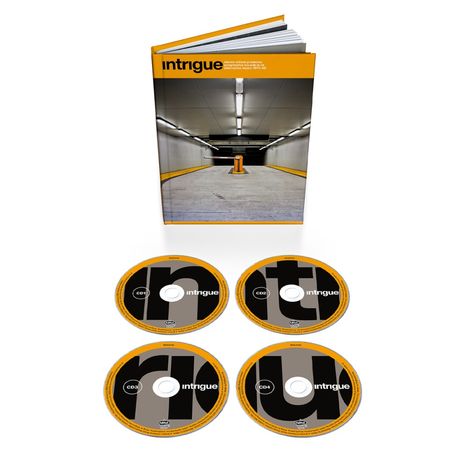 Label: Demon, 1979-1989
Bestellnummer:

11084230

Erscheinungstermin: 24.2.2023
Weitere Ausgaben von Steven Wilson Presents: Intrigue - Progressive Sounds In UK Alternative Music
*** Hardcoverbook (Hochformat)
Gesamtverkaufsrang: 2042
Verkaufsrang in CDs: 836
Gesamtverkaufsrang: 2042
Verkaufsrang in CDs: 836
"Dies ist mein persönlich kuratierter Versuch, das Gleichgewicht wiederherzustellen und vielleicht alle 80er-Jahre-Skeptiker da draußen mit der Idee vertraut zu machen, dass konzeptionelles Denken und Ehrgeiz nicht plötzlich nach '77 verschwanden... ehrgeizige, verrückte und aufregende Musik war in den 80ern überall um einen herum - wenn man an den richtigen Stellen suchte." (Steven Wilson)

Demon Records ist stolz darauf, Intrigue - Steve Wilson Presents zu veröffentlichen: Progressive Sounds In UK Alternative Music 1979 - 89, eine neue Compilation, zusammengestellt vom gefeierten Musiker, Singer-Songwriter und Plattenproduzenten Steven Wilson.

Mit 58 Tracks erkundet die Sammlung die Kreativität, das Experimentieren und den progressiven Geist der alternativen britischen Musik von 1979 - 1989. Zu den Künstlern gehören Wire, XTC, The Stranglers, Ultravox, The Durutti Column, Cocteau Twins, Kate Bush, Tears For Fears und viele mehr.

4CDs in einem Mediabook mit einem 80-seitigen Booklet mit einer Einführung von Steven Wilson und ausführlichen Track-by-Track-Liner Notes von James Nice.

Gemastert von Phil Kinrade bei AIR Mastering.

Eine 7LP-Vinyl-Edition mit 58 Tracks ist ebenfalls erhältlich, zusammen mit einer 2LP-Vinyl-Edition mit 20 Highlights.


Disk 1 von 4 (CD)
1 I Should Have Known Better / Wire
2 A Better Home In The Phantom Zone / Bill Nelson's Red Noise
3 Back To Nature / Magazine
4 Complicated Game (Steven Wilson 2014 Mix) / XTC
5 Careering / Public Image Limited
6 The Raven / The Stranglers
7 Puppet Life / Punishment Of Luxury
8 Astradyne (Steven Wilson Stereo Mix) / Ultravox
9 Contract / Gang Of Four
10 I Travel (Extended Version) / Simple Minds
11 Sketch For Summer / The Durutti Column
12 Health And Efficiency / This Heat
13 Burning Car / John Foxx
14 Cognitive Dissonance (Steven Wilson 2022 Mix) / Robert Fripp And The League of Gentlemen
15 Fatal Day / In Camera
Disk 2 von 4 (CD)
1 I Can't Escape Myself / The Sound
2 The Eternal / Joy Division
3 Big Empty Field / Swell Maps
4 Enemies / Art Nouveau
5 The Joy Circuit / Gary Numan
6 The Gospel Comes To New Guinea / 23 Skidoo
7 All My Colours / Echo And The Bunnymen
8 Ghost Town (Extended Version) / The Specials
9 They All Run After The Carving Knife / New Musik
10 The Him / New Order
11 White Car In Germany (Single Edit) / The Associates
12 Hit / Section 25
13 Sealand / Orchestral Manoeuvres In The Dark
14 Talking Drum / Japan
15 Faith / The Cure
Disk 3 von 4 (CD)
1 Three Dancers (Steven Wilson 2021 Mix) / Twelfth Night
2 Airwaves / Thomas Dolby
3 Are You Ready? / Crispy Ambulance
4 The Outsider / Rupert Hine
5 Knife Slits Water / A Certain Ratio
6 Memories Fade / Tears For Fears
7 Patient / Peter Hammill
8 Donimo / Cocteau Twins
9 In A Waiting Room / Mr And Mrs Smith And Mr Drake
10 Close (To The Edit) / The Art Of Noise
11 Dalis Car / Dalis Car
12 Rawhide / Scott Walker
13 Brilliant Trees / David Sylvian
14 Dream Within A Dream / Propaganda
Disk 4 von 4 (CD)
1 Waking The Witch / Kate Bush
2 Ivy And Neet / This Mortal Coil
3 Beehead (7" Version) / Perennial Divide
4 This Corrosion / The Sisters Of Mercy
5 Ascension / O Yuki Conjugate
6 No Motion / Dif Juz
7 Gutter Busting / SLAB!
8 Murderers, The Hope Of Women / Momus
9 The Host Of Seraphim / Dead Can Dance
10 R.E.S. / Cardiacs
11 Good Morning Beautiful / The The
12 Omega Amigo / The Shamen
13 Night Sky, Sweet Earth / No-Man
14 The 3rd Time We Opened The Capsule / Kitchens Of Distinction