Roger Waters: Amused To Death (Remastered) (2015 Edition)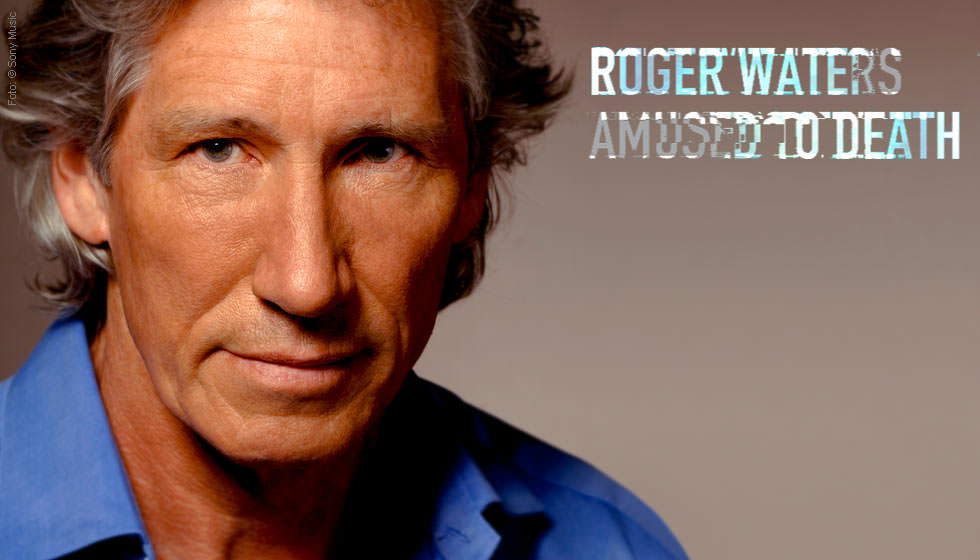 Das Opus Magnum im frischen Sound
Vor dreiundzwanzig Jahren warf Roger Waters mit »Amused to Death« einen kritischen Blick auf die Vergnügungssucht der Gesellschaft. Waters schlug Alarm, weil die Menschen mehr und mehr zu Sklaven ihrer TV-Bildschirme wurden, ohne sich darüber bewusst zu sein.

Im Jahre 2015 ist das Fernsehen dank Internet, Spielkonsole und Smartphone nur noch eine von unzähligen Möglichkeiten, sich von der Realität abzulenken. Während wir auf den zweiten oder dritten Screen starren, verschwinden die Probleme der Welt oft genug aus unserem Blickfeld.

Roger Waters »Amused to Death« hat nichts von seiner Aktualität eingebüßt. Dank des akribischen Remasterings von James Guthrie klingt das Album jetzt auch wieder taufrisch. Ein ebenso notwendiges wie begeisterndes Reissue.
Amused To Death (Remastered) (2015 Edition)
1 CD, 1 Blu-ray Audio
CD (Compact Disc)
Herkömmliche CD, die mit allen CD-Playern und Computerlaufwerken, aber auch mit den meisten SACD- oder Multiplayern abspielbar ist.
Label: Columbia, 1992
Bestellnummer:

6959806

Erscheinungstermin: 24.7.2015
Blu-ray Audio:Dolby Digital 2.0;Ländercode:A,B,C;Kopierschutz
*** Digipack
Rezensionen

» … Roger Waters trifft den Nagel auf den Kopf, wenn er auf den 14 Tracks seines Albums über die größten Übel unserer Gesellschaft nachdenkt. Besonders beeindruckend ist hierbei ›Late Home Tonight‹ […] Waters beschreibt auf diesem Song die kindliche, überschwängliche Freude am Fliegen, die ein US-Pilot empfindet. Allerdings ist der Mann auf dem Weg nach Libyen, um dort Bomben auf Kinder abzuwerfen.« Entertainment Weekly, September 11, 1992 (Grade A - Höchstwertung)

»Der Künstler hat die Verantwortung, die Zukunft vorherzusehen. Seine Zeitgenossen sind dafür zuständig, das schlimmste Szenario zu verhindern. Mit Amused to Death – sicher eines der provokantesten und musikalisch fesselndsten Alben des Jahrzehnts – hat Roger Waters seinen Teil des Deals erfüllt.« Timothy White, »Music to My Ears,« Billboard Magazine, July 1992

»Die melancholische Stimmung kontrastiert effektvoll mit wuchtigem, gelegentlich Gospel-grundiertem Rock. Viele Stücke haben einen hohen melodischen Wiedererkennungswert, die Arrangements sind dank hochkarätiger Gäste (...) ebenfalls erste Sahne. Und das druckvolle Remastering macht das Fan-Glück komplett. Eine beiliegende Blu-ray bietet das Programm in hochauflösendem 5.1 Surround.« (stereoplay, September 2015)

»Mit Co-Produzent James Guthrie gelang dem Pink-Floyd-Rebellen ein famoses Remastering der 14Songs, bei denen damals Gäste wie Jeff Beck, Don Henley und Orchestrator Michael Kamen mitwirkten.« (Audio, September 2015)
Disk 1 von 2
1 The Ballad Of Bill Hubbard
2 What God Wants, Part I
3 Perfect Sense, Part I
4 Perfect Sense, Part II
5 The Bravery Of Being Out Of Range
6 Late Home Tonight, Part I
7 Late Home Tonight, Part II
8 Too Much Rope
9 What God Wants, Part II
10 What God Wants, Part III
11 Watching TV
12 Three Wishes
13 It's A Miracle
14 Amused To Death
Disk 2 von 2
1 The Ballad Of Bill Hubbard
2 What God Wants, Part I
3 Perfect Sense, Part I
4 Perfect Sense, Part II
5 The Bravery Of Being Out Of Range
6 Late Home Tonight, Part I
7 Late Home Tonight, Part II
8 Too Much Rope
9 What God Wants, Part II
10 What God Wants, Part III
11 Watching TV
12 Three Wishes
13 It's A Miracle
14 Amused To Death