Phil Collins: The Singles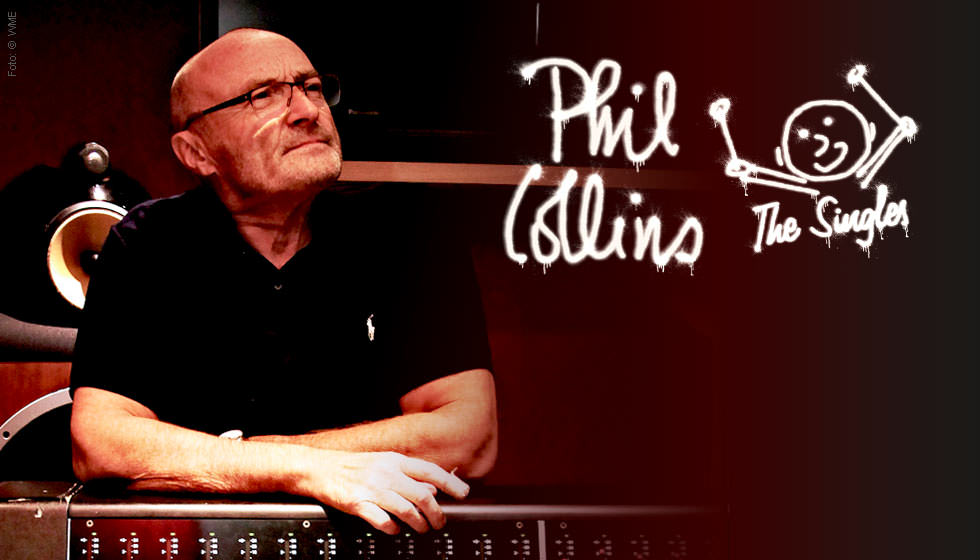 Seine größten Erfolge
Erst zu Beginn des Jahres hatte Phil Collins mit seiner Wiederveröffentlichungsreihe »Take A Look At Me Now…« seine Soloalben neu aufgelegt, und zwar als remasterte und erweiterte Versionen.

Mit »The Singles« widmet sich der Sänger, Musiker, Songwriter und ehemalige Genesis-Frontmann jetzt noch einmal seinen größten Erfolgen. »The Singles« heißt die neue umfangreiche Kollektion seiner erfolgreichsten Songs.
The Singles
3 CDs
CD (Compact Disc)
Herkömmliche CD, die mit allen CD-Playern und Computerlaufwerken, aber auch mit den meisten SACD- oder Multiplayern abspielbar ist.
Label: Rhino
Bestellnummer:

4109322

Erscheinungstermin: 14.10.2016
Weitere Ausgaben von The Singles
Filmausschnitte/Videotrailer
Alle Hits der Popikone auf einem Album
Phil Collins lässt seine musikalische Vergangenheit 2016 noch einmal Revue passieren und legt mit »The Singles« seine größten Hits noch einmal auf.
Auf zwei CDs bzw. vier LPs versammelt der Sänger 33 Songs, darunter seine Nummer-eins-Hits »In the Air Tonight« (1981), »You Can't Hurry Love« (1982), »Against All Odds (Take a Look at Me Now)« (1984), »Sussudio« (1985), »One More Night« (1985), »Separate Lives« (1985), »A Groovy Kind of Love« (1988), »Two Hearts« (1988) und »Another Day in Paradise« (1989).
Zudem warten viele weitere Klassiker auf »Singles«, zum Beispiel »I Don't Care Anymore«, welches Collins seine erste Grammy-Nominierung einbrachte. Ebenfalls dabei ist das Lied »You'll Be In My Heart«, das Collins für den Soundtrack des Disney-Films »Tarzan« komponierte. Es wurde mit dem Oscar in der Kategorie »Best Original Song« ausgezeichnet.
Bei den Songs auf »The Singles« handelt es sich wie schon bei seinen erst kürzlich wiederveröffentlichten Soloalben in der Reihe
»Take A Look At Me Now…«
um komplett neu gemasterte Versionen.
Als besonderes Highlight gibt es neben der Doppel-CD und der LP-Version noch ein »The Singles«-Set mit insgesamt drei CDs. Diese Deluxe Version umfassen insgesamt 45 Tracks, mit denen Phil Collins internationale Erfolge feierte. Im Gegensatz zu den anderen Formaten sind die Songs hier in chronologischer Reihenfolge aufgelistet.
Eine Kollektion, die es wirklich in sich hat: Phil Collins' »The Singles« versammelt alle großen Hits des legendären Popmusikers auf einem Album.
Rezensionen
»Angeführt von seinem Megahit ›In The Air Tonight‹ geht es zurück in die 80er Jahre, sechs (!) erfolgreiche Single-Auskopplungen aus Hello, I Must Be Going zeugen von einer Hitdichte, die Collins' Dominanz in dieser Zeit eindrucksvoll unterstreicht.« (Good Times, Dezember 2016 / Januar 2017)

»Diese Kollektion zeigt noch einmal, warum Collins von 1981 bis 1989 die Charts regierte.« (Rolling Stone, 13.10.2016)
Disk 1 von 3
1 In The Air Tonight
2 I Missed Again
3 If Leaving Me Is Easy
4 Thru These Walls
5 You Can't Hurry Love
6 I Don't Care Anymore
7 Don't Let Him Steal Your Heart Away
8 Why Can't It Wait 'Til Morning
9 I Cannot Believe It's True
10 Against All Odds
11 Easy Lover
12 Sussudio
13 One More Night
14 Don't Lose My Number
15 Take Me Home
Disk 2 von 3
1 Separate Lives
2 A Groovy Kind Of Love
3 Two Hearts
4 Another Day In Paradise
5 I Wish It Would Rain Down
6 Something Happened On The Way To Heaven
7 That's Just The Way It Is
8 Hang In Long Enough
9 Do You Remember?
10 Who Said I Would
11 Both Sides Of The Story
12 Everyday
13 We Wait And We Wonder
14 Dance Into The Light
15 It's In Your Eyes
Disk 3 von 3
1 No Matter Who
2 Wear My Hat
3 The Same Moon
4 True Colors
5 You'll Be In My Heart (Disney)
6 Strangers Like Me (Disney)
7 Son Of Man (Disney)
8 Two Worlds (Disney)
9 Can't Stop Loving You
10 The Least You Can Do
11 Wake Up Call
12 Look Through My Eyes (Disney)
13 No Way Out (Disney)
14 (Love Is Like A) Heatwave
15 Going Back