Mississippi John Hurt: Mr. Hurt Goes To Washington
Mr. Hurt Goes To Washington
2 CDs
CD (Compact Disc)
Herkömmliche CD, die mit allen CD-Playern und Computerlaufwerken, aber auch mit den meisten SACD- oder Multiplayern abspielbar ist.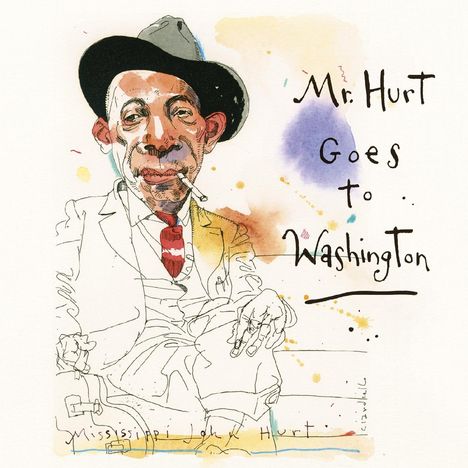 lieferbar innerhalb 1-2 Wochen
(soweit verfügbar beim Lieferanten)
Label: Sunset Blvd
Bestellnummer:

10611721

Erscheinungstermin: 9.7.2021
*** Triplesleeve
»The Best of the Washington D. C. Sessions« Im Juli 1963 konnte die Library of Congress Mississippi John Hurt dazu bewegen, in das Coolidge Auditorium in DC zu kommen und Dutzende von Songs als Krönung seines Vermächtnisses aufzunehmen.

Mississippi John Hurt sang mit einer Wärme und nachdenklichen Qualität, die ihn wie keinen anderen Bluessänger auf der Welt klingen ließ, und diese Library of Congress Recordings zeigen seinen vom Gospel beeinflussten Stil auf wunderbare Weise.
Disk 1 von 2 (CD)
1 Candy man
2 Avalon blues
3 Frankie and Albert
4 Richland women blues
5 Stack o' Lee
6 Louis Collins
7 Monday morning blues
8 Nobody's dirty business
9 Slidin' delta
10 Got the blues can't be satisfied
11 My creole belle
12 Spike driver blues
13 Coffee blues
14 Let the mermaids flirt with me
15 Talkin' Casey Jones
16 Funky butt
17 Joe turner
18 I'm satisfied
19 Blessed be the name
20 Camp meeting on the old camp ground
Disk 2 von 2 (CD)
1 Trouble i've had all my day
2 Pera lee
3 Pay day
4 Corrina, Corrina
5 Hey baby right away
6 Pallet on the floor
7 Waiting for a train
8 Oh Mary don't you weep
9 Weeping and wailing
10 Keep on knocking
11 If you don't want me
12 Salty dog
13 Walking the floor over you
14 Cow hooking blues
15 Four o'clock blues
16 See see rider
17 Poor boy a long way from home
18 Good morning miss carrie
19 I got mine
20 Hot time in the old town tonight