Marianne Faithfull: Songs Of Innocence And Experience 1965 - 1995 (SHM-CD) (Triplesleeve)
Songs Of Innocence And Experience 1965 - 1995 (SHM-CD) (Triplesleeve)
2 CDs
CD (Compact Disc)
Herkömmliche CD, die mit allen CD-Playern und Computerlaufwerken, aber auch mit den meisten SACD- oder Multiplayern abspielbar ist.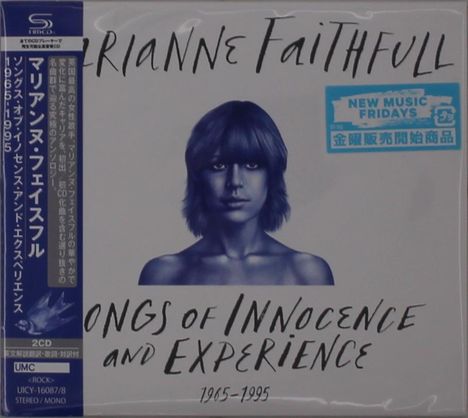 Nur noch 1 Stück am Lager. Danach versandfertig innerhalb 2-3 Wochen (soweit verfügbar beim Lieferanten)
Verlängerter Rückgabezeitraum bis 31. Januar 2023
Alle zur Rückgabe berechtigten Produkte, die zwischen dem 1. bis 31. Dezember 2022 gekauft wurden, können bis zum 31. Januar 2023 zurückgegeben werden.

Label: Universal
Bestellnummer:

11013273

Erscheinungstermin: 16.9.2022
Weitere Ausgaben von Songs Of Innocence And Experience 1965 - 1995
*** SHM - Super High Material
*** Japan-Import
Die erste Marianne Faithfull-Compilation seit »An Introduction to...« von 2001 und die erste mit seltenem und unveröffentlichtem Material seit der Island-Anthologie »A Perfect Stranger« von 1998. Sie enthält 4 bisher unveröffentlichte Aufnahmen, darunter 1 komplett ungehörter Song. Zusätzlich zu dem unveröffentlichten Material erscheinen 22 der 29 Tracks auf der LP zum ersten Mal auf Vinyl oder zum ersten Mal seit ihrer ursprünglichen Veröffentlichung, und auf dem 2CD-Set geben 9 Aufnahmen ihr CD/Digital-Debüt.

Diese Zusammenstellung bietet einen definitiven Überblick über die ersten 30 Jahre von Mariannes Aufnahmekarriere bei den Labels Decca und Island und enthält Versionen aller ihrer bemerkenswerten Singles, einschließlich der Originalausgabe ihrer letzten Decca 7" 'Something Better' / 'Sister Morphine' mit alternativen Aufnahmen, die seit 1969 nicht mehr erhältlich waren: Sie dient sowohl als Fibel für Uneingeweihte als auch als Raritätensammlung für diejenigen, die bereits bekehrt sind. Der Titel Songs of Innocence and Experience (Lieder der Unschuld und der Erfahrung) verdeutlicht den Wechsel des Gesangsstils zwischen Mariannes orchestralem Folk-Pop der 60er Jahre mit ihrer hohen, reinen Stimme und ihrem New-Wave-Punk-beeinflussten Comeback Ende der 70er Jahre mit Broken English mit ihrem charakteristischen, gebrochenen Gesang.

Das Frontcover zeigt ein handgezeichnetes Bleistiftbild des litauischen Künstlers Aiste Stancikaite, das exklusiv für dieses Projekt in Auftrag gegeben wurde, und die Verpackung enthält viele seltene und ungesehene Bilder.


Die Hörproben gehören zum Artikel Marianne Faithfull: Songs Of Innocence And Experience 1965 - 1995 (CD). Das Tracklisting kann bei diesem Artikel ggf. abweichen.
Disk 1 von 2 (CD)
1 Come And Stay With Me
2 What Have They Done To The Rain
3 Once I Had A Sweetheart
4 Come My Way (Version 2)
5 Go Away From My World
6 This Little Bird
7 Nuit D'été
8 Yesterday (Live On BBC Saturday Club 1965)
9 Cockleshells (Live On BBC Saturday Club 1966)
10 Green Are Your Eyes
11 Sally Free And Easy
12 Sunny Goodge Street (Alternate Take)
13 The First Time (Ever I Saw Your Face) (Faithfull Forever Version)
14 With You In Mind
15 Hang On To A Dream
16 Young Girl Blues
17 Hier Ou Demain
18 Is This What I Get For Loving You?
19 Don't Make Promises
20 Something Better
21 Sister Morphine (1969 Version)
22 It's All Over Now Baby Blue
23 Chords Of Fame
24 The Ballad Of Lucy Jordan (Original Mix)
25 What's The Hurry? (Original Mix)
Disk 2 von 2 (CD)
1 Broken English (1980 7" Remix Version)
2 Why'd Ya Do It? (12" Remix)
3 Over Here (No Time For Justice)
4 Intrigue (7" Version)
5 Truth, Bitter Truth (7" Version)
6 Falling From Grace
7 Running For Our Lives (7" Version)
8 She's Got A Problem
9 I'm In Love Again
10 Strange Weather
11 As Tears Go By (1987 Version)
12 A Stranger On Earth
13 The Calm Before The Storm
14 When I Find My Life (Live "Blazing Away" Version)
15 Brain Drain (Live)
16 The Boulevard Of Broken Dreams (Live)
17 Times Square (Live "Blazing Away" Version)
18 Bored By Dreams
19 The Stars Line Up