Jack White (White Stripes): Acoustic Recordings 1998 - 2016 (remastered) (180g)
Acoustic Recordings 1998 - 2016 (remastered) (180g)
2 LPs
LP (Long Play)
Die gute alte Vinyl - Langspielplatte.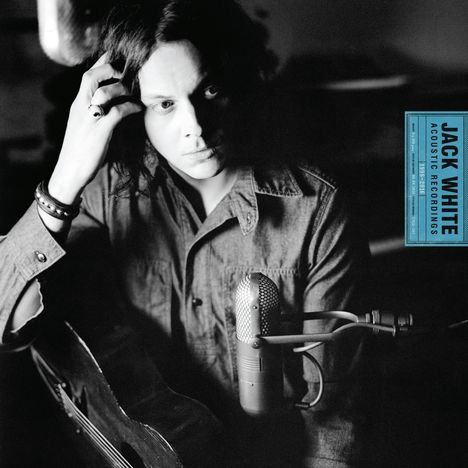 lieferbar innerhalb 1-2 Wochen
(soweit verfügbar beim Lieferanten)
Vinyl liefern wir innerhalb Deutschlands immer portofrei.
Label: Sony
Bestellnummer:

4255063

Erscheinungstermin: 9.9.2016
Weitere Ausgaben von Acoustic Recordings 1998 - 2016
*** Gatefold Cover
Gesamtverkaufsrang: 8508
Verkaufsrang in LPs: 2514
Ein akustisches Best-of von Jack White
Auf seinem neuen Doppelalbum »Acoustic Recordings 1998 - 2016« wagt Rockikone Jack White 2016 einen Karriererückblick der besonderen Art.

Mit insgesamt 26 Songs präsentiert der White-Stripes-Frontmann jetzt eine Auswahl rarer, teilweise nie veröffentlichter Akustiksongs, B-Seiten, Remixe und alternativer Versionen, und zwar aus allen Bereichen seiner Musikerkarriere und in chronologischer Reihenfolge.

Dazu gehört auch »City Lights«. Den White-Stripes-Song hatte White ursprünglich für »Get Behind Me Satan« geschrieben. Bei den Aufnahmen für das Record-Store-Day-Vinyl-Reissue fiel er ihm wieder in die Hände.

Neben White-Stripes-Liedern enthält »Acoustic Recordings 1998 - 2016« zudem Raconteurs- und Solosongs, wie »Never Far Away«, der Songs für den »Cold Mountain«-Soundtrack oder »Love Is The Truth«, den Jack White für die Coca-Cola-Kampagne komponierte.

Alle Aufnahmen von »Acoustic Recordings 1998 - 2016« wurden 2016 extra für die Veröffentlichung neu gemastert, und zwar vom grammynominierten Mastering-Engineer Andrew Mendelson in Nashville.

Geschrieben und produziert wurden die Tracks mit wenigen Ausnahmen von Jack White persönlich. Den Song »Never Far Away« produzierte T Bone Burnett, bei »Honey, We Can't Afford To Look This Cheap« saß Beck hinterm Mischpult, für »Top Yourself (Bluegrass Version)« und »Carolina Drama« arbeitete White mit Brendan Benson und für »Machine Gun Silhouette« mit Rob Jones.

»Acoustic Recordings 1998 - 2016« erscheint bei Whites eigenem Label Third Man.

Jack-White-Fans aufgepasst: »Acoustic Recordings 1998 - 2016« heißt das karriereumspannende neue Best-of-Album des legendären Musikers.


Rezensionen
»Sehr divers, sehr unterhaltsam.​« (stereoplay, November 2016)

»Ein schöner (.​.​.​) Querschnitt durch das Schaffen Jack Whites beziehungsweise seiner Kooperationen.​« (LP-Magazin, 2/2017)
Die Hörproben gehören zum Artikel Jack White (White Stripes): Acoustic Recordings 1998 - 2016 (CD). Das Tracklisting kann bei diesem Artikel ggf. abweichen.
LP
1 Sugar Never Tasted So Good
2 Apple Blossom(Remixed)
3 I'm Bound To Pack It Up(Remixed)
4 Hotel Yorba
5 We're Going To Be Friends
6 You've Got Her In Your Pocket
7 It's True That We Love One Another
8 Never Far Away
9 Forever For Her(Is Over For Me)
10 White Moon
11 As Ugly As I Seem
12 City Lights
13 Honey,We Can't Afford To Look This Cheap
14 Effect & Cause
LP
1 Love Is The Truth(Acoustic Mix)
2 Top Yourself(Bluegrass Version)
3 Carolina Drama(Acoustic Mix)
4 Love Interruption
5 On And On And On
6 Machine Gun Silhouette(Acoustic Mix)
7 Blunderbuss
8 Hip(Eponymous)poor Boy(Alternate Mix)
9 I Guess I Should Go To Sleep(Alternate Mix)
10 Just One Drink(Acoustic Mix)
11 Entitlement
12 Want And Able