Iron Maiden: The Book Of Souls: Live Chapter (Deluxe Edition)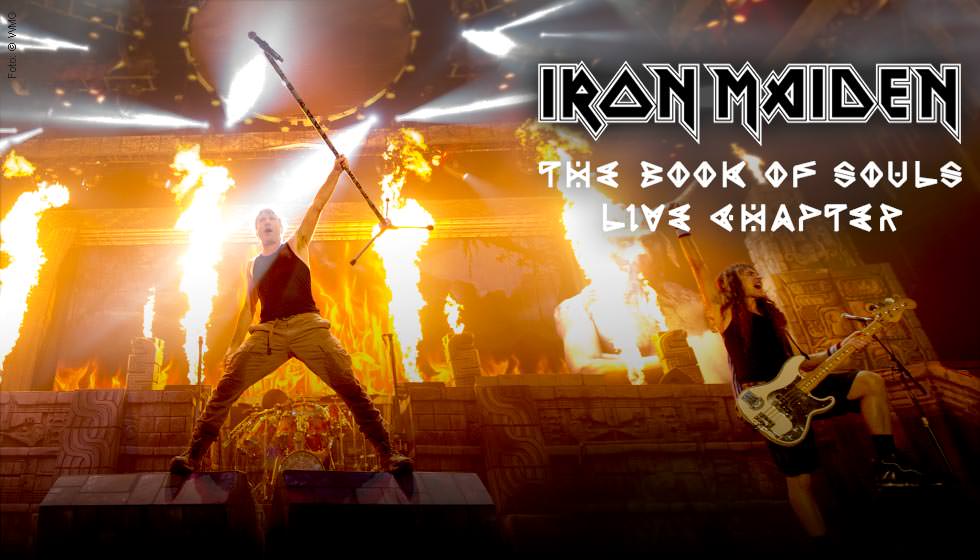 Rund um den Globus
Nachdem Iron Maiden vor gut zwei Jahren ihr Doppelalbum »The Book Of Souls« veröffentlichten, brachten die legendäre Heavy-Metal-Kombo die Songs gleich mehrfach auf die Bühne, und zwar rund um den gesamten Globus.

»The Book Of Souls – Live Chapter« heißt das Livealbum, das die Höhepunkte ihrer gigantischen Welttournee in einer Sammlung vereint.
The Book Of Souls: Live Chapter (Deluxe Edition)
2 CDs
CD (Compact Disc)
Herkömmliche CD, die mit allen CD-Playern und Computerlaufwerken, aber auch mit den meisten SACD- oder Multiplayern abspielbar ist.
Nur noch 1 Stück am Lager. Danach versandfertig innerhalb von 1-3 Tagen (soweit verfügbar beim Lieferanten)
Label: Parlophone
Bestellnummer:

7797315

Erscheinungstermin: 17.11.2017
*** Digibook (Hardcover) im Schuber
Die Highlights der gigantischen Welttournee
Mit »The Book Of Souls – Live Chapter« präsentiert Warner Music 2017 ein brandneues Konzertalbum von Iron Maiden.

Insgesamt 15 Songs warten auf der Platte, die auf ihrer großen »The Book Of Souls World Tour« aufgenommen wurden.

Während der gigantischen Konzertreise besuchten die britischen Hardrocklegenden insgesamt 39 Länder auf sechs Kontinenten.

Mit dabei sind sechs Songs ihres letzten Studioalbums »The Book Of Souls« sowie einige Iron-Maiden-Klassiker und Fanfavoriten. Die Aufzeichnungen stammen aus der ganzen Welt, zum Beispiel aus Sydney, Kapstadt, Tokyo, Rio De Janeiro oder vom berühmten Wacken Open Air in Deutschland.

Produziert haben »The Book Of Souls – Live Chapter« Tony Newton sowie Bassist Steve Harris.

Der Mitschnitt ist als Doppel-CD, als 3-LP-Set sowie als Deluxe-Edition mit Doppel-CD und 24-seitigem Hardcase-Book erhältlich.

Das neue Live-Best-of von Iron Maiden: »The Book Of Souls – Live Chapter« bringt die Highlights ihrer großen Welttournee ins heimische Wohnzimmer.


Disk 1 von 2 (CD)
1 If Eternity Should Fail (Allphones Arena, Sydney, Australia - Friday 6th May 2016)
2 Speed of Light (Grandwest Arena, Cape Town, South Africa - Wednesday 18th May 2016)
3 Wrathchild (3 Arena, Dublin, Ireland - Saturday 6th May 2017)
4 Children of the Damned (Bell Center, Montreal, Canada - Friday 1st April 2016)
5 Death or Glory (Wroclaw Stadium, Wroclaw, Poland - Sunday 3rd July 2016)
6 The Red and the Black (Ryogoku Kokugikan, Tokyo, Japan - Thursday 21st April 2016)
7 The Trooper (Estadio Jorge Magico Gonzalez, San Salvador, El Salvador - Sunday 6th March 2016)
8 Powerslave (Plaza Dell'Unita D'Italia, Trieste, Italy - Tuesday 26th July 2016)
Disk 2 von 2 (CD)
1 The Great Unknown (MRA Arena, Newcastle, England - Sunday 14th May 2017)
2 The Book of Souls (Download Festival, Donington, England - Sunday 12th June 2016)
3 Fear of the Dark (Arena Castelao, Fortaleza, Brazil - Thursday 24th March 2016)
4 Iron Maiden (Estadio Velez Sarsfield, Buenos Aires, Argentina - Tuesday 15th March 2016)
5 The Number of the Beast (Open Air Festival, Wacken, Germany - Thursday 4th August 2016)
6 Blood Brothers (Download Festival, Donington, England - Sunday 12th June 2016)
7 Wasted Years (HSBC Arena, Rio De Janeiro, Brazil - Thursday 17th March 2016)