Grant-Lee Phillips: Little Moon (Limited Edition) (Burgundy Vinyl)
Little Moon (Limited Edition) (Burgundy Vinyl)
LP
LP (Long Play)
Die gute alte Vinyl - Langspielplatte.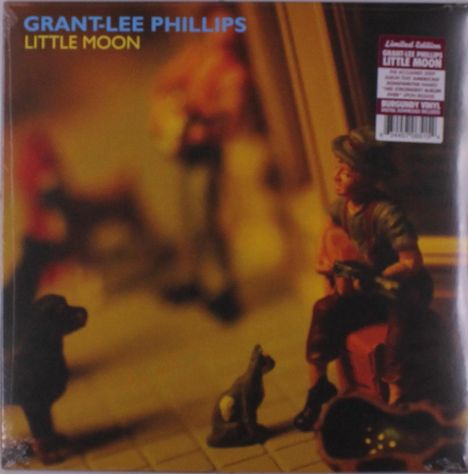 Vinyl liefern wir innerhalb Deutschlands immer portofrei.
Label: Yep Roc, 2009
Bestellnummer:

10869625

Erscheinungstermin: 24.6.2022
Enthält Downloadcode
Weitere Ausgaben von Little Moon
With golden voice and silver-dipped pen Grant-Lee Phillips presents another milestone in a career brimming with the like. Little Moon, his first album since 2007's "Strangelet", is track after track of well-anchored classic American music - rock and folk swirl under clouds of cinematic strings for a primer on the art of the timeless tune. His legendary well of melody is in full display on Little Moon, with even the most lilting piano ballad standing comfortably on a thick, powerful trunk ('Older Now'). Long one of Los Angeles' most sought after songwriters, Grant-Lee meets Little Moon with positive inspirations including the birth of his daughter Violet ('Violet') and a creative calm that saw the songs well up organically from earlier live collaborations with drummer Jay Bellerose, pro...
Die Hörproben gehören zum Artikel Grant-Lee Phillips: Little Moon (CD). Das Tracklisting kann bei diesem Artikel ggf. abweichen.
LP
1 Good morning happiness
2 Strangest thing
3 Little moon
4 It ain't the same old cold war harry
5 Seal it with a kiss
6 Nightbirds
7 Violet
8 Buried treasure
9 Blind tom
10 One morning
11 Older now
12 The sun shines on jupiter