Golden Earring (The Golden Earrings): 50 Years Anniversary Album
50 Years Anniversary Album
4 CDs, 1 DVD
CD (Compact Disc)
Herkömmliche CD, die mit allen CD-Playern und Computerlaufwerken, aber auch mit den meisten SACD- oder Multiplayern abspielbar ist.
DVD
Die meisten angebotenen DVDs haben den Regionalcode 2 für Europa und das Bildformat PAL. Wir bieten aber auch Veröffentlichungen aus den USA an, die im NTSC-Format und mit dem Ländercode 1 auf den Markt kommen. Dies ist dann in unseren Artikeldetails angegeben.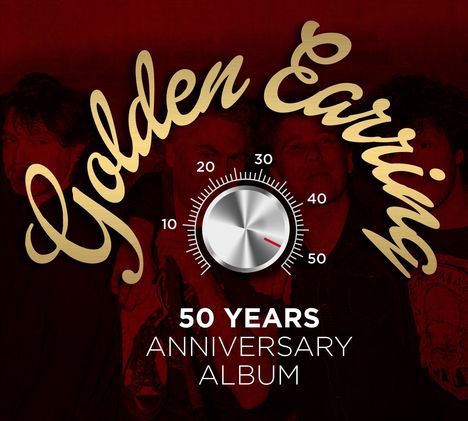 Nur noch 1 Stück am Lager. Danach versandfertig innerhalb 1-2 Wochen (soweit verfügbar beim Lieferanten)
Label: Red Bullet
Bestellnummer:

8412783

Erscheinungstermin: 12.11.2015
Weitere Ausgaben von 50 Years Anniversary Album
DVD:Ländercode:Keine Angabe;Laufzeit:Keine Angabe
*** Digipack
Ein halbes Jahrhundert Golden Earring

Sie sind nicht nur die bis heute erfolgreichste Band aus den Niederlanden, sondern zudem auch eine der am längsten bestehenden Bands der Welt: Golden Earring. 1961 gründete sich die Hardrock-Combo, 1965 erschein mit »Just Earrings« ihr erstes Album.

Insgesamt 25 Alben, sieht man von zahlreichen Livealben und Best-of-Samplern ab, veröffentlichte die Band seitdem, viele von ihnen landeten in den Top Ten oder sogar auf Platz eins der niederländischen Albumcharts. Auch in den USA konnte die Band immer wieder mit ihren Veröffentlichungen in den Charts Fuß fassen.

Mit dem »Golden Earring: 50 Years Anniversary Album« erscheint nun der bisher umfassendste Zusammenschnitt dieser Alben, und zwar in einer streng limitierten Box. Auf insgesamt vier CDs gibt es passend zum Jubiläum 50 ausgewählte Songs der Band, darunter auch Aufnahmen aus ihrer Anfangszeit, als sich die Band noch The Golden Earrings nannte. Mit dabei sind unter anderem die Singles »That Day«, »Sound Of The Screaming Day«, »Dong-Dong-Di-Ki-Di-Gi-Dong«, »Back Home«, »Twilight Zone« und natürlich ihr Welthit »Radar Love«.

Auf der Bonus-DVD gibt es zudem einen Mitschnitt ihres 1984er »Coming Home«-Konzertes plus vier Videoclips der Band.

Mehr Golden Earring geht nicht! Mit ihrem »50 Years Anniversary Album« schenkt uns die Band das umfangreichste Best-of, das es je von ihnen gab. Ein musikalischer Karriererückblick, der so beeindruckend ist wie ihre Karriere selbst.
Rezensionen

»Nachdem sie sich dabei in jenen Anfangstagen noch der Beatmusik verschrieben hatten, sollten die beiden zusammen mit ihren gleichfalls noch aktiven Kollegen Barry Hay (voc) und Cesar Zuiderwijk (dr) acht Jahre später mit "Radar Love" Rockgeschichte schreiben. Grund genug also, das 50-jährige Bandjubiläum mit einer Werkschau zu würdigen, die einen Bogen schlägt von den frühen Beatsongs über Bandklassiker wie "Back Home" oder "Buddy Joe" bis hin zum abschließenden "Still Got The Keys To My First Cadillac" vom 2012er Album Tits 'N Ass.«
(Good Times, Februar / März 2016)
Disk 1 von 5 (CD)
1 Please Go
2 That Day
3 If You Leave Me
4 Daddy Buy Me a Girl
5 Don't Run Too Far
6 In My House
7 Sound of the Screaming Day
8 Together We Live Together We Love
9 I've Just Lost Somebody
10 Dong-Dong-Di-Ki-Di-Gi-Dong
11 Just a Little Bit of Peace in My Heart
12 Where Will I Be
13 Another 45 Miles
14 Back Home
15 Holy Holy Life
Disk 2 von 5 (CD)
1 She Flies on Strange Wings
2 Buddy Joe
3 Stand By Me
4 Radar Love
5 Instant Poetry
6 Kill Me (Ce Soir)
7 Sleepwalkin'
8 To the Hilt
9 Bombay
10 Just Like Vince Taylor (Live)
Disk 3 von 5 (CD)
1 Movin' Down Life
2 Weekend Love
3 I Do Rock'n Roll
4 Long Blond Animal
5 No for An Answer
6 Slow Down (Live)
7 Twilight Zone
8 The Devil Made Me Do It
9 When the Lady Smiles
10 Clear Night, Moonlight
11 N.E.W.S.
12 Something Heavy Going Down
Disk 4 von 5 (CD)
1 Quiet Eyes
2 Why Do I
3 My Killer, My Shadow
4 Turn the World Around
5 Going to the Run
6 Temporary Madness
7 I Can't Sleep Without You (Live)
8 As Long As the Wind Blows
9 Hold Me Now
10 Burning Stuntman
11 Paradise in Distress
12 Albino Moon
13 Still Got the Keys to My First Cadillac
Disk 5 von 5 (DVD)
1 I'll Make It All Up to You
2 Enough Is Enough
3 Mission Impossible
4 When the Lady Smiles
5 Future
6 Long Blond Animal
7 N.E.W.S.
8 The Devil Made Me Do It
9 Radar Love
10 Twilight Zone
11 Outro - Twilight Zone
12 Twilight Zone (Dick Maas Video)
13 When the Lady Smiles (Dick Maas Video)
14 Clear Night Moonlight (Dick Maas Video)
15 Turn the World Around (Dick Maas Video)