Golden Earring (The Golden Earrings): 50 Years Anniversary Album (180g)
50 Years Anniversary Album (180g)
3 LPs
LP (Long Play)
Die gute alte Vinyl - Langspielplatte.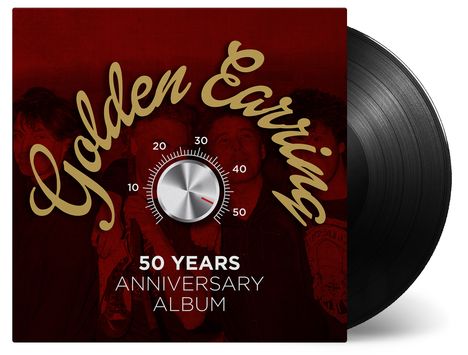 lieferbar innerhalb 1-2 Wochen
(soweit verfügbar beim Lieferanten)
Vinyl liefern wir innerhalb Deutschlands immer portofrei.
Weitere Ausgaben von 50 Years Anniversary Album
Gerade feierte die beste und am längsten bestehende Rockband Hollands Golden Earring ihr fünfzigstes Bestehen und das schreit nach einer Feier!

Die Band veröffentlichte seit ihrer ersten Single »Please Go« (1965) Hit nach Hit. Die aktuelle Besetzung besteht seit 1970. In Amerika wurde vor allem ihr Riesenhit »Radar Love« bekannt, der seitdem ein absoluter Standard im Rockradio geblieben ist.

Doch es lohnt sich, das Repertoire dieser Band tiefer zu erkunden: zum Beispiel die Klassiker »Another 45 Miles«, »She Flies On Strange Wings«, »Long Blond Animal«, »Twilight Zone«, »When The Lady Smiles«, »Going To The Run« und »Burning Stuntman« auf dieser bisher unveröffentlichten Triple-LP.

Insgesamt haben Golden Earring über 25 Studioalben, acht Livealben und unzählige Compilations veröffentlicht, von denen »50 Years Anniversary« zweifellos die vollständigste ist.
Die Hörproben gehören zum Artikel Golden Earring (The Golden Earrings): 50 Years Anniversary Album (CD). Das Tracklisting kann bei diesem Artikel ggf. abweichen.
LP
1 Please go
2 That day
3 If You Leave Me
4 Daddy buy me a girl
5 In My House
6 Sound Of The Screaming Day
7 Just A Little Bit Of Peace In My Heart
8 Where Will I Be
9 Another 45 miles
10 Back home
11 Holy holy life
12 She flies on strange wings
13 Buddy Joe
LP
1 Radar love
2 Instant Poetry
3 Kill me (ce soir)
4 Sleepwalkin'
5 Bombay
6 Weekend love
7 Long blond animal
8 Twilight Zone
9 The devil made me do it
10 When the lady smiles
LP
1 Clear Night Moonlight
2 Something heavy going down
3 Quiet eyes
4 My Killer My Shadow
5 Turn the world around
6 Going to the run
7 Temporary Madness
8 I can't sleep without you
9 Hold Me Now
10 Burning stuntman
11 Paradise In Distress
12 Still Got The Keys Of My Old Chevrolet