BBC Broadcasts
5 CDs
CD (Compact Disc)
Herkömmliche CD, die mit allen CD-Playern und Computerlaufwerken, aber auch mit den meisten SACD- oder Multiplayern abspielbar ist.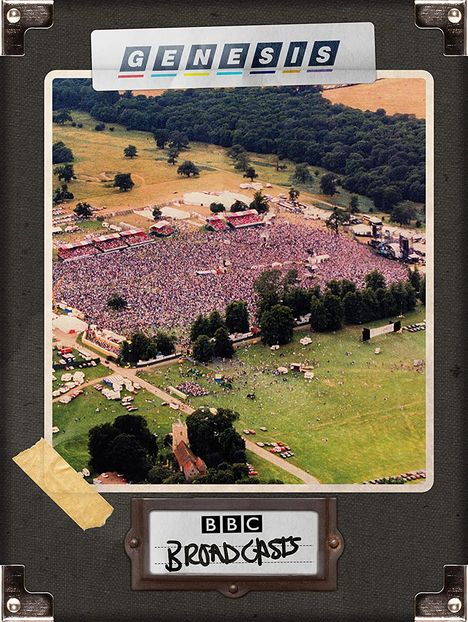 lieferbar innerhalb 1-2 Wochen
(soweit verfügbar beim Lieferanten)
Label: Atlantic, 1970-1998
Bestellnummer:

11148111

Erscheinungstermin: 3.3.2023
Weitere Ausgaben von BBC Broadcasts
*** Papersleeves + Booklet in Stülpdeckelbox (Hochformat)
Tony Banks' Auswahl aus den Aufnahmen von Genesis für die BBC zwischen 1970 und 1998. 53 Songs auf 5 CDs, viele davon bisher unveröffentlicht. Enthält viele bisher unveröffentlichte Aufnahmen. Ausgewählt von Gründungsmitglied Tony Banks und dem langjährigen Tontechniker und Produzenten der Band, Nick Davis, wird das 53 Songs umfassende 5-CD-Set käuflich zu erwerben sein. (Das 3LP-Set ist nur als Import erhältlich.) Diese Sammlungen sind eine Auswahl von Genesis-Live-Auftritten aus den Jahren 1970 bis 1998, die von der BBC aufgenommen wurden, und enthalten Songs von allen drei Genesis-Sängern, Peter Gabriel, Phil Collins und Ray Wilson. Das Album enthält auch einen Song von Michael Hann's Lions.

Die Veröffentlichung kommt mit einem 40-seitigen Booklet mit Liner Notes von Michael Hann und enthält "Home by the Sea", "Mama", "The Dutchs", "Carpet Crawlers", "No Sun of Mine", "Turn It On Again (Your TV Show)" und viele andere bekannte Songs. Diese umfassende Sammlung enthält Genesis' sehr frühe Auftritte in der BBC-Sendung "Night Ride" und in der Show von John Peel, zwei Auftritte beim Nebworth Festival (1978 und 1992), eine Show im Londoner Lysium von 1980, die begeistert aufgenommen wurde, und eine Reihe von ausverkauften Wembley-Shows im Jahr 1987.

Die Sammlung ist sehr umfangreich und enthält auch die triumphale Rückkehr von Genesis nach Wembley im Jahr 1987, wo die Band eine Reihe ausverkaufter Shows spielte. Die Sammlung schließt mit Material von der NEC-Show 1998. Die Sammlung enthält auch die frühen 1970er Aufnahmen von "Paris Theater" und "Night Ride", sowie eine gut kalkulierte Version von "Watcher".


Rezensionen
»Was für eine Band, was für eine Dekaden übergreifende Musikgeschichte, welch Innovationskraft [.​.​.​] ›Carpet Crawlers‹ leuchtet bereits dynamisch in Stereo und ›Drum Duet‹ [.​.​.​] generiert sogar packenden Tieftondruck [.​.​.​] Fein: Ein 40-seitiges Booklet schmückt dieses große Ouevre.​« (stereoplay, März 2023)

»Mit Tracks wie ›Dancing With The Moonlit Knight‹ blickten Genesis [.​.​.​] immer wieder auf die Gabriel- Zeit zurück, zeigten aber auch, wie gut sie das neue Material von …AND THEN THERE WERE THREE und DUKE in ein packendes Livegewand kleiden konnten.​« (Good Times, April/Mai 2023)
Disk 1 von 5 (CD)
1 Shepherd (Live on Night Ride, BBC Radio Two, 1970)
2 Pacidy (Live on Night Ride, BBC Radio Two, 1970)
3 Let Us Now Make Love (Live on Night Ride, BBC Radio Two, 1970)
4 The Fountain of Salmacis (Live at Paris Studios, London, UK, 1972)
5 The Musical Box (Live at Paris Studios, London, UK, 1972)
6 Stagnation (Live on Sounds of the 70s, BBC Radio One, 1971)
7 Harlequin (Live on BBC Radio One John Peel Session, 1972)
8 Get 'Em Out By Friday (Live on BBC Radio One John Peel Session, 1972)
9 Harold the Barrel (Live on BBC Radio One John Peel Session, 1972)
10 Twilight Alehouse (Live on BBC Radio One John Peel Session, 1972)
11 Watcher of the Skies (Live on BBC Radio One in Concert, 1975)
Disk 2 von 5 (CD)
1 Squonk (Live at Knebworth Festival, UK, 1978)
2 Burning Rope (Live at Knebworth Festival, UK, 1978)
3 Dance on a Volcano (Live at Knebworth Festival, UK, 1978)
4 Drum Duet (Live at Knebworth Festival, UK, 1978)
5 Los Endos (Live at Knebworth Festival, UK, 1978)
6 Deep in the Motherlode (Live at the Lyceum Theatre, London, UK, 1980)
7 Dancing with the Moonlit Knight (Live at the Lyceum Theatre, London, UK, 1980)
8 The Carpet Crawlers (Live at the Lyceum Theatre, London, UK, 1980)
9 One for the Vine (Live at the Lyceum Theatre, London, UK, 1980)
10 Behind the Lines (Live at the Lyceum Theatre, London, UK, 1980)
11 Duchess (Live at the Lyceum Theatre, London, UK, 1980)
12 Guide Vocal (Live at the Lyceum Theatre, London, UK, 1980)
13 Turn It on Again (Live at the Lyceum Theatre, London, UK, 1980)
14 Duke's Travels (Live at the Lyceum Theatre, London, UK, 1980)
15 Duke's End (Live at the Lyceum Theatre, London, UK, 1980)
Disk 3 von 5 (CD)
1 Say It's Alright Joe (Live at the Lyceum Theatre, London, UK, 1980)
2 The Lady Lies (Live at the Lyceum Theatre, London, UK, 1980)
3 Ripples (Live at the Lyceum Theatre, London, UK, 1980)
4 In the Cage (Live at the Lyceum Theatre, London, UK, 1980)
5 The Raven (Live at the Lyceum Theatre, London, UK, 1980)
6 Afterglow (Live at the Lyceum Theatre, London, UK, 1980)
7 Follow You Follow Me (Live at the Lyceum Theatre, London, UK, 1980)
8 I Know What I Like (In Your Wardrobe) [Live at the Lyceum Theatre, London, UK, 1980]
9 The Knife (Live at the Lyceum Theatre, London, UK, 1980)
10 Mama (Live at the Lyceum Theatre, London, UK, 1980)
11 Domino (Live at the Lyceum Theatre, London, UK, 1980)
Disk 4 von 5 (CD)
1 That's All (Live at Wembley Stadium, London, UK, 1987)
2 The Brazilian (Live at Wembley Stadium, London, UK, 1987)
3 Throwing It All Away (Live at Wembley Stadium, London, UK, 1987)
4 Home By the Sea (Live at Wembley Stadium, London, UK, 1987)
5 Second Home By the Sea (Live at Wembley Stadium, London, UK, 1987)
6 Invisible Touch (Live at Wembley Stadium, London, UK, 1987)
7 Drum Duet (Live at Wembley Stadium, London, UK, 1987)
8 Los Endos (Live at Wembley Stadium, London, UK, 1987)
9 Not About Us (Live at Birmingham N.E.C., UK, 1998)
10 The Dividing Line (Live at Birmingham N.E.C., UK, 1998)
Disk 5 von 5 (CD)
1 No Son of Mine (Live at Knebworth Festival, UK, 1992)
2 Driving the Last Spike (Live at Knebworth Festival, UK, 1992)
3 Old Medley (Live at Knebworth Festival, UK, 1992)
4 Fading Lights (Live at Knebworth Festival, UK, 1992)
5 Hold on My Heart (Live at Knebworth Festival, UK, 1992)
6 I Can't Dance (Live at Knebworth Festival, UK, 1992)