Eric Clapton: The Lady In The Balcony: Lockdown Sessions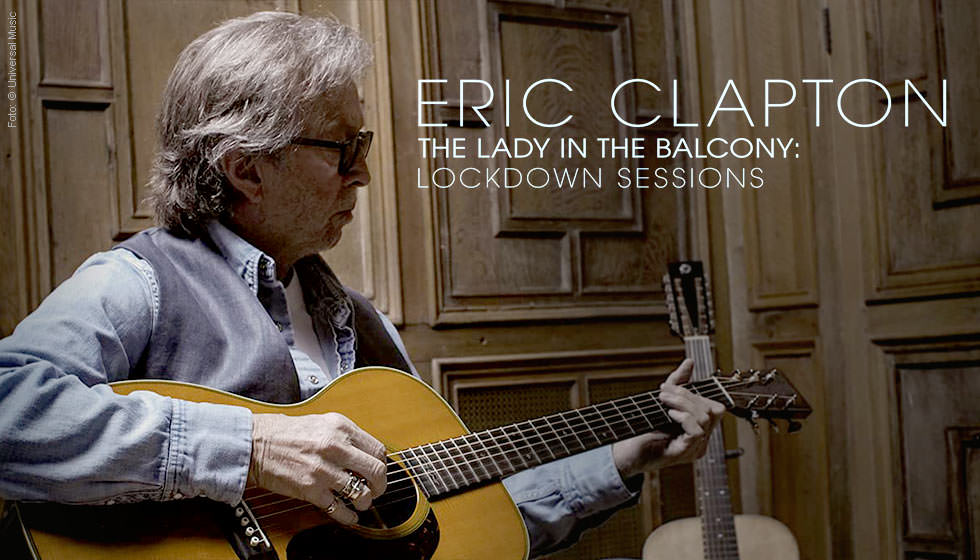 Die Unplugged-Magie
Fast 30 Jahre sind vergangen, seit Eric Clapton sein fünftes Solo-Livealbum »Unplugged« veröffentlichte – das bis heute erfolgreichste Album des britischen Rock- und Blues-Musikers.

2021 knüpft er daran an und präsentiert mit »The Lady In The Balcony: Lockdown Sessions« ein weiteres Akustikalbum, das die Magie von damals und neue Songs vereint.
The Lady In The Balcony: Lockdown Sessions
1 CD, 1 DVD
CD (Compact Disc)
Herkömmliche CD, die mit allen CD-Playern und Computerlaufwerken, aber auch mit den meisten SACD- oder Multiplayern abspielbar ist.
DVD
Die meisten angebotenen DVDs haben den Regionalcode 2 für Europa und das Bildformat PAL. Wir bieten aber auch Veröffentlichungen aus den USA an, die im NTSC-Format und mit dem Ländercode 1 auf den Markt kommen. Dies ist dann in unseren Artikeldetails angegeben.
Nur noch 1 Stück am Lager. Danach versandfertig innerhalb von 1-3 Tagen (soweit verfügbar beim Lieferanten)
Verlängerter Rückgabezeitraum bis 31. Januar 2023
Alle zur Rückgabe berechtigten Produkte, die zwischen dem 1. bis 31. Dezember 2022 gekauft wurden, können bis zum 31. Januar 2023 zurückgegeben werden.

Label: Mercury, 2020
Bestellnummer:

10716644

Erscheinungstermin: 12.11.2021
Filmausschnitte/Videotrailer
DVD:Sound:Dolby Digita Stereo/DSS 5.1/DTS Surround;Bild:16:9/NTSC;
Ländercode:0;Laufzeit:77 Min.
*** Digipack
Claptons intimes Akustik-Konzert in Bild und Ton
Wie viele andere Musikerkollegen musste auch Eric Clapton im letzten und in diesem Jahr einige Konzerte aufgrund der Corona-Pandemie und des Lockdowns absagen.

Um seinen Fans dennoch etwas zu bieten, traf sich der britische Sänger und Gitarrist stattdessen mit seiner Band, dem Bassisten und Backgroundsänger Nathan East, dem Schlagzeuger Steve Gadd und dem Keyboarder Chris Stainton, in Cowdray House in West Sussex, England, um das aufzunehmen, was ursprünglich als eine Art Fortsetzung seines Erfolgsalbums »MTV Unplugged« von 1992 geplant war: sein neues Konzertalbum »The Lady In The Balcony: Lockdown Sessions«.

Bei diesem intimen Gig waren nur die Teilnehmer selbst anwesend, während die Kameras und die Aufnahmegeräte liefen.

17 Songs hat die Band für die Platte eingespielt, akustische Interpretationen eigener Stücke und einer Reihe anderer Nummern aus Blues, Rock und Country. Mit dabei sind Clapton-Originale wie »Layla« und »Tears In Heaven«, »After Midnight«, »Bell Bottom Blues«, »Nobody Knows You When You're Down And Out« und »Key To The Highway«, Blues-Standards wie »Rock Me Baby« und Coverversionen von Songs, die Mr. Slowhand im Laufe seiner Karriere geprägt haben, zum Beispiel die Feetwood-Mac-Stücke »Black Magic Woman« und »Man Of The World« aus der Peter-Green-Ära. Das gesamte Tracklisting von »The Lady In The Balcony: Lockdown Sessions« finden Sie im Folgenden.

Aufgenommen wurde das Ganze unter der Leitung von Claptons langjährigem grammyprämiertem Produzenten Russ Titelman (James Taylor, George Harrison, Brian Wilson, Randy Newman, Rickie Lee Jones), der bereits das »MTV Unplugged« produziert hatte.

»The Lady In The Balcony: Lockdown Sessions« erscheint in unterschiedlichen Formaten: als Standard-CD, DVD oder Blu-ray, als Set mit CD und DVD bzw. CD und Blu-ray, auf Blu-ray + Ultra HD Blu-ray und als Set mit CD, DVD und Blu-ray, verpackt in einem 40-seitigen, 12ʺ × 12ʺ großen, gebundenen Fotobuch. Schallplattenfans dürfen sich auf die Doppel-CD auf Black-Vinyl und die limitierte Doppel-LP auf Translucent Yellow Vinyl freuen.


Disk 1 von 2 (CD)
1 Nobody Knows You When You're Down And Out
2 Golden Ring
3 Black Magic Woman
4 Man of the World
5 Kerry
6 After Midnight
7 Bell Bottom Blues
8 Key to the Highway
9 River of Tears
10 Rock Me Baby
11 Believe in Life
12 Going Down Slow
13 Layla
14 Tears in Heaven
15 Long Distance Call
16 Bad Boy
17 Got My Mojo Working
Disk 2 von 2 (DVD)
1 Nobody Knows You When You're Down And Out
2 Golden Ring
3 Black Magic Woman
4 Man of the World
5 Kerry
6 After Midnight
7 Bell Bottom Blues
8 Key to the Highway
9 River of Tears
10 Rock Me Baby
11 Believe in Life
12 Going Down Slow
13 Layla
14 Tears in Heaven
15 Long Distance Call
16 Bad Boy
17 Got My Mojo Working