Johnny Cash: Easy Rider: The Best Of The Mercury Recordings (remastered) (180g)
Easy Rider: The Best Of The Mercury Recordings (remastered) (180g)
2 LPs
LP (Long Play)
Die gute alte Vinyl - Langspielplatte.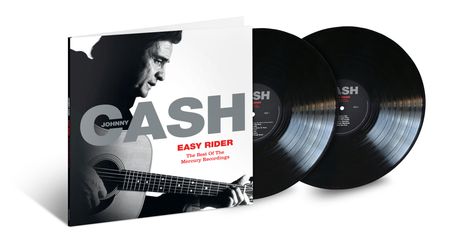 Nur noch 1 Stück am Lager. Danach versandfertig innerhalb von 1-3 Tagen (soweit verfügbar beim Lieferanten)
Vinyl liefern wir innerhalb Deutschlands immer portofrei.
Weitere Ausgaben von Easy Rider: The Best Of The Mercury Recordings
*** Gatefold Cover
1986, nach fast 30 Jahren bei Columbia Records, veröffentlichte die Country-Musik-Legende Johnny Cash sein erstes Album bei Mercury Records - Class Of '55, in Zusammenarbeit mit den ehemaligen Sun Records-Kollegen Roy Orbison, Jerry Lee Lewis und Carl Perkins. Sieben Jahre später sollte seine letzte Aufnahme, bevor er bei Rick Rubins American Recordings unterzeichnete, eine weitere Zusammenarbeit, »The Wanderer«, mit U2 sein.

In den Jahren, die sich über diese Aufnahmen erstreckten, veröffentlichte Johnny Cash insgesamt sechs Alben bei Mercury Records. Die Höhepunkte dieser Veröffentlichungen werden hier auf der brandneuen Compilation Easy Rider vorgestellt: »The Best Of The Mercury Recordings«.

Die 24 Tracks, die jetzt zum allerersten Mal unter Verwendung der originalen Mercury-Masterbänder neu remastert wurden, enthalten Cashs aktualisierte Interpretationen der Klassiker »Get Rhythm« und »Tennessee Flat Top Box«, die seltene B-Seite »Veteran's Day«, Elvis Costellos »The Big Light« und seine Zusammenarbeit mit U2, »The Wanderer«.

Mit den brandneuen Liner Notes des Musikautors Scott Schinder stellt Easy Rider die allererste Sammlung von Johnny Cashs Mercury Records-Aufnahmen dar.


LP
1 Waymore Blues (with Jerry Lee Lewis, Roy Orbison and Carl Perkins)
2 We Remember The King
3 The Big Light
4 The Night Hank Williams Came To Town (with Waylon Jennings)
5 Let Him Roll
6 W. Lee O'Daniel (And The Light Crust Dough Boys)
7 Ballad Of A Teenage Queen (with Roseanne Cash & The Everly Brothers)
8 The Last Of The Drifters (with Tom T. Hall)
9 That Old Wheel (with Hank Williams Jr.)
10 Get Rhythm
11 Tennessee Flat Top Box
12 Sunday Morning Coming Down
LP
1 Veteran's Day
2 A Backstage Pass
3 Cat's In The Cradle
4 Farmer's Almanac
5 Monteagle Mountain
6 I Shall Be Free
7 I'm An Easy Rider
8 The Greatest Cowboy Of Them All
9 Hey Porter
10 The Mystery Of Life
11 Goin' By The Book
12 The Wanderer (with U2)