David Bowie: Who Can I Be Now? 1974 - 1976 (180g)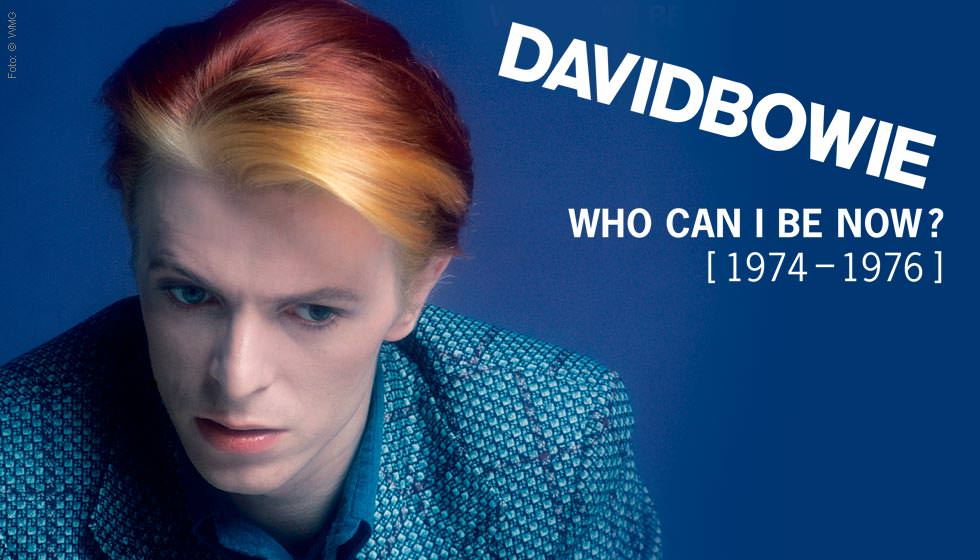 Das zweite Kapitel
Am 10. Januar 2016 musste die Musikwelt Abschied von einer Legende nehmen: David Bowie verstarb nur zwei Tage nach seinem 69. Geburtstag.

Bereits im letzten Jahr veröffentlichte Parlophone Records den ersten Teil einer Serie, die das gesamte musikalische Lebenswerk Bowies noch einmal Revue passieren lässt. Mit »Who Can I Be Now? (1974–1976)« wird jetzt das zweite Kapitel seines kreativen Schaffens unter die Lupe genommen. Darin enthalten: alle Alben dieser Zeit und eine echte Raritätensammlung.
Who Can I Be Now? 1974 - 1976 (180g)
9 LPs
LP (Long Play)
Die gute alte Vinyl - Langspielplatte.
umgehend lieferbar, Bestand beim Lieferanten vorhanden
Vinyl liefern wir innerhalb Deutschlands immer portofrei.
Weitere Ausgaben von Who Can I Be Now? 1974 - 1976
Gesamtverkaufsrang: 4827
Verkaufsrang in LPs: 1846
David Bowies amerikanische Periode 2016 neu aufgelegt
Schon vor einem Jahr hatte das Plattenlabel Parlophone Records begonnen, das gesamte Œuvre von Rocklegende David Bowie in mehreren Etappen neu aufzulegen. Nach
»Five Years (1969 - 1973)«
erscheint nun mit »Who Can I Be Now? (1974 - 1976)« der zweite Teil der karriereumspannenden Serie.
Der Name verrät es bereits: Das umfangreiche Box-Set fasst alle wichtigen Tonträger und Aufnahmen aus Bowies »amerikanischer Periode« zwischen 1974 und 1976 zusammen, und zwar auf sage und schreibe 12 CDs bzw. 13 Vinyls.
Dazu gehören die Alben »Diamond Dogs« (1974), »David Live« (im Original-Mix von 1974 und im 2005-Mix), »Young Americans« (1975) und »Station To Station« (Original-1976- und 2010-Mix) sowie »Live At Nassau Coliseum '76«.
Ein ganz besonderes Highlight von »Who Can I Be Now? (1974 - 1976)« ist zudem das bislang nie veröffentlichte Album »The Gouster«. Bowie hatte die Platte 1974 in Tony Viscontis Sigma Sound Studios in Philadelphia aufgenommen und produziert. Sie war jedoch nie als komplettes Album erschienen. Unter den Songs befinden sich drei bisher unveröffentlichte Mixe von »Right«, »Can You Hear Me« und »Somebody Up There Likes Me«. Visconti überwachte persönlich die Übertragung von den Originaltapes.
Last but not least enthält »Who Can I Be Now? (1974 - 1976)« eine ganz neue Compilation mit dem Titel »Re:Call 2«. Dabei handelt es sich um eine Kollektion von Singleversionen und Non-Album-B-Seiten. Dazu gehören unter anderem der Original-Single-Mix von »Rebel Rebel«, der seit der Erstveröffentlichung der Single im Jahr 1974 bislang nur auf der »40th Anniversary«-Picture-Disc aus dem Jahr 2014 erhältlich war. Außerdem dabei: ein bisher nicht auf CD erschienener und ausschließlich in Australien veröffentlichter Single-Edit von »Diamond Dogs«.
Die Vinyl-Box verfügt über dieselben Inhalte wie das CD-Set. Während die 13-LPs-Version auf 180 g schwerem audiophilen Vinyl erscheint, besteht die CD-Version aus speziell angefertigten Golddiscs.
Abgerundet werden beide Boxen von einem umfassenden Booklet. Darin enthalten sind seltene und bislang unveröffentlichte Fotos, zum Beispiel von den Fotografen Eric Stephen Jacobs, Tom Kelley, Geoff MacCormack, Terry O'Neill und Steve Schapiro. Hinzu kommen historische Rezensionen, ausführliche technische Details von Tony Visconti und Harry Maslin sowie weitere besondere Erinnerungen an die Karriere von David Bowie.
Die heiß erwartete Fortsetzung der Serie: »Who Can I Be Now? (1974 - 1976)« fasst alle wichtigen Aufnahmen aus David Bowies amerikanischer Periode in einer Box zusammen, darunter zahlreiche Songs, die seine Fans so noch nie gehört haben.
Das LP-Box-Set im Überblick:
- »Diamond Dogs« (remastered) (1 LP)
- »David Live« (original mix) (remastered) (2 LPs)*
- »David Live« (2005 mix) (remastered) (3 LPs)
- »The Gouster« (bisher als Album unveröffentlicht) (1 LP)*
- »Young Americans« (remastered) (1 LP)
- »Station To Station« (remastered) (1 LP)
- »Station To Station« (Harry Maslin 2010 Mix) (1 LP)*
- »Live Nassau Coliseum '76« (2 LPs)
- »Re: Call 2« (Single-Versionen und Non-Album-B-Seiten) (remastered) (1 LP)*
- 84-seitiges, gebundenes Buch (großformatig)
* Exklusiv in »Who Can I Be Now? (1974–1976)«
1 Future Legend (2016 Remastered Version)
2 Diamond Dogs (2016 Remastered Version)
3 Sweet Thing (2016 Remastered Version)
4 Candidate (2016 Remastered Version)
5 Sweet Thing (Reprise) (2016 Remastered Version)
6 Rebel, Rebel (2016 Remastered Version)
7 Rock 'n' roll with me (2016 Remastered Version)
8 We Are The Dead (2016 Remastered Version)
9 1984 (2016 Remastered Version)
10 Big brother (2016 Remastered Version)
11 Chant Of The Ever Circling Skeletal Family (2016 Remastered Version)
1 1984 (Live) (2016 Remastered Version)
2 Rebel, Rebel (Live) (2016 Remastered Version)
3 Moonage Daydream (Live) (2016 Remastered Version)
4 Sweet Thing/Candidate/Sweet Thing (Live) (2016 Remastered Version)
5 Changes (Live) (2016 Remastered Version)
6 Suffragette City (Live) (2016 Remastered Version)
7 Aladdin Sane (Live) (2016 Remastered Version)
8 All The Young Dudes (Live) (2016 Remastered Version)
9 Cracked Actor (Live) (2016 Remastered Version)
10 Rock 'n' roll with me (Live) (2016 Remastered Version)
11 Watch That Man (Live) (2016 Remastered Version)
12 Knock on wood (Live) (2016 Remastered Version)
13 Diamond Dogs (Live) (2016 Remastered Version)
14 Big brother (Live) (2016 Remastered Version)
15 The Width Of A Circle (Live) (2016 Remastered Version)
16 The Jean Genie (Live) (2016 Remastered Version)
17 Rock 'N' Roll Suicide (Live) (2016 Remastered Version)
1 1984 (Live) (2005 Mix) (2016 Remastered Version)
2 Rebel Rebel (Live) (2005 Mix) (2016 Remastered Version)
3 Moonage Daydream (Live) (2005 Mix) (2016 Remastered Version)
4 Sweet Thing/Candidate/Sweet Thing (Live) (2005 Mix) (2016 Remastered Version)
5 Changes (Live) (2005 Mix) (2016 Remastered Version)
6 Suffragette City (Live) (2005 Mix) (2016 Remastered Version)
7 Aladdin Sane (Live) (2005 Mix) (2016 Remastered Version)
8 All The Young Dudes (Live) (2005 Mix) (2016 Remastered Version)
9 Cracked Actor (Live) (2005 Mix) (2016 Remastered Version)
10 Rock 'N' Roll With Me (Live) (2005 Mix) (2016 Remastered Version)
11 Watch That Man (Live) (2005 Mix) (2016 Remastered Version)
12 Knock On Wood (Live) (2005 Mix) (2016 Remastered Version)
13 Here Today, Gone Tomorrow (Live) (2005 Mix) (2016 Remastered Version)
14 Space Oddity (Live) (2005 Mix) (2016 Remastered Version)
15 Diamond Dogs (Live) (2005 Mix) (2016 Remastered Version)
16 Panic In Detroit (Live) (2005 Mix) (2016 Remastered Version)
17 Big Brother (Live) (2005 Mix) (2016 Remastered Version)
18 Time (Live) (2005 Mix) (2016 Remastered Version)
19 The Width Of A Circle (Live) (2005 Mix) (2016 Remastered Version)
20 The Jean Genie (Live) (2005 Mix) (2016 Remastered Version)
21 Rock 'N' Roll Suicide (Live) (2005 Mix) (2016 Remastered Version)
1 John, I'm only dancing (again) (2016 Remastered Version)
2 Somebody Up There Likes Me (Alternative Gouster Mix)
3 It's Gonna Be Me (Without Strings) (2016 Remastered Version)
4 Who can I be now? (2016 Remastered Version)
5 Can You Hear Me (Alternative Gouster Version)
6 Young Americans (2016 Remastered Version)
7 Right (Alternative Gouster Mix)
1 Young Americans (2016 Remastered Version)
2 Win (2016 Remastered Version)
3 Fascination (2016 Remastered Version)
4 Right (2016 Remastered Version)
5 Somebody Up There Likes Me (2016 Remastered Version)
6 Across The Universe (2016 Remastered Version)
7 Can You Hear Me (2016 Remastered Version)
8 Fame (2016 Remastered Version)
1 Station To Station (2016 Remastered Version)
2 Golden years (2016 Remastered Version)
3 Word on a wing (2016 Remastered Version)
4 Tvc 15 (2016 Remastered Version)
5 Stay (2016 Remastered Version)
6 Wild is the wind (2016 Remastered Version)
1 Station To Station (2010 Harry Maslin Mix)
2 Golden Years (2010 Harry Maslin Mix)
3 Word On A Wing (2010 Harry Maslin Mix)
4 Tvc 15 (2010 Harry Maslin Mix)
5 Stay (2010 Harry Maslin Mix)
6 Wild Is The Wind (2010 Harry Maslin Mix)
1 Station To Station (Live Nassau Coliseum '76)
2 Suffragette City (Live Nassau Coliseum '76)
3 Fame (Live Nassau Coliseum '76)
4 Word On A Wing (Live Nassau Coliseum '76)
5 Stay (Live Nassau Coliseum '76)
6 Waiting For The Man (Live Nassau Coliseum '76)
7 Queen Bitch (Live Nassau Coliseum '76)
8 Life On Mars? (Live Nassau Coliseum '76)
9 Five Years (Live Nassau Coliseum '76)
10 Panic In Detroit (Live Nassau Coliseum '76)
11 Changes (Live Nassau Coliseum '76)
12 Tvc 15 (Live Nassau Coliseum '76)
13 Diamond Dogs (Live Nassau Coliseum '76)
14 Rebel Rebel (Live Nassau Coliseum '76)
15 The Jean Genie (Live Nassau Coliseum '76)
1 Rebel Rebel (Original Single Mix) (2014 Remastered Version)
2 Diamond Dogs (Australian Single Edit) (2016 Remastered Version)
3 Rebel Rebel (US Single Version) (2014 Remastered Version)
4 Rock 'N' Roll with Me (Live) (Promotional Single Edit) (2016 Remastered Version)
5 Panic In Detroit (Live) (2016 Remastered Version)
6 Young Americans (Original Single Edit) (2016 Remastered Version)
7 Fame (Original Single Edit) (2015 Remastered Version)
8 Golden Years (Single Version) (2014 Remastered Version)
9 Station to Station (Single Edit) (2016 Remastered Version)
10 Tvc 15 (Original Single Edit) (2016 Remastered Version)
11 Stay (Single Edit) (2016 Remastered Version)
12 Word on a Wing (Single Edit) (2016 Remastered Version)
13 John, I'm Only Dancing (Again) (1975 Single Version) (2016 Remastered Version)