Bob Dylan: The Essential Bob Dylan (Blu-Spec CD2)
The Essential Bob Dylan (Blu-Spec CD2)
2 CDs
CD (Compact Disc)
Herkömmliche CD, die mit allen CD-Playern und Computerlaufwerken, aber auch mit den meisten SACD- oder Multiplayern abspielbar ist.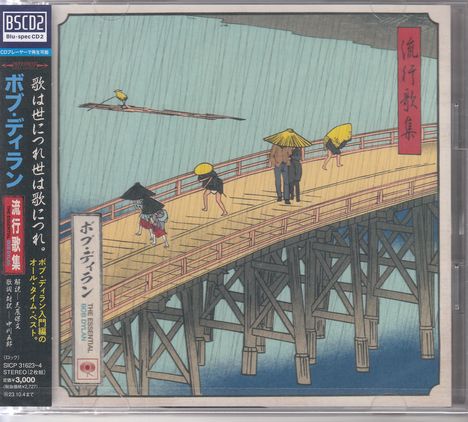 lieferbar innerhalb 2-3 Wochen
(soweit verfügbar beim Lieferanten)

Wir beschaffen die Ware speziell für Sie nach Bestelleingang.
Verlängerter Rückgabezeitraum bis 31. Januar 2024
Alle zur Rückgabe berechtigten Produkte, die zwischen dem 1. bis 31. Dezember 2023 gekauft wurden, können bis zum 31. Januar 2024 zurückgegeben werden.
Label: Sony
Bestellnummer:

11172089

Erscheinungstermin: 5.4.2023
Weitere Ausgaben von The Essential Bob Dylan
*** Blue-Spec CD - Blu-ray Technology (auf CD-Playern abspielbar)
*** Japan-Import
"The Essentiell Bob Dylan" ist die perfekte Einführung für Musikfans, die sich sich mit der Musik des Meisters erstmals beschäftigen wollen. Alle 32 Songs gehören zum Besten vom Besten aus der Feder von Dylan.
Die Kollektion stammt aus 2014, Songs aus den danach folgenden Alben konnten deshalb nicht berücksichtigt werden.


Die Hörproben gehören zum Artikel Bob Dylan: The Essential Bob Dylan (CD). Das Tracklisting kann bei diesem Artikel ggf. abweichen.
Disk 1 von 2 (CD)
1 Blowin' In The Wind
2 Don't Think Twice, It's All Right
3 The Times They Are A-Changin'
4 It Ain't Me, Babe
5 Maggie's Farm
6 It's All Over Now, Baby Blue
7 Mr. Tambourine Man
8 Subterranean Homesick Blues
9 Like A Rolling Stone
10 Positively 4th Street
11 I Want You
12 Just Like A Woman
13 Rainy Day Women #12 & 35
14 All Along The Watchtower
15 Lay Lady Lay
16 If Not For You
17 You Ain't Goin' Nowhere
18 I Shall Be Released
19 Knockin' On Heaven's Door
20 Tangled Up In Blue
21 Forever Young
Disk 2 von 2 (CD)
1 Shelter From The Storm
2 Hurricane
3 Gotta Serve Somebody
4 Groom's Still Waiting At The Altar
5 Jokerman
6 Everything Is Broken
7 Blind Willie McTell
8 Not Dark Yet
9 Make You Feel My Love
10 Dignity (Alternate Version)
11 Things Have Changed
12 Mississippi
13 Thunder On The Mountain
14 When The Deal Goes Down
15 Beyond Here Lies Nothin'