Townes Van Zandt: Live At The Old Quarter, Houston, Texas (180g)
Live At The Old Quarter, Houston, Texas (180g)
2 LPs
LP (Long Play)
Die gute alte Vinyl - Langspielplatte.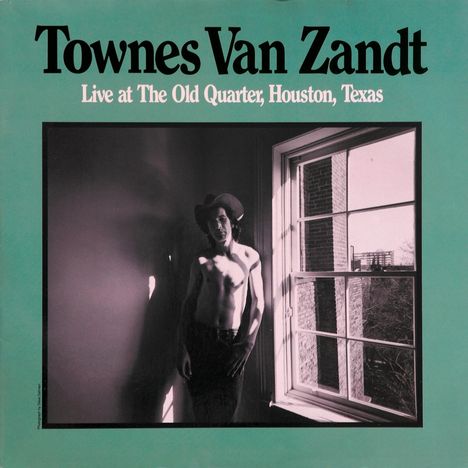 lieferbar innerhalb 1-2 Wochen
(soweit verfügbar beim Lieferanten)
Vinyl liefern wir innerhalb Deutschlands immer portofrei.
Label: Fat Possum, 1970
Bestellnummer:

2847422

Erscheinungstermin: 28.4.2009
*** Gatefold Cover
Im Juli 1973 trat Townes van Zandt solo, nur mit seiner akustischen Gitarre, fünf Nächte hintereinander in seinem Lieblingsclub »The Old Quarter« in Houston, Texas auf. Die Essenz dieser fünf Konzertnächte wurde später auf der Doppel-LP »Live at The Old Quarter« veröffentlicht, die von der Musikpresse als eines der größten Meisterwerke der Folkmusik gefeiert wurde. Die Doppel-CD enthält z. B. »Pancho & Lefty«, »Tecumseh Valley«, »Lungs«, »For The Sake Of The Song« und »Cocaine Blues«.
Die Hörproben gehören zum Artikel Townes Van Zandt: Live At The Old Quarter, Houston, Texas (CD). Das Tracklisting kann bei diesem Artikel ggf. abweichen.
LP
1 Announcement
2 Pancho & Lefty
3 Mr. Mudd & Mr. Gold
4 Don't You Take It Too Bad
5 Two Girls
6 Fraternity Blues
7 If I Needed You
8 Brand New Companion
9 White Freight Liner Blues
10 To Live Is To Fly
11 She Came Around And She Touched Me
12 Talking Thunderbird Blues
13 Rex's Blues
14 Nine Pound Hammer
15 For The Sake Of The Song
16 Chauffeur's Blues
17 No Place To Fall
18 Loretta
19 Kathleen
20 Why She's Acting This Way
21 Cocaine Blues
22 Who Do You Love
23 Tower Song
24 Waiting 'Round To Die
LP
1 For the Sake of the Song
2 Chauffeur's Blues
3 No Place to Fall
4 Loretta
5 Kathleen
6 Why She's Acting This Way
7 Cocaine Blues
8 Who Do You Love?
9 Tower Song
10 Waiting 'Round to Die
11 Tecumseh Valley
12 Lungs
13 Only Him or Me