Muddy Waters & The Rolling Stones: Live At The Checkerboard Lounge
Live At The Checkerboard Lounge
DVD
DVD
Die meisten angebotenen DVDs haben den Regionalcode 2 für Europa und das Bildformat PAL. Wir bieten aber auch Veröffentlichungen aus den USA an, die im NTSC-Format und mit dem Ländercode 1 auf den Markt kommen. Dies ist dann in unseren Artikeldetails angegeben.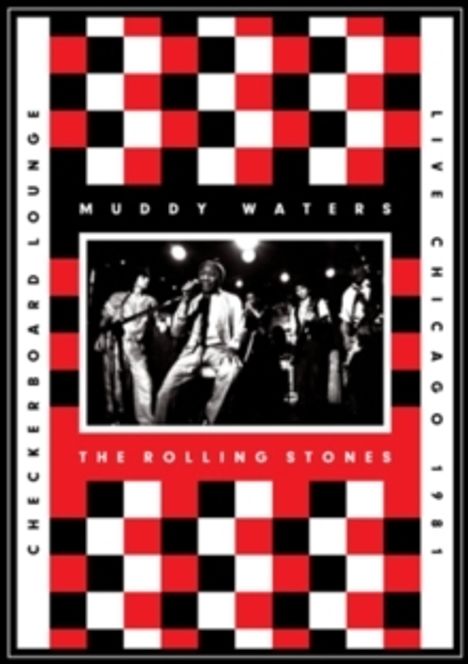 Label: Eagle, 1981
Bestellnummer:

2750999

Erscheinungstermin: 1.1.2017
Weitere Ausgaben von Live At The Checkerboard Lounge
Sound:Dolby Digital Stereo/Dolby Digital 5.1/DTS;Bild NTSC/4:3;Ländercode:2;Laufzeit:Keine Angabe
Gesamtverkaufsrang: 949
Verkaufsrang in DVDs: 74
Rezensionen

,,Für die DVD wurde das Material exzellent restauriert." (Stereo, September 2012)

,,Legende bittet Legenden auf die Bühne, um legendäre Songs zu spielen (...) ... das hier ist improvisierter Blues-Rock, wie er authentischer und ungefilterter nicht vorgetragen werden kann." (Audio, Oktober 2012)
Die Hörproben gehören zum Artikel Muddy Waters & The Rolling Stones: Live At The Checkerboard Lounge (CD). Das Tracklisting kann bei diesem Artikel ggf. abweichen.
Disk 1 von 1 (DVD)
1 Sweet Little Angel (Live At The Checkerboard Lounge, Chicago / 1981)
2 Flip Flop And Fly (Live At The Checkerboard Lounge, Chicago / 1981)
3 Introduction (Live At The Checkerboard Lounge, Chicago / 1981)
4 You Don't Have To Go (Live At The Checkerboard Lounge, Chicago / 1981)
5 Country Boy (Live At The Checkerboard Lounge, Chicago / 1981)
6 Baby Please Don't Go (Live At The Checkerboard Lounge, Chicago / 1981)
7 Hoochie Coochie Man (Live At The Checkerboard Lounge, Chicago / 1981)
8 Long Distance Call (Live At The Checkerboard Lounge, Chicago / 1981)
9 Mannish Boy (Live At The Checkerboard Lounge, Chicago / 1981)
10 Got My Mojo Workin' (Live At The Checkerboard Lounge, Chicago / 1981)
11 Next Time You See Me (Live At The Checkerboard Lounge, Chicago / 1981)
12 One Eyed Woman (Live At The Checkerboard Lounge, Chicago / 1981)
13 Baby Please Don't Go (Live At The Checkerboard Lounge, Chicago / 1981)
14 Clouds In My Heart (Live At The Checkerboard Lounge, Chicago / 1981)
15 Champagne And Reefer (Live At The Checkerboard Lounge, Chicago / 1981)
16 Instrumental 1 (Credits) (Live At The Checkerboard Lounge, Chicago / 1981)
17 Menu / Muddy Waters & The Rolling Stones / Live At The Checkerboard Lounge (Live At The Checkerboard Lounge, Chicago /)
18 You're Gonna Miss Me When I'm Gone (Live At The Checkerboard Lounge, Chicago / 1981)
19 Black Limousine (Live From Hampton Coliseum, Virginia / 1981)
Mehr von Eagle