The Legendary Tigerman: Femina
Femina
2 LPs
LP (Long Play)
Die gute alte Vinyl - Langspielplatte.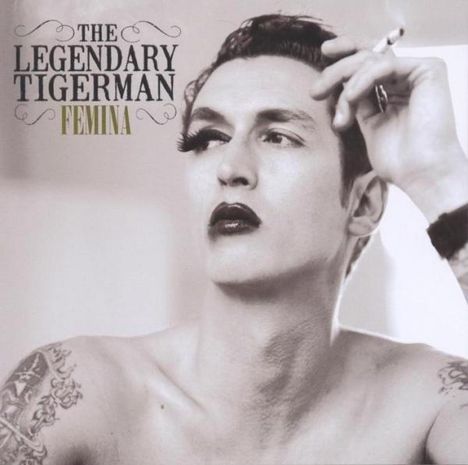 umgehend lieferbar, Bestand beim Lieferanten vorhanden
Vinyl liefern wir innerhalb Deutschlands immer portofrei.
Label: Munster, 2010
Bestellnummer:

3547400

Erscheinungstermin: 7.5.2010
*** Gatefold Cover
Vinyl version only !! Tigerman singin' duets with female singers. Lisa Keukala, Asia Argento, Maria de Medeiros. Fourth album by the Portuguese blues one-man-band who combines the tradition of the original blues from the Mississippi Delta with new technology (samples, beats, loops). The Legendary Tigerman (Paulo Furtado: ex-T_dio-boys, Wraygunn) is the man behind the kick, the hi-hat, the kazzoo and the guitar, here accompained by several famous women from the musical scene. In the 21st Century Paulo Furtado became The Legendary Tigerman. Following the tradition of the old blues men, this one-man-band literallyjumped from Coimbra, Portugal to the world. Well, the Tigerman has the roots but he also combines it with new technology (samples, beats, loops), always keeping it real, playing theinstruments live. The consequences of this blend are explosiveand have brought him exposure in Europe, USA, Brazil and Japan. Being a one-man-band, it's hard to think of a live show as something that has a lot of stir. But, in fact, it has. There's something of a punk attitude in the Tigerman's shows. The blues is alive in the music he plays. But it always feels like a riot is about to explode and we can't guess when, such is the tension he brings onstage. Now, it's time for "Femina", the fourth album of The Legendary Tigerman. This time, only women are allowed to step in the Tigerman's world. After three records where, in an explicit or hidden way, women just existed in the songs, the lonesome LegendaryTigerman isn't alone anymore. Asia Argento, Peaches, Lisa Kekaula, Becky Lee, Phoebe Killdeer, Cibelle, Maria de Medeiros, Rita Redshoes, Cla·dia Efe, Mafalda Nascimento, Dorit Chrysler, Rita Braga and Cais Sodre Cabaret are this album's co-owners. Like a Serge Gainsbourg drunk on blues or apost-punk Lee Hazlewood, the Legendary Tigerman has created an album where two worlds collide and the result is an album ofduets, but not as you know them.
Die Hörproben gehören zum Artikel The Legendary Tigerman: Femina (Ltd. Edition) (CD+DVD) (CD). Das Tracklisting kann bei diesem Artikel ggf. abweichen.
LP
1 Life Aint Enough For You feat. Asia Argento
2 These Boots Are Made For Walkin feat. Maria de Medeiros
3 She's A Hellcat feat. Peaches
4 No Way To Leave On A Sunday Night feat. Becky Lee
5 Lonesome Town feat. Rita Redshoes
6 Song For B. feat. Dorit Chrysler
7 Radio TV Blues feat. Cais Sodr Cabaret
8 The Saddest Thing To Say feat. Lisa Kekaula
9 My Stomach Is The Most Violent Of All Of Italy
10 Light Me Up Twice feat. Cláudia Efe
11 & Then Came The Pain feat. Phoebe Killdeer
12 The Wind Will Blow Everything feat. Rita Braga
13 I Just Wanna Know What Were Gonna Do feat. Cibelle
14 Old Fashioned Man feat. Becky Lee Drunkfoot
15 Hey Sister Ray feat. Rita Redshoes
16 Thirteen feat. Mafalda Nascimento (Bonus Track)
17 True Love Will Find You In The End feat. Cibelle
Mehr von The Legendary T...