Harry Belafonte: Day-O: The Best Of Harry...
Day-O: The Best Of Harry...
2 CDs
CD (Compact Disc)
Herkömmliche CD, die mit allen CD-Playern und Computerlaufwerken, aber auch mit den meisten SACD- oder Multiplayern abspielbar ist.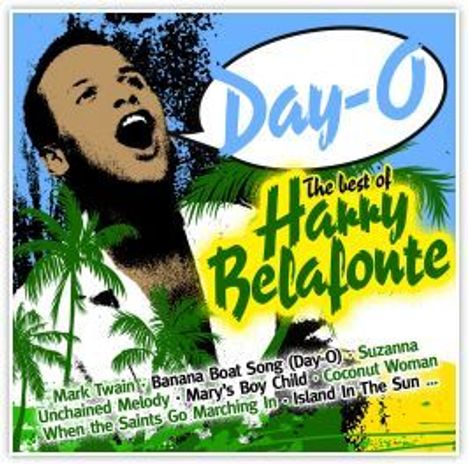 Label: ZYX
Bestellnummer:

4983449

Erscheinungstermin: 4.2.2011
Gesamtverkaufsrang: 25738
Verkaufsrang in CDs: 10748
Day-O! The Best Of Harry Belafonte – mit über 150 Millionen verkauften Tonträgern lässt sich seine Karriere allenfalls noch mit der eines Frank Sinatra oder eines Elvis Presley vergleichen.

Die größten Hits des Weltmusikers alle auf dieser Doppel-CD: Mark Twain, Banana Boat Song (Day-O), Suzanna, Unchained Melody, Mary's Boy Child, When The Saints Go Marching In, Cocoanut Woman, Island In The Sun und viele mehr!
Disk 1 von 2 (CD)
1 Banana Boat Song (Day-O)
2 Matilda
3 Mark Twain
4 John Henry
5 Tol' My Captain
6 Kalenda Rock (Mourning Song)
7 Soldier, Soldier
8 Delia
9 I Do Adore Her
10 Jamaica Farewell
11 Will His Love Be Like His Rum?
12 Dolly Dawn
13 Waterboy
14 Suzanne
15 Jump Down, Spin Around
16 Take My Mother Home
17 Noah
18 Scarlet Ribbons
19 Hava Nageela
20 Danny Boy
21 Unchained Melody
Disk 2 von 2 (CD)
1 Star-O
2 The Jack-Ass Song
3 Hosanna
4 Come Back Liza
5 Brown Skin Girl
6 Man Smart (Woman Smarter)
7 Merci bon Dieu
8 Come O My Love
9 Shenandoah
10 Mary's Boy Child
11 Cu-Cu-Rru Cu-Cu Paloma
12 When The Saints Go Marching In
13 Scratch, Scratch
14 Lucy's door
15 Cordelia Brown
16 Love, Love Alone
17 Cocoanut Woman
18 Haiti Cherie
19 Angelique-O
20 Island In The Sun