Booker T. & The MGs: Green Onions (Stax Remasters)
Green Onions (Stax Remasters)
CD
CD (Compact Disc)
Herkömmliche CD, die mit allen CD-Playern und Computerlaufwerken, aber auch mit den meisten SACD- oder Multiplayern abspielbar ist.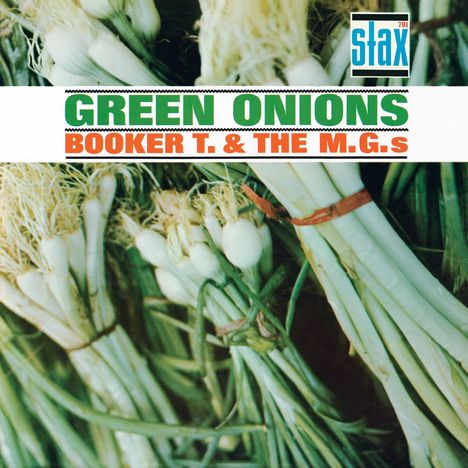 Derzeit nicht erhältlich.
Lassen Sie sich über unseren eCourier benachrichtigen, falls das Produkt bestellt werden kann.
Label: Concord, 1962-65
Erscheinungstermin: 24.7.2012
* 24Bit remastered
Die Musik von Booker T & The M.G. ist im Bewusstsein eines jeden, der sich einigermaßen für Musik interessiert, denn ihre Songs wurden oft von bekannten Stars gesampelt. Der Grundstein für ihre erfolgreiche Karriere wurde schon 1962 mit ihrem Hit »Green Onions« gelegt.

Booker T. & The M.G.'s waren die Backingband des Soul-Duos Sam & Dave, und gerade deren Hits werden Jahre später von den beiden Komikern Dan Aykroyd und John Belushi wieder aufgegriffen und einem weißen Publikum nahegebracht für den Film Blues Brothers.

Green Onions ist das Debütalbum von Booker T. & the M.G.'s, das im Oktober 1962 auf Stax Records erschien. Es erreichte Platz 33 der Pop-Album-Charts im Monat seiner Veröffentlichung. Die Titelsingle war ein weltweiter Hit und wurde von Dutzenden von Künstlern gecovert, darunter die Blues Brothers und Roy Buchanan (beide mit Steve Cropper an der Gitarre), sowie The Ventures, Al Kooper, The Shadows, Mongo Santamaría und Count Basie.

Zum 50-jährigen Jubiläum des wegweisenden Booker T. & The MGs Album, erscheint die remasterte Version mit zwei Live Bonus Tracks und neuen Liner Notes.


Product Information

Concord Music Group will release Booker T. & the MGs' Green Onions as part of its Stax Remasters series. Enhanced by 24-bit remastering by Joe Tarantino, two live bonus tracks and newly written liner notes by Grammy Award-winning Stax historian Rob Bowman, the reissue not only spotlights one of the most entertaining and influential soul and R&B recordings of the 1960s, but also reaffirms the album's enduring nature a half-century after its original release.

Underscoring the historical significance of this 1962 recording is the recent decision by the Library of Congress in Washington, DC, to add the album's widely recognized title track to the National Recording Registry. The song was selected for preservation because it is "culturally, historically or aesthetically significant," according to a Library of Congress announcement at the end of May 2012.

"Green Onions," the leadoff track to the album of the same name, was a number one single on the Billboard R&B chart - a rare accomplishment for an instrumental track - and eventually climbed to number three on the Billboard Hot 100. But the title track is just one song on a watershed album by the instrumental R&B combo that served as the house band for the Stax label and the backup unit for some of the most iconic soul and R&B artists to record there in the 1960s, says Nick Phillips, Concord's Vice President of Catalog A&R and a producer of the Stax Remasters series.

"Beyond 'Green Onions,' which was their biggest hit single," says Phillips, "there are so many other great songs on this album which Booker T. & the MGs transformed into timeless R&B instrumental classics, like 'Comin' Home Baby,' 'Twist and Shout,' and Ray Charles's 'I Got a Woman.' No matter what song they started with, by the time they were done with it, it was uniquely and unmistakably their own."

The album's original 12 tracks are executed by the lean but formidable roster of organist Booker T. Jones, guitarist Steve Cropper, bassist Lewis Steinberg, and drummer Al Jackson, Jr. The reissue also includes two bonus tracks - live renditions of "Green Onions" and "Can't Sit Down," both recorded at the 5 / 4 Ballroom in Los Angeles in August 1965. These extra tracks - which Bowman describes in his liner notes as "turbo-charged, extended, uber-muscular versions" - include Donald "Duck" Dunn replacing Steinberg on bass and joined by Packy Axton on saxophone on "Can't Sit Down."

"In the annals of American music, there have been only a handful of rhythm sections that have all but single-handedly set the course for a whole genre of music," says Bowman. "In the case of Booker T. & the MGs, the genre in question is Southern soul music. Although Southern soul has its roots in select 1950s recordings by James Brown, Sam Cooke, and Ray Charles, the genre coalesced in the early and mid-'60s at Stax Records in Memphis, Tennessee, where Booker T. & the MGs served as the 'house band.'"

He concludes: "Together, Green Onions and the live cuts from the 5 / 4 Ballroom provide a good sense of the very early days of the incomparable Booker T. & the MGs . . . Soul simply doesn't get much better."

(concordmusicgroup. com)
Disk 1 von 1 (CD)
1 Green Onions
2 Rinky-Dink
3 I Got A Woman
4 Mo' Onions
5 Twist And Shout
6 Behave Yourself
7 Stranger On The Shore
8 Lonely Avenue
9 One Who Really Loves You
10 Can't Sit Down
11 A Woman, A Lover, A Friend
12 Comin' Home Baby
13 Green Onions (Live From 5/4 Ballroom, Los Angeles/1965)
14 Can't Sit Down (Live From 5/4 Ballroom, Los Angeles/1965)