Miles Davis: Kind Of Blue (+4 Bonus Tracks) (Limited-Edition)
Kind Of Blue (+4 Bonus Tracks) (Limited-Edition)
CD
CD (Compact Disc)
Herkömmliche CD, die mit allen CD-Playern und Computerlaufwerken, aber auch mit den meisten SACD- oder Multiplayern abspielbar ist.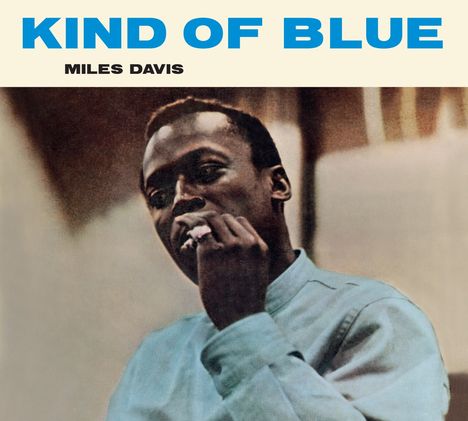 lieferbar innerhalb 2-3 Wochen
(soweit verfügbar beim Lieferanten)

Wir beschaffen die Ware speziell für Sie nach Bestelleingang.
*** digitally remastered
*** Digipack
Es ist so viel über Miles Davis' »Kind Of Blue« gesagt und geschrieben worden, dass es praktisch unmöglich ist, alle notwendigen Informationen auf die Länge dieser Abhandlungen zusammenzufassen. Wir könnten einfach einige Fakten auflisten (weltweit best verkauftes Jazz-Album aller Zeiten). Wir könnten versuchen, zu erklären, warum es das beste Jazz-Album aller Zeiten ist, aber die Musik selbst wird das für Sie tun. Wie Bill Evans in den ursprünglichen Liner Notes für die Platte sagte, hat die Band keines dieser Stücke vor der Aufnahme durchgespielt. Miles Davis legte die Themen fest, bevor das Band rollte, und die Band improvisierte. Das Endergebnis war zerbrechlich und wundersam. Aufgenommen während 2 Sessions im Jahr 1959, arbeitete »Kind of Blue« auf vielen verschiedenen Ebenen und wird dies noch viele Jahre lang tun.

Hier wird das komplette Miles Davis-Album Kind of Blue präsentiert, eines der wenigen authentischen Meilensteine der Jazzgeschichte, das die immensen Talente des Leaders sowie John Coltrane, Cannonball Adderley, Bill Evans, Wynton Kelly, Paul Chambers und Jimmy Cobb zusammenbringt. Bill Evans' Trio-Version von »Blue in Green«, einem der Songs des Albums, sowie drei Songs aus einer vorherigen Session mit dem gleichen Personal wie die Original-LP wurden als Bonus hinzugefügt.
Disk 1 von 1 (CD)
1 So What
2 Freddie Freeloader
3 Blue in Green
4 All Blues
5 Flamenco Sketches
6 Blue in Green [Bill Evans Trio version]
7 On Green Dolphin Street
8 Fran-Dance
9 Stella by Starlight