Miles Davis: Kind Of Blue
Kind Of Blue
2 CDs
CD (Compact Disc)
Herkömmliche CD, die mit allen CD-Playern und Computerlaufwerken, aber auch mit den meisten SACD- oder Multiplayern abspielbar ist.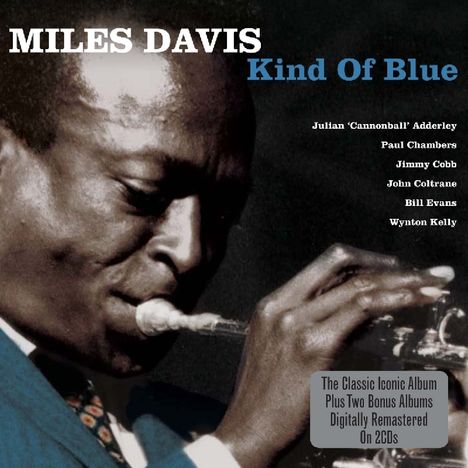 Label: Not Now, 1957-58
Bestellnummer:

1111573

Erscheinungstermin: 11.1.2010
+ Julian Cannonball Adderley, John Coltrane, Wynton Kelly,
Jimmy Cobb, Paul Chambers u.a.
Es ist so viel über Miles Davis' »Kind Of Blue« gesagt und geschrieben worden, dass es praktisch unmöglich ist, alle notwendigen Informationen auf die Länge dieser Abhandlungen zusammenzufassen. Wir könnten einfach einige Fakten auflisten (weltweit best verkauftes Jazz-Album aller Zeiten). Wir könnten versuchen, zu erklären, warum es das beste Jazz-Album aller Zeiten ist, aber die Musik selbst wird das für Sie tun. Wie Bill Evans in den ursprünglichen Liner Notes für die Platte sagte, hat die Band keines dieser Stücke vor der Aufnahme durchgespielt. Miles Davis legte die Themen fest, bevor das Band rollte, und die Band improvisierte. Das Endergebnis war zerbrechlich und wundersam. Aufgenommen während 2 Sessions im Jahr 1959, arbeitete »Kind of Blue« auf vielen verschiedenen Ebenen und wird dies noch viele Jahre lang tun.


Disk 1 von 2 (CD)
1 So what
2 Freddie Freeloader
3 Blue in green
4 All blues
5 Flamenco sketches
Disk 2 von 2 (CD)
1 Générique
2 L'Assassinat de Carala
3 Sur L'Autoroute
4 Julien dans l'ascenseur
5 Florence sur les Champs-Élysées
6 Diner au motel
7 Évasion de Julien
8 Visite du vigile
9 Au bar du Petit Bac
10 Chez Le Photographe Du Motel
11 Autumn leaves
12 Love for sale
13 Somethin' else
14 One for Daddy-O
15 Dancing in the dark