Louis Armstrong & Ella Fitzgerald: Ella & Louis (+8 Bonus Tracks)
Ella & Louis (+8 Bonus Tracks)
CD
CD (Compact Disc)
Herkömmliche CD, die mit allen CD-Playern und Computerlaufwerken, aber auch mit den meisten SACD- oder Multiplayern abspielbar ist.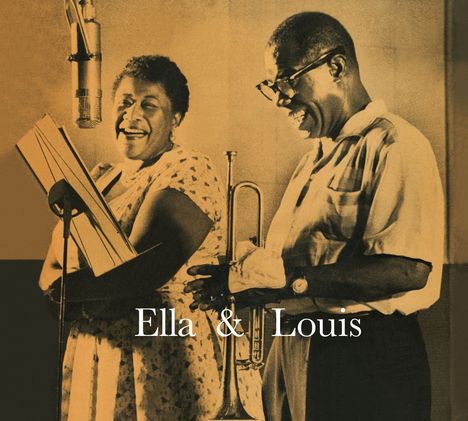 lieferbar innerhalb einer Woche
(soweit verfügbar beim Lieferanten)
*** digitally remastered
*** Digipack
Zeitloser Jazz von zwei der größten Namen im Jazzbusiness. Ella and Louis ist ein Studioalbum von Ella Fitzgerald und Louis Armstrong aus dem Jahr 1956, begleitet vom Oscar Peterson Quartett. Nachdem sie bereits in den späten 1940er Jahren für das Label Decca zusammengearbeitet hatten, war dies das erste von drei Alben, die Fitzgerald und Armstrong gemeinsam für Verve Records aufnehmen sollten!


Disk 1 von 1 (CD)
1 Can`t We Be Friends?
2 Isn`t This A Lovely Day?
3 Moonlight In Vermont
4 They Can`t Take That Away From Me
5 Under A Blanket Of Blue
6 Tenderly
7 A Foggy Day
8 Stars Fell On Alabama
9 Cheek To Cheek
10 The Nearness Of You
11 April In Paris
12 BONUS TRACKS:You Won`t Be Satisfied
13 The Frim Fram Sauce
14 Dream A Little Dream Of Me
15 Can Anyone Explain?
16 Necessary Evil
17 Oops
18 Would You Like To Take A Walk?
19 Who Walks In When I Walk Out?