Louis Armstrong & Ella Fitzgerald: Ella & Louis (180g) (+ Colored "7)
Ella & Louis (180g) (+ Colored "7)
1 LP, 1 Single 7"
LP (Long Play)
Die gute alte Vinyl - Langspielplatte.
Single 7''
Die gute alte Vinyl –Single.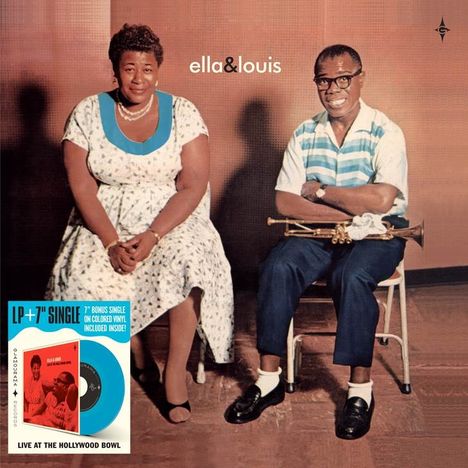 lieferbar innerhalb einer Woche
(soweit verfügbar beim Lieferanten)
Vinyl liefern wir innerhalb Deutschlands immer portofrei.
Label: Glamourama, 1956
Bestellnummer:

8981542

Erscheinungstermin: 1.3.2019
Zeitloser Jazz von zwei der größten Namen im Jazzbusiness. Ella and Louis ist ein Studioalbum von Ella Fitzgerald und Louis Armstrong aus dem Jahr 1956, begleitet vom Oscar Peterson Quartett. Nachdem sie bereits in den späten 1940er Jahren für das Label Decca zusammengearbeitet hatten, war dies das erste von drei Alben, die Fitzgerald und Armstrong gemeinsam für Verve Records aufnehmen sollten!

Single enthält Ella & Louis' Duette im Hollywood Bowl: »You Won't Be Satisfied« und »Undecided«.
Die Hörproben gehören zum Artikel Louis Armstrong & Ella Fitzgerald: Ella & Louis (Jazz Images) (Limited Edition) (CD). Das Tracklisting kann bei diesem Artikel ggf. abweichen.
LP
1 Can't We Be Friends
2 Isn't This A Lovely Day
3 Moonlight In Vermont
4 They Can't Take That Away From Me
5 Under A Blanket Of Blue
6 Tenderly
7 A Foggy Day
8 Stars Fell On Alabama
9 Cheek To Cheek
10 The Nearness Of You
11 April In Paris
Single 7"
1 You Won`t Be Satisfied
2 Undecided