Ella Fitzgerald: Sings The Cole Porter Song Book (remastered) (180g) (Limited Edition)
Sings The Cole Porter Song Book (remastered) (180g) (Limited Edition)
2 LPs
LP (Long Play)
Die gute alte Vinyl - Langspielplatte.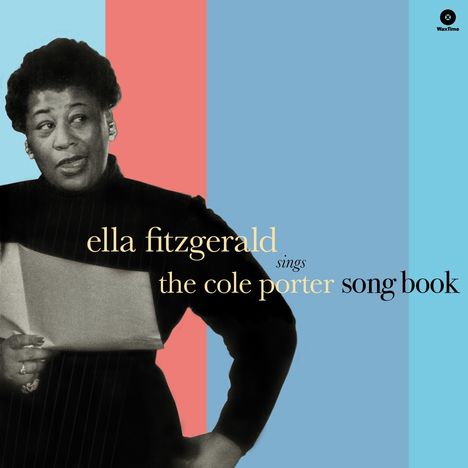 Lieferzeit beträgt mind. 4 Wochen
(soweit verfügbar beim Lieferanten)

Wir beschaffen die Ware speziell für Sie nach Bestelleingang.
Vinyl liefern wir innerhalb Deutschlands immer portofrei.
Label: Waxtime, 1956
Bestellnummer:

8513405

Erscheinungstermin: 4.1.2016
*** Gatefold Cover
* DMM - Direct Metal Mastering
Hier ist das komplette klassische Doppelalbum Ella Fitzgerald Sings The Cole Porter Song Book zu hören. Das Cole Porter Song Book, ist das erste der von Ella aufgenommenen gefeierten Songbücher und eines der besten Vocal-Jazz-Alben aller Zeiten, wurde im Jahr 2000 in die Grammy Hall of Fame aufgenommen, in welcher Aufnahmen mit "qualitativer oder historischer Bedeutung" ausgezeichnet werden. Im Jahr 2003 war es eine von 50 Aufnahmen, die von der Library of Congress in Washington ausgewählt wurden, um in das National Recording Registry aufgenommen zu werden.


Die Hörproben gehören zum Artikel Ella Fitzgerald (1917-1996): Sings The Cole Porter Song Book (CD). Das Tracklisting kann bei diesem Artikel ggf. abweichen.
LP
1 All Through The Night
2 Anything Goes
3 Miss Otis Regrets
4 Too Darn Hot
5 In The Still Of The Night
6 I Get A Kick Out Of You
7 Do I Love You?
8 I'm Always True To You In My Fashion
9 Let's Do It (Let's Fall In Love)
10 Just One Of Those Things
11 Ev'ry Time We Say Goodbye
12 All Of You
13 Begin The Beguine
14 Get Out Of Town
15 I'm In Love
16 From This Moment On
LP
1 I Love Paris
2 You Do Something To Me
3 Ridin' High
4 Easy To Love
5 It's All Right With Me
6 Why Can't You Behave?
7 What Is This Thing Called Love?
8 You're The Top
9 Love For Sale
10 It's De-Lovely
11 Night And Day
12 Ace In The Hole
13 So In Love
14 I've Got You Under My Skin
15 I Concentrate On You
16 Don't Fence Me In