Brad Mehldau: The Art Of The Trio Vol.3: Songs
The Art Of The Trio Vol.3: Songs
CD
CD (Compact Disc)
Herkömmliche CD, die mit allen CD-Playern und Computerlaufwerken, aber auch mit den meisten SACD- oder Multiplayern abspielbar ist.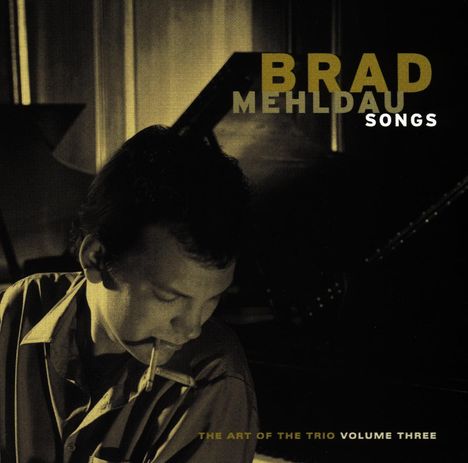 Artikel am Lager
Verlängerter Rückgabezeitraum bis 31. Januar 2023
Alle zur Rückgabe berechtigten Produkte, die zwischen dem 1. bis 31. Dezember 2022 gekauft wurden, können bis zum 31. Januar 2023 zurückgegeben werden.

Label: Warner, 1998
Bestellnummer:

3647866

Erscheinungstermin: 21.9.1998
+ Jorge Rossy, Larry Grenadier
Songs, recorded in 1998, captured a wider audience for Mehldau's trio. "A lot of people have told me that 'Songs' is their favorite record of mine," Mehldau says. "I was thinking a lot at that time about what 'song' means to me. It implies a few things - simplicity of melody, an economy of material and a short form, but also a strong emotional effect on the listener that hopefully lingers and swells in your consciousness after you've heard it. A song is short and ends quickly, but it should also give you a feeling of endlessness, of something much bigger than its duration. You should sense that you're scratching the surface of something eternal."

Mehldau's writing made an expressive leap on this record, with originals like 'Song-Song,' 'Unrequited,' and 'Sehnsucht,' and he notes, "I started to achieve something more simple and direct in my own tunes." Two covers heard in their first versions here went on to become staples in the trio's performances: Nick Drake's 'River Man' and Radiohead's 'Exit Music (For a Film).' On the ballad, 'For All We Know,' you can start to hear an elegiac tone. The sentiment of elegy that begins on this record sweeps over much of Mehldau's subsequent recorded music, and he would explore that idea in depth on his next record, 'Elegiac Cycle'. (bradmehldau. com)
Rezensionen
W.​ Stiefele in Scala Nr.​ 6/98: "Dieser Brad Mehldau ist ein Gigant unter den Jazz-Pianisten.​ Und sein neues Album hat das Zeug, ein Klassiker zu werden.​"

W.​ Stiefele in Audio 12/98: "Zehn Stücke voll Melancholie, Zärtlichkeit, Kraft, Gelassenheit und Spannung.​ Jeder Ton für sich hat Gewicht, weil das weiträumige Ensemblespiel ihn aufblühen und reifen lässt, anstatt ihn im Schwall weiterer Töne zu ersticken.​ "The Art Of The Trio" nennt der Pianist stolz seine sensibel ausge- stalteten Alben in dieser Besetzung; dabei geriet ihm Volume 3 gar noch schöner als die bereits formidablen Vorläufer.​ Warum, bleibt trotz aller Erklärungsversuche (s)ein Geheimnis.​"
Disk 1 von 1 (CD)
1 Song-Song
2 Unrequited
3 Bewitched, Bothered And Bewildered
4 Exit Music (For A Film)
5 At A Loss
6 Convalescent
7 For All We Know
8 River Man
9 Young At Heart
10 Sehnsucht