Brad Mehldau: The Art Of The Trio Vol.4: Back At The Vanguard
The Art Of The Trio Vol.4: Back At The Vanguard
CD
CD (Compact Disc)
Herkömmliche CD, die mit allen CD-Playern und Computerlaufwerken, aber auch mit den meisten SACD- oder Multiplayern abspielbar ist.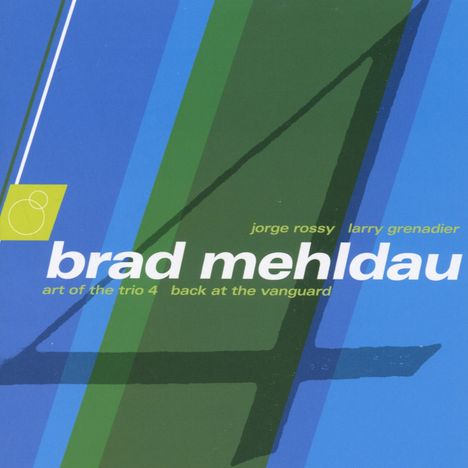 Nur noch 1 Stück am Lager. Danach versandfertig innerhalb 2-3 Wochen (soweit verfügbar beim Lieferanten)
-18%
Label: Warner, 1999
Bestellnummer:

1525904

Erscheinungstermin: 18.10.1999
+ Larry Grenadier, Jorge Rossy
This is the second live recording of Mehldau's trio from a week at The Village Vanguard in New York, this one in January 1999. As the band has evolved, the rhythmic relationship between Mehldau, Grenadier and Rossy has become more elastic yet more solid. Mehldau says, "Our trust level was becoming consistently stronger collectively, so we began to feel less and less constricted by whatever form we were in. The year before this recording, and the following couple of years, were very active in terms of performance for us, so we really had an opportunity to develop as a band.

This record came at a point where I realized that my musical identity was inseparable from Larry and Jorge, because we were growing together and influencing each other in this malleable, give and take kind of way." A highlight of this record is 'Nice Pass,' the first of several of what Mehldau half-jokingly refers to as one of his 'epic-tunes.' Mehldau's arrangement of 'All The Things You Are' marks a continuation of the trio's love affair with the odd meter, 7 / 4, and their ability to abstract the rhythm even further within that meter takes a leap here. A live take on 'Exit Music' gives the listener a much different, fierier version than the earlier version from 'Songs.' (bradmehldau. com)
Rezensionen
M.​ Müller in Stereo 1/00: "Abenteuerliche Expedition in harmonische und rhythmische Unwegsamkeiten, stets trittsicher über tänzelnden Beats, abgesichert in sachtem Swing und sinnlicher Melodik.​ Einer der innovativsten Musiker seiner Generation.​"
Disk 1 von 1 (CD)
1 All The Things You Are
2 Sehnsucht
3 Nice Pass
4 Solar
5 London Blues
6 I'Ll Be Seeing You
7 Exit Music (For A Film)