Colours of Piano
Mit Werken von:
Adele
,
Du Mingxin (geb. 1928)
,
Alex North (1910-1991)
,
Alexandre Desplat (geb. 1961)
,
Billy Strayhorn (1915-1967)
,
Clara Ponty (geb. 1968)
,
Daniel Bedingfield (geb. 1979)
,
Dario Marianelli (geb. 1963)
,
Dmitri Schostakowitsch (1906-1975)
,
Ennio Morricone (1928-2020)
,
Gerhard Frommel (1906-1984)
,
Johannes Brahms (1833-1897)
, John Williams (geb. 1932), Lü Wencheng (1898-1981), Masashi Hamauzu (geb. 1971), Michael Nyman (geb. 1944), Nobuo Uematsu (geb. 1959), Osvaldo Golijov (geb. 1960), Sergej Rachmaninoff (1873-1943), Sven Helbig (geb. 1968), Thomas Newman (geb. 1955), Christopher Von Deylen (geb. 1970), Guang Ren (1900-1941)
und weitere
Mitwirkende:
Ludovico Einaudi
,
Yiruma
,
Max Richter
,
Lang Lang
,
Helene Grimaud
,
Schiller
,
Tatjana Blome
,
Benyamin Nuss
,
Jean-Yves Thibaudet
,
Dave Grusin
,
Yuja Wang
,
Benjamin Wallfisch
, Francesco Tristano, Cristina Ortiz, Royal Philharmonic Orchestra, Faure Quartett, MDR Sinfonieorchester Leipzig, Kristjan Järvi
und weitere
2 CDs
CD (Compact Disc)
Herkömmliche CD, die mit allen CD-Playern und Computerlaufwerken, aber auch mit den meisten SACD- oder Multiplayern abspielbar ist.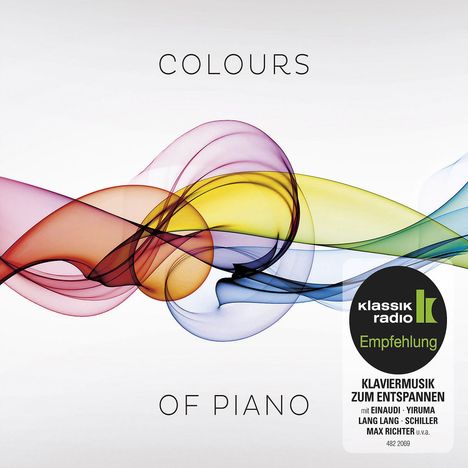 umgehend lieferbar, Bestand beim Lieferanten vorhanden
Einaudi: Le Onde; Una Mattina; Lady Labyrinth; Berlin Song
+Yiruma: The River flows in you
+Max Richter: The Tartu Piano; Vladimir's Blues; Horizon Variations
+Desplat: River Waltz aus Der bunte Schleier; Thema aus The King's Speech
+Satie / Deylen: Gymnopedie Nr. 1
+Newman: American Beauty
+North: Love Theme aus Spartacus
+Nyman: Odessa Beach aus Der Mann mit der Kamera; The Heart asks pleasure first aus "Das Piano"
+Williams: Titelthema aus Star Wars
+Wencheng / Piexun: Autumn Moon on a calm Lake
+Bedingfield: If you're not the one
+Frommel: Adagio aus Klaviersonate Nr. 6
+Uematsu: A Sign Of Hope
+Strayhorn: Lush Life
+Golijov: Love Lost aus Jugend ohne Jugend
+Wallfisch: Morning Ride & The Races aus Sommer im Februar
+Ren: Coloured Clouds Chasing The Moon
+ Grusin: Thema aus Die Firma
+Tristano: Long Walk; A Soft Shell Groove
+Hamauzu: En aus Sanzui
+Rachmaninoff / Deylen: Paganini-Rhapsodie (Ausz.)
+Adele: Someone like you
+Ponty: Melancholy; Romance
+Morricone: Playing Love aus Die Legende vom Ozeanpianisten
+Helbig: Am Abend & Schlaflied aus Pocket Symphonies
+Marianelli: Dawn aus Stolz und Vorurteil; Beyond the Stage (aus Anna Karenina
+Schostakowitsch: Andante aus Klavierkonzert Nr. 2
+Mingxin: Straw Hat Dance aus Little Mermaid Suite
+Brahms: Walzer As-Dur op. 39 Nr. 15
Künstler: Ludovico Einaudi, Yiruma, Max Richter, Lang Lang, Helene Grimaud, Schiller, Tatjana Blome, Benyamin Nuss, Jean-Yves Thibaudet, Dave Grusin, Yuja Wang, Benjamin Wallfisch, Francesco Tristano, Cristina Ortiz, Royal Philharmonic Orchestra, Faure Quartett, MDR Sinfonieorchester Leipzig, Kristjan Järvi
Label: DGG, DDD, 1983-2013
Bestellnummer:

6816967

Erscheinungstermin: 13.3.2015
Gesamtverkaufsrang: 27483
Verkaufsrang in CDs: 12261
Klassik Radio empfiehlt: das neue Doppel-Album Colours of Piano mit der schönsten Klaviermusik zum Entspannen.

Lassen Sie den Alltag hinter sich und tauchen Sie ein in die grenzenlose Welt der Klaviermusik.
»Colours of Piano« zeigt wie farben- und abwechslungsreich das Klavier klingen kann, mit den Höhepunkten aus aktueller Klassik, Filmmusik und Crossover.

Unter den Interpreten alle Klavierstars unserer Zeit: Ludovico Einaudi, Yiruma, Lang Lang und Hélène Grimaud dazu betörend schöne Musik von Schiller, Ennio Morricone, Johannes Brahms, Max Richter, Michael Nyman, Erik Satie, Dario Marianelli und vielen anderen.
Tracklisting

Details

Mitwirkende
Disk 1 von 2 (CD)
1 Ludovico Einaudi: Le Onde (Album Version)
2 Yiruma: River Flows In You
3 Max Richter: The Tartu Piano
4 Alexandre Desplat: River Waltz
5 Christopher Von Deylen: Gymnopédie No.1
6 Thomas Newman: American Beauty (American Beauty/Soundtrack Version)
7 Alexandre Desplat: The King's Speech (Album Version)
Love Theme From "Spartacus"
8 Alex North: transc. by Jed Distler
Man With A Movie Camera
9 Michael Nyman: Odessa Beach (Man With A Movie Camera)
10 John Williams: Star Wars
11 Lü Wencheng: Autumn Moon On A Calm Lake
12 Daniel Bedingfield: If You're Not The One (Album Version)
Sonata No. 6 in B flat
13 Gerhard Frommel: 2. Adagio (Original Version)
14 Nobuo Uematsu: A Sign Of Hope
Lush life
15 Billy Strayhorn: Arr. Larry Hochman
16 Osvaldo Golijov: Love Lost (Piano Version)
17 Ludovico Einaudi: Una Mattina
18 Benjamin Wallfisch: Wallfisch: Epilogue: Morning Ride
Disk 2 von 2 (CD)
1 Guang Ren: Coloured Clouds Chasing The Moon
2 Dave Grusin: The Firm (Main Title)
3 Francesco Tristano: Long Walk (Excerpt)
The Piano
4 Jean-Yves Thibaudet: The Heart Asks Pleasure First (Original Version)
5 Max Richter: Vladimir's Blues
Sanzui 2011
6 Masashi Hamauzu: II. En (Sanzui 2011)
7 Ludovico Einaudi: Lady Labyrinth (Album Version)
8 Sergej Rachmaninoff: Rhapsody On A Theme Of Paganini Op. 43
9 Someone Like You
10 Clara Ponty: Melancholy
11 Ennio Morricone: Playing Love
12 Sven Helbig: Am Abend
13 Dario Marianelli: Dawn
Piano Concerto No.2 in F, Op.102
14 Dmitri Schostakowitsch: 2. Andante (Original Version)
15 Benjamin Wallfisch: Wallfisch: The Races
16 Dario Marianelli: Beyond The Stage
Little Mermaid Suite
17 Du Mingxin: Straw Hat Dance caomao huawu (Arranged by Wu Zuqiang)
18 Romance
19 Ludovico Einaudi: Berlin Song (Album Version)
20 Max Richter: Horizon Variations
21 Francesco Tristano: A Soft Shell Groove
22 Sven Helbig: Schlaflied
16 Waltzes, Op.39
23 Johannes Brahms: 15. in A flat (Original Version)
Mehr von Deutsche Grammophon