Antonio Vivaldi: Concerti op.8 Nr.1-4 "4 Jahreszeiten" (K2 Technology)
Concerti op.8 Nr.1-4 "4 Jahreszeiten" (K2 Technology)
XRCD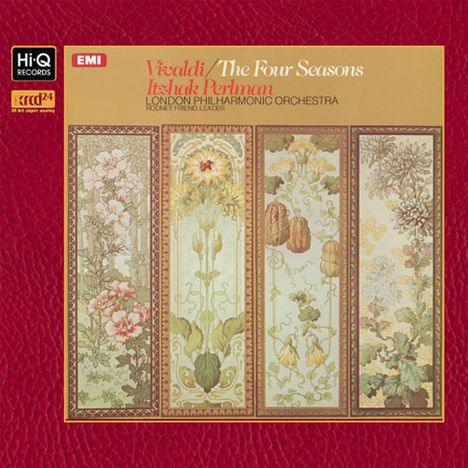 Derzeit nicht erhältlich.
Lassen Sie sich über unseren eCourier benachrichtigen, falls das Produkt bestellt werden kann.
Künstler: Itzhak Perlman, London Philharmonic Orchestra
Label: HiQ, ADD, 1976
Erscheinungstermin: 11.10.2013
Weitere Ausgaben von Concerti op.8 Nr.1-4 "4 Jahreszeiten"
*** XRCD - Superior audiophile quality
(japanisches High End Mastering)
Product Information

The four concertos entitled The Four Seasons which open Vivaldi's Op. 8 date from about 1725. It was fashionable at the time to depict nature in music, and Vivaldi wrote other descriptive pieces, both suggesting moods and specific images. As a subject, the seasons have been depicted musically by many composers (Lully before him, as a ballet, Haydn, Tchaikovsky and Glazounov and others after him) though Vivaldi may have been the first to do so symphonically; but in terms of both illustrative power and pure music, Vivaldi's concertos are perhaps his greatest achievement. Apart from fashion, it was only natural that his dramatic temperament should have inclined him towards pictorial effects in purely orchestral music. Programme music is as old as music itself (depicting the sounds of nature was the basis of primitive music) and has been used in many forms. It can dictate the form of the music (as with Liszt and other Romantics) or it can be used within a preconceived formal pattern, as in The Seasons. These are in perfectly orthodox concerto form, with the result that the pictorial elements are mainly confined to the solo episodes between the ochestral ritornelli. The four concertos are each prefaced by a sonnet (possibly written by the composer, though he does not put his name to them), which are engraved at the beginning of the solo violin part, and which describe in detail what the music is portraying.
Disk 1 von 1 (XRCD)
1 Concerto No. 1 in E major (Spring): Allegro
2 Concerto No. 1 in E major (Spring): Largo
3 Concerto No. 1 in E major (Spring): Allegro
4 Concerto No. 2 in G minor (Summer): Allegro non molto
5 Concerto No. 2 in G minor (Summer): Adagio
6 Concerto No. 2 in G minor (Summer): Presto
7 Concerto No. 3 in F major (Autumn): Allegro
8 Concerto No. 3 in F major (Autumn): Adagio Molto
9 Concerto No. 3 in F major (Autumn): Allegro
10 Concerto No. 4 in F minor (Winter): Allegro non molto
11 Concerto No. 4 in F minor (Winter): Largo
12 Concerto No. 4 in F minor (Winter): Allegro