20C - Shaping the Century Vol.1 1900-1949
20C - Shaping the Century Vol.1 1900-1949
Mit Werken von:
Claude Debussy (1862-1918)
,
Richard Strauss (1864-1949)
,
Charles Ives (1874-1954)
,
Jean Sibelius (1865-1957)
,
Gustav Mahler (1860-1911)
,
Arnold Schönberg (1874-1951)
,
Igor Strawinsky (1882-1971)
,
Ralph Vaughan Williams (1872-1958)
,
Alban Berg (1885-1935)
,
Karol Szymanowski (1882-1937)
,
Alexander von Zemlinsky (1871-1942)
,
Edgar Varese (1885-1965)
, Leos Janacek (1854-1928) , Kurt Weill (1900-1950) , Anton Webern (1883-1945) , Carl Orff (1895-1982) , Dmitri Schostakowitsch (1906-1975) , Bela Bartok (1881-1945) , Aaron Copland (1900-1990) , Serge Prokofieff (1891-1953) , Michael Tippett (1905-1998) , Benjamin Britten (1913-1976) , John Cage (1912-1992) , Olivier Messiaen (1908-1992)
und weitere
28 CDs
CD (Compact Disc)
Herkömmliche CD, die mit allen CD-Playern und Computerlaufwerken, aber auch mit den meisten SACD- oder Multiplayern abspielbar ist.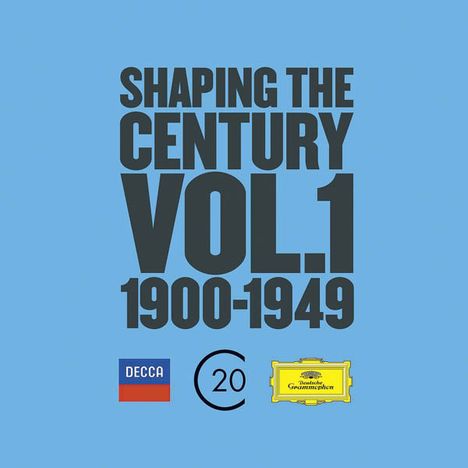 Derzeit nicht erhältlich.
Lassen Sie sich über unseren eCourier benachrichtigen, falls das Produkt bestellt werden kann.
Debussy: La Mer
+Strauss: Salome (Gesamtaufnahme)
+Ives: Central Park in the Dark
+Sibelius: Symphonien Nr. 3, 6, 7
+Mahler: Symphonie Nr. 9
+Schönberg: Pierrot Lunaire
+Strawinsky: Le Sacre du Printemps
+Vaughan Williams: London Symphony
+Berg: 3 Orchesterstücke
+Szymanowski: Symphonien Nr. 2 & 3
+Zemlinsky: Lyrische Symphonie
+Janacek: Sinfonietta; Taras Bulba; Lachische Tänze
+Varese: Ameriques; Arcana; Deserts; Ionisation
+Weill: Die Dreigroschenoper
+Webern: Symphonie op. 21
+Walton: Symphonie Nr. 1
+Orff: Carmina burana
+Schostakowitsch: Symphonie Nr. 5
+Bartok: Musik für Saiteninstrumente, Schlagzeug, Celesta
+Copland: Billy the Kid; El Salon Mexico
+Prokofieff: Klaviersonaten Nr. 6-8
+Tippett: A Child of our Time
+Britten: Peter Grimes (Gesamtaufnahme)
+Cage: Sonatas & Interludes
+Messiaen: Turangalila-Symphonie
+Martin: Konzert für Bläser
Künstler: Catherine Malfitano, Bryn Terfel, Kenneth Riegel, Hanna Schwarz, Christine Schäfer, Anne Sofie von Otter, Chantal Juillet, Ute Lemper, Rene Kollo, Milva, Christiane Oelze, Robert Cohen, June Anderson, Philip Creech, Bernd Weikl, Jessye Norman, Richard Cassilly, John Shirley-Quirk, Peter Pears, Claire Watson, John Tilbury, Jean-Yves Thibaudet, Orchestre symphonique de Montreal, New York Philharmonic Orchestra, Boston Symphony Orchestra, Berliner Philharmoniker, Ensemble InterContemporain, Deutsches Symphonie-Orchester Berlin, London Philharmonic Orchestra, Wiener Philharmoniker, Detroit Symphony Orchestra, Concertgebouw Orchestra, Chicago Symphony Orchestra, RIAS Sinfonietta Berlin, Bournemouth Symphony Orchestra, Baltimore Symphony Orchestra, London Sinfonietta, BBC Symphony Orchestra, Orchestra of the Royal Opera House Covent Garden, Charles Dutoit, Christoph von Dohnanyi, Claudio Abbado, Pierre Boulez, Vladimir Ashkenazy, Roger Norrington, Antal Dorati, Riccardo Chailly, Charles Mackerras, John Mauceri, Andrew Litton, James Levine, Georg Solti, David Zinman, Colin Davis, Leonard Bernstein, Oliver Knussen, Benjamin Britten
Label: DGG/Decca, ADD/DDD, 1958-2001
Erscheinungstermin: 28.10.2016
Die Serie »20C« ist der perfekte Einstieg in die Musik des 20. Jahrhunderts und präsentiert herausragende Werke der prägenden Komponisten der Moderne, die jeder gehört haben sollte, der die Entwicklung und das beeindruckende Spektrum der Neuen Musik verstehen will.

Jetzt erscheinen erstmalig 26 Teile der Serie in einer hochwertigen und limitierten Edition. Shaping the Century Vol. 1 enthält auf 28 CDs die gesammelten Schlüsselwerke der Zeit zwischen 1900-1949 und ermöglicht einen komprimierten Überblick über die enorme Vielfalt an musikalischen Schöpfungen und die ideenreiche und subtile Klangkultur dieser Periode. Sämtliche Aufnahmen stammen aus den Katalogen von Decca und der Deutschen Grammophon mit bedeutenden Interpreten wie Claudio Abbado, Pierre Boulez, Riccardo Chailly oder Leonard Bernstein u. a.

Dazu gibt es zu jedem der 26 Alben ausführliche Werkinformationen, die brillant in die Werke der Komponisten einführen und den jeweiligen historischen Kontext erhellen sowie eine Chronik musikalischer Premieren des 20. Jahrhunderts.
Disk 1 von 28 (CD)
Salome, op. 54 (original version)
1 "Wie schön ist die Prinzessin Salome heute Nacht!" (Scene 1)
2 "Nach mir wird Einer kommen" (Scene 1)
3 "Ich will nicht bleiben" (Scene 2)
4 "Siehe, der Herr ist gekommen" (Scene 2)
5 "Jauchze nicht, du Land Palästina" (Scene 2)
6 "Du wirst das für mich tun" (Scene 2)
7 Wo ist er...Er ist schrecklich...Wer ist dieses Weib (Scene 3)
8 Jochanaan! Ich bin verliebt...Zurück, Tochter Sodoms! (Scene 3)
9 Wird dir nicht bange...Laß mich deinen Mund küssen (Scene 3)
10 "Wo ist Salome?" (Scene 4)
11 Es ist kalt hier (Scene 4)
12 "Salome, komm, trink Wein mit mir" (Scene 4)
13 "Siehe, die Zeit ist gekommen" (Scene 4)
14 "Wahrhaftig, Herr, es wäre besser, ihn in unsre Hände zu geben!" (Scene 4)
15 "Siehe, der Tah ist nahe" (Scene 4)
Disk 2 von 28 (CD)
Salome, op. 54 (original version)
1 "Eine Menge Menschen wird sich gegen sie sammeln" (Scene 4)
2 "Tanz für Mich, Salome" (Scene 4)
3 Salome's Dance of the Seven Veils (Scene 4)
4 "Ah! Herrlich! Wundervoll, wundervoll!" (Scene 4)
5 Still, sprich nicht zu mir! (Scene 4)
6 "Salome, bedenk, was du tun willst" (Scene 4)
7 "Man soll ihr geben, was sie verlangt!" (Scene 4)
8 "Es ist kein Laut zu vernehmen" (Scene 4)
9 "Ah! Du wolltest mich nicht deinen Mund" (Scene 4)
10 "Sie ist ein Ungeheuer, deine Tochter" (Scene 4)
11 "Ah! Ich habe deinen Mund geküsst, Jochanaan" (Scene 4)
Disk 3 von 28 (CD)
Sinfonie Nr. 3 C-Dur op. 52
1 1. Allegro moderato (Original Version)
2 2. Andantino con moto, quasi allegretto (Original Version)
3 3. Moderato - Allegro ma non tanto (Original Version)
Sinfonie Nr. 6 d-moll op. 104
4 1. Allegro molto moderato (Original Version)
5 2. Allegretto moderato (Original Version)
6 3. Poco vivace (Original Version)
7 4. Allegro molto (Original Version)
Sinfonie Nr. 7 C-Dur op. 105
8 Adagio - (Original Version)
9 Vivacissimo - Adagio - (Original Version)
10 Allegro molto moderato - Allegro moderato - (Original Version)
11 Vivace - Presto - Adagio - Largamente molto - (Original Version)
12 Affettuoso (Original Version)
Disk 4 von 28 (CD)
Symphony No.2: A London Symphony
1 1. Lento - Allegro risoluto (Original Version)
2 2. Lento (Original Version)
3 3. Scherzo Nocturne, Allegro vivace (Original Version)
4 4. Andante con moto - Epilogue (Original Version)
Fantasia on a Theme by Thomas Tallis
5 Original Version
6 Serenade To Music
Disk 5 von 28 (CD)
Symphony No.2, op. 19
1 1. Allegro moderato, grazioso (Original Version)
2 2. Tema, variazoni, fuga (Original Version)
Symphony No.3 - "Chant de la nuit", op. 27
3 Moderato assai... (Original Version)
4 Vivace scherzando... (Original Version)
5 Largo... (Original Version)
Violin Concerto No.2, op. 61
6 1. - Moderato, molto tranquilo (Original Version)
7 2. - Allegramente molto energico (Original Version)
8 3. - Andantino molto tranquilo (Original Version)
9 4. - Tempo I allegramente, animato (Original Version)
Disk 6 von 28 (CD)
Lyrische Symphonie, op. 18
1 1. Langsam (Original Version)
2 2. Lebhaft (Original Version)
3 3. Von hier ab plötzlich breiter . . . (Original Version)
4 4. Langsam (Original Version)
5 5. Feurig und kraftvoll (Original Version)
6 6. Sehr mässig (Original Version)
7 7. Molto Adagio (Original Version)
Sinfonische Gesänge. op. 20
8 1. Lied aus Dixieland (Original Version)
9 2. Lied der Baumwollpacker (Original Version)
10 3. Totes braunes Mädel (Original Version)
11 4. Übler Bursche (Original Version)
12 5. Erkenntnis (Original Version)
13 6. Afrikanischer Tanz (Original Version)
14 7. Arabeske (Original Version)
15 Psalm 83
Disk 7 von 28 (CD)
5 Pieces for Orchestra 1913
1 1. Bewegt (Original Version)
2 2. Langsam sostenuto (Original Version)
3 3. Sehr bewegte Viertel (Original Version)
4 4. Langsame Viertel (Original Version)
5 5. Alla breve (Original Version)
Three Orchestral Songs for Voice and Orchestra 1913/14
6 1. Leise Düfte Poem by Anton Webern (Original Version)
7 2. Kunfttag Iii. "nun Wird Es Wieder Lenz" Poem By Stefan George (Original Version)
8 3. O sanftes Glühn der Berge Poem by Anton Webern (Original Version)
Symphony, op. 21
9 1. Ruhig schreitend (Original Version)
10 2. Variationen (Original Version)
11 Das Augenlicht, op. 26
I. Kantate op. 29 for soprano, mixed chorus and orchestra
12 1. Getragen - Lebhaft. "Zündender Lichtblitz des Lebens" Chorus (Original Version)
13 2. Leicht bewegt "Kleiner Flügel Ahornsamen" Soprano (Original Version)
14 3. Ruhig "Tönen die seligen Saiten" Chorus & Soprano (Original Version)
15 Variations For Orchestra op. 30
II. Kantate op. 31 for soprano solo, bass solo, mixed chorus and orchestra
16 1. Sehr lebhaft - Ruhig "Schweigt auch die Welt" Basso (Original Version)
17 2. Sehr verhalten "Sehr tief verhalten innerst Leben" Basso (Original Version)
18 3. Sehr bewegt "Schöpfen aus Brunnen des Himmels" Chorus & Soprano (Original Version)
19 4. Sehr lebhaft "Leichte Bürde der Bäume" Soprano (Original Version)
20 5. Sehr mässig "Feindselig ist das Wort" Chorus & Soprano (Original Version)
21 6. Sehr fliessend "Gelockert aus dem Schosse" Chorus (Original Version)
Disk 8 von 28 (CD)
Concerto for Violoncello and Orchestra
1 Moderato (Original Version)
2 Allegro appassionato (Original Version)
3 Lento (Original Version)
Symphony No.1
4 1. Allegro assai (Original Version)
5 2. Presto, con malizia (Original Version)
6 3. Andante (Original Version)
7 4. Maestoso - Brioso ed ardentemente (Original Version)
Disk 9 von 28 (CD)
Carmina Burana (Original Version)
1 "O Fortuna" (Fortuna Imperatrix Mundi)
2 "Fortune plango vulnera" (Fortuna Imperatrix Mundi)
3 "Veris leta facies" (1. Primo vere)
4 "Omnia Sol temperat" (1. Primo vere)
5 "Ecce gratum" (1. Primo vere)
6 Dance (Uf dem Anger)
7 "Floret silva nobilis" (Uf dem Anger)
8 "Chramer, gip die varwe mir" (Uf dem Anger)
9 "Swaz hie gat umbe" - "Chume, chum geselle min" (Uf dem Anger)
10 "Were diu werlt alle min" (Uf dem Anger)
11 "Estuans interius" (2. In Taberna)
12 "Olim lacus colueram" (2. In Taberna)
13 "Ego sum abbas" (2. In Taberna)
14 "In taberna quando sumus" (3. Cour d'amours)
15 "Amor volat undique" (3. Cour d'amours)
16 "Dies, nox et omnia" (3. Cour d'amours)
17 "Stetit puella" (3. Cour d'amours)
18 "Circa mea pectora" (3. Cour d'amours)
19 "Si puer cum puellula" (3. Cour d'amours)
20 "Veni, veni, venias" (3. Cour d'amours)
21 "In trutina" (3. Cour d'amours)
22 "Tempus est iocundum" (3. Cour d'amours)
23 "Dulcissime" (3. Cour d'amours)
24 "Ave formosissima" (Blanziflor et Helena)
25 "O Fortuna" (Fortuna Imperatrix Mundi)
Disk 10 von 28 (CD)
A Child of our Time (original version)
1 "The World Turns On Its Dark Side" (Part 1)
2 "Man has measured the heavens" (Part 1)
3 "Is evil then good?" (Part 1)
4 "Now in each nation" - "When shall the userer's city cease" (Part 1)
5 "I have no money for my bread" (Part 1)
A Child of our Time (Original Version)
6 How Can I Cherish My Man In Such Days...Steal Away (Part 1)
A Child of our Time (original version)
7 "A star rises in mid-winter" (Part 2)
8 "And a time came" (Part 2)
9 "O my son!" (Part 2)
10 "Nobody Knows The Trouble I See" (Part 2)
11 "The Boy Becomes Desperate In His Agony" (Part 2)
12 "The Took A Terrible Vengeance" (Part 2)
13 "Go Down, Moses" (Part 2)
14 "My Dreams Are All Shattered" (Part 2)
A Child of our Time (Original Version)
15 What Have I Done To You, My Son?...O, By And By (Part 2)
A Child of our Time (original version)
16 "The Cold Deepens" (Part 3)
17 "The Soul Of Man" (Part 3)
18 "The Words Of Wisdom Are These" (Part 3)
19 "I Would Know My Shadow And My Light" (Part 3)
20 "Deep river" (Part 3)
Disk 11 von 28 (CD)
Peter Grimes, op. 33 (Original Version)
1 "Peter Grimes!" (Prologue)
2 "You sailed your boat" (Prologue)
3 "Peter Grimes, I here advise you!" (Prologue)
4 "The truth...the pity..." (Prologue)
5 Interlude I: On the beach (Prologue)
6 "Oh, hang at open doors" (Act 1)
7 "Hi! give us a hand" (Act 1)
8 "I have to go from pub to pub" (Act 1)
9 "Let her among you" (Act 1)
10 "Look, the storm cone!" (Act 1)
11 "And do you prefer the storm" (Act 1)
12 "What harbour shelters peace" (Act 1)
13 Interlude II: The Storm (Act 1)
14 "Past time to close!" (Act 1)
15 "We live and let live" (Act 1)
16 "Have you heard?" (Act 1)
17 "Now the Great Bear and Pleiades" (Act 1)
18 "Old Joe has gone fishing" (Act 1)
19 "The bridge is down, we half swam over" (Act 1)
20 Interlude Iii: Sunday Morning By The Beach (Act 2)
21 "Glitter of waves" (Act 2)
22 "Let this be a holiday" (Act 2)
23 "This unrelenting work" (Act 2)
24 "Fool to let it come to this!" (Act 2)
25 "What is it?" (Act 2)
26 "People!...No! I will speak!" (Act 2)
Disk 12 von 28 (CD)
Peter Grimes, op. 33 (Original Version)
1 "We planned that their lives" (Act 2)
2 "Swallow! Shall we go" (Act 2)
3 "Now is gossip put on trial" (Act 2)
4 "From the gutter" (Act 2)
5 Interlude IV: Passacaglia (Act 2)
6 "Go there!" (Act 2)
7 "Now!...Now!" (Act 2)
8 "Peter Grimes! Nobody here?" (Act 2)
9 Interlude V: Evening (Act 3)
10 "Assign your prettiness to me" (Act 3)
11 "Pah!" (Act 3)
12 "Come along, Doctor!" (Act 3)
13 "Embroidery in childhood" (Act 3)
14 "Mr.Swallow!" (Act 3)
15 "Who holds himself apart" (Act 3)
16 Interlude VI: Fog (Act 3)
17 "Grimes! Grimes!" (Act 3)
18 "Peter, we've come to take you home" (Act 3)
19 "To those who pass the Borough" (Act 3)
Disk 13 von 28 (CD)
1 Ballade for Flute, Strings & Piano
2 Ballade for Saxophone, Piano and Orchestra
3 Ballade for Piano and Orchestra
4 Ballade for Trombone, Piano & Strings
Concerto for 7 Wind Instruments, Percussion & Strings
5 1. Allegro (Original Version)
6 2. Adagietto (Original Version)
7 3. Allegro vivace (Original Version)