Pete Alcock: The Student's Companion to Social Policy
The Student's Companion to Social Policy
Buch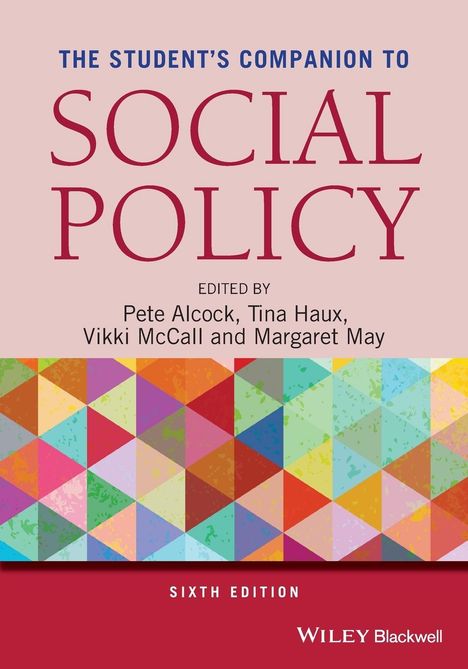 lieferbar innerhalb 2-3 Wochen
(soweit verfügbar beim Lieferanten)
Wiley-Blackwell, 04/2022
Einband: Kartoniert / Broschiert, Paperback
Sprache: Englisch
ISBN-13:

9781119744870

Bestellnummer: 10800601
Umfang: 538 Seiten
Gewicht: 666 g
Maße: 254 x 178 mm
Stärke: 15 mm
Erscheinungstermin: 20.4.2022

Achtung: Artikel ist nicht in deutscher Sprache!
Klappentext
The new edition of the bestselling guide to the issues students will encounter in the study of social policy in both the UK and abroad

Fully updated and expanded, the sixth edition of The Student's Companion to Social Policy remains the most accessible and comprehensive review of UK and comparative social policy available for undergraduate students. Written and edited by leading experts in the field, this authoritative textbook covers all the perspectives, debates, issues and challenges in both the theory and practice of social policy.

The latest edition reflects the most recent developments in the discipline and in social policy-making. New and revised chapters examine critical topics such as the policy agenda of the UK government elected in 2019 and the implications of globalization, climate change, Brexit and the COVID-19 pandemic. A wealth of new and revised illustrative material, including additional problem-centred review and assignment questions, enhance students' learning and comprehension whilst encouraging them to reflect on and reconsider the issues raised in each social policy discussion. A timely, issue-driven overview for students to draw upon throughout their studies, this acclaimed textbook:
* Provides the analytical foundation necessary to investigate and evaluate the key concepts and perspectives central to the study of social policy
* Presents up-to-date coverage of policy formation and outcomes, national and international debates and the challenges and choices facing societies
* Features new and revised coverage of key issues including international and comparative developments, austerity and post-austerity policies in the UK and devolved administrations, public attitudes to welfare and sustainability challenges
* Offers a range of pedagogical tools such as boxed 5-point summary overviews, "Emerging Issues" sections, guides to further resources and chapter review questions

The Student's Companion to Social Policy, Sixth Edition is essential reading for all those on Social Policy courses, whether specialising in the subject or studying it as part of another programme across the social sciences at undergraduate or postgraduate level.