Filmmusik: Peaky Blinders Season 1 - 5
Filmmusik: Peaky Blinders Season 1 - 5
3 LPs
LP (Long Play)
Die gute alte Vinyl - Langspielplatte.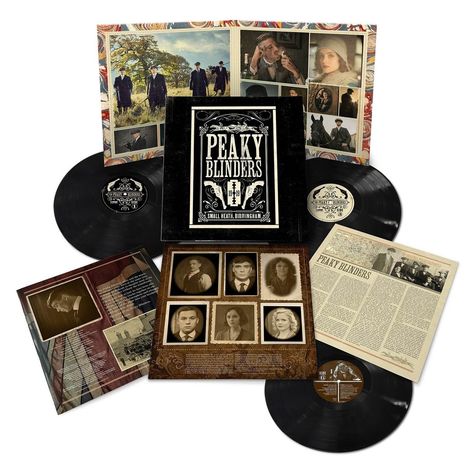 lieferbar innerhalb 1-2 Wochen
(soweit verfügbar beim Lieferanten)
Vinyl liefern wir innerhalb Deutschlands immer portofrei.
Label: Universal
Bestellnummer:

9512330

Erscheinungstermin: 22.11.2019
Weitere Ausgaben von Filmmusik: Peaky Blinders Season 1 - 5
*** Gatefold Cover
Beeindruckende Serie, beeindruckender Soundtrack
Filmfans und Musikliebhaber dürften bei dem folgenden Album gleichermaßen erfreut sein: der offizielle Soundtrack zur britischen Dramaserie »Peaky Blinders« erscheint auf Doppel-CD und erstmals auch auf drei LPs.

Neben Ausschnitten aus Dialogen aller fünf Staffeln warten Songs von Joy Division, The White Stripes, Laura Marling, Arctic Monkeys, Royal Blood, Radiohead, The Last Shadow Puppets, Queens of the Stone Age, David Bowie, Foals, Black Sabbath, Idles und vielen mehr.

Natürlich dürfen auch der Titelsong, Nick Cave & The Bad Seeds' »Red Right Hand«, und PJ Harveys Cover des Titelsongs der Serie nicht fehlen.

Das gesamte Tracklisting von »Peaky Blinders« finden Sie im Folgenden.

Eine beeindruckende Serie verdient einen beeindruckenden Soundtrack. Jetzt auf CD und Vinyl: »Peaky Blinders«.


LP
1 Nick Cave & The Bad Seeds - Red Right Hand
2 The White Stripes - St James Infirmary Blues
3 Martin Phipps - Truce
4 Dan Auerbach - The Prowl
5 Jack White - Love Is Blindness
6 PJ Harvey - To Bring You My Love
7 Black Rebel Motorcycle - River Styx
8 Paul Hartnoll - Post Irish Meeting
9 PJ Harvey - Red Right Hand
10 Laura Marling - What He Wrote
11 Royal Blood - Come On Over
12 Arctic Monkeys - Do I Wanna Know?
LP
1 Nick Cave & The Bad Seeds - Breathless
2 Radiohead - You & Whose Army?
3 PJ Harvey - This Is Love
4 Sons - Dickon Hinchcliffe
5 Queens Of The Stone Age - Burn The Witch
6 The Last Shadow Puppets - Bad Habits
7 David Bowie - Lazarus
8 Savages - Adore
9 Nick Cave & The Bad Seeds - The Mercy Seat (Live From Kcrw)
10 Rachel Untank & The Winterset - I Wish
11 Antony Genn & Martin Slattery - Ballad Of Polly Gray
12 Frank Carter & The Rattlesnakes - Devil Inside Me
LP
1 Foals - Snake Oil
2 Radiohead - Pyramid Song
3 Laura Marling/ada - A Hard Rain's A-Gonna Fall
4 Black Sabbath - The Wizard
5 Anna Calvi - Papi Pacify
6 Joy Division - Atmosphere
7 Anna Calvi - You're Not Good
8 Jehnny Beth - I'm The Man
9 Idles - Never Fight A Man With A Perm
10 Richard Hawley - Ballad Of A Thin Man