Women Of Doom
CD
CD (Compact Disc)
Herkömmliche CD, die mit allen CD-Playern und Computerlaufwerken, aber auch mit den meisten SACD- oder Multiplayern abspielbar ist.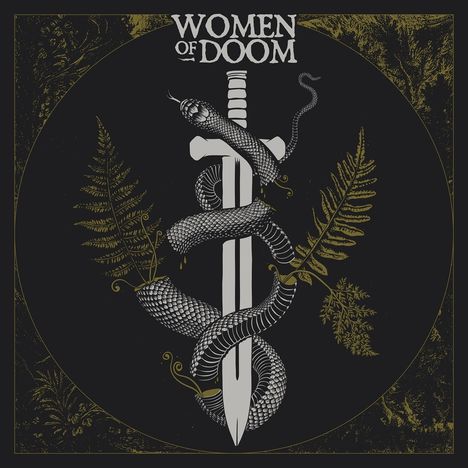 lieferbar innerhalb 1-2 Wochen
(soweit verfügbar beim Lieferanten)
Label: Blues Funeral
Bestellnummer:

9713003

Erscheinungstermin: 10.4.2020
*** Digipack
Product Information

Women of Doom is a curated compilation of original songs from some of the most exciting artists in riff-heavy doom. Deluxe gatefold LP features lyrics, photos and liner notes - entirely compiled from all-new tracks recorded exclusively for this release. Great music is great music, so while there shouldn't be a distinction between male and female musicians, we know there is. That's why it's important to highlight the creativity and heaviness of badass female artists.

This record features exclusive new songs from The Otolith (members of SubRosa), Year of the Cobra, Frayle, Mlny from Royal Thunder, Heavy Temple, Doomstress, Besvarjelsen and more! A curated compilation from members of Year of the Cobra, SubRosa, Royal Thunder and more! This release was already the focus of a highly successful 2019 Kickstarter. The Kickstarter Story: In a music universe dominated by male artists and egos, female musicians have been creating powerful heaviness and kicking ass since the dawn of the amplified riff.

Women of Doom is an album of all-new music and original songs from some of the best artists in heavy music today to recognize and celebrate the impact of women on all things heavy. Great music is great music, and while there probably shouldn't be a distinction between male and female musicians, we know there is one. That's why it's important to highlight and recognize the badass women whose creativity and heaviness have been blowing our minds and our speakers for years.

Women of Doom is a collaborative album presented on limited edition vinyl, CD, and digital formats in an array of exclusive collectors' packages, featuring new, original songs from artists like: Sarah Pendleton and Kim Cordray of SubRosa/Avarice/The Otolith Alexis Hollada of Doomstress Gwyn Strang of Frayle And many more to be revealed soon! To be clear, this album isn't about sexualizing women in metal - that would be an insult to our own values and the artists involved. Heavy music is a powerful force, and some of our favorite heavy musicians are women, so what better time than now for an album dedicated to the talent and strength of these phenomenal artists?!? That's why Women of Doom is about bringing new music into the world by artists we admire, and focusing on the inspiration they create. Women inspiring women. Women inspiring everyone.

Our ultimate hope is that listeners are inspired to pick up instruments, start bands, write songs, and carry the torch of heavy rock into the future. We can't wait to share this massive record with you - thanks for supporting the Women of Doom! Risiken und Herausforderungen All or nothing... Let's get this project funded to get the Women of Doom out into the world! Desert Records and Blues Funeral Recordings are established and trusted record labels with customers all over the world. You're in good hands, and can expect excellent communication about the project's progress and status, as well as prompt answers to questions about your pledge and rewards. Thanks for taking this trip with us!


Disk 1 von 1 (CD)
1 Nighthawk And Heavy Temple: Astral Hand
2 Amy Tung Barrysmith: Broken
3 Besvärjelsen: A Curse To Be Broken
4 Miny Parsonz: A Skeleton Is Born
5 Frayle: Marrow
6 The Otolith: Bone Dust
7 Doomstress Alexis: Facade
8 Deathbell: Coldclaw
9 The Keening: A Shadow Covers Your Face