Rock Legends
5 CDs
CD (Compact Disc)
Herkömmliche CD, die mit allen CD-Playern und Computerlaufwerken, aber auch mit den meisten SACD- oder Multiplayern abspielbar ist.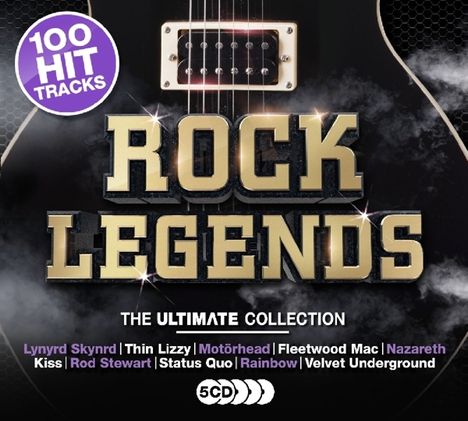 Derzeit nicht erhältlich.
Lassen Sie sich über unseren eCourier benachrichtigen, falls das Produkt bestellt werden kann.
*** Digisleeve
100 Tracks in einem fantastischen 5 CD Set!
Ultimate Rock Legends liefert 100 der populärsten Rock Klassiker, performt von den größten Legenden, die das Genre geprägt haben. Ganz gleich ob man auf Modern oder Classic Rock, Glam oder Metal steht, diese überragende Kollektion wird von allen Fans in gleichem Maß geschätzt werden.

Zu den vereinten machtvollen Rockgöttern gehören Kiss, Thin Lizzy, Dio, Rainbow, Status Quo, Free, Nazareth, Emerson Lake & Palmer, Rod Stewart u. v.m.

Ebenfalls enthalten sind Heavy Metal Klassiker von Motörhead, Anthrax, Venom, Kreator, Angel Witch, Helloween sowie eine starke Reihe von aktuellen Bands wie Marilyn Manson, Queens of The Stone Age, Puddle of Mudd, Soundgarden, Papa Roach, Hoobastank, Fall Out Boy, Blink-182 ...

Ein definitives Muss für alle Rockfans.
Disk 1 von 5 (CD)
1 Rainbow - I Surrender
2 Thin Lizzy - The Boys Are Back In Town
3 Kiss - Rock And Roll All Nite
4 Dio - Rainbow In The Dark
5 Free - Wishing Well
6 Iggy Pop - Real Wild Child (Wild One)
7 The Velvet Underground - I'm Waiting For The Man
8 Rod Stewart - Maggie May
9 Lynyrd Skynyrd - Sweet Home Alabama (album version)
10 Cher - Just Like Jessie James
11 Gary Moore - Really Gonna Rock Tonight
12 Status Quo - Caroline
13 Gene Simmons - Carnival Of Souls
14 New York Dolls - Personality Crisis
15 Cinderella - Gypsy Road
16 Motorhead - I Got Mine
17 Billy Idol - Scream
18 Nazareth - Bad Bad Boy
19 Fleetwood Mac - Man Of The World
20 The Troggs - Wild Thing
Disk 2 von 5 (CD)
1 Emerson Lake & Palmer - Fanfare For The Common Man
2 Nazareth - This Flight Tonight
3 Magnum - The Spirit
4 Uriah Heep - Easy Livin'
5 Rush - Tom Sawyer
6 Motorhead - Overkill
7 Tesla - Modern Day Cowboy
8 Angel Witch - Angel Witch
9 Girlschool - Race With The Devil
10 The Runaways - Cherry Bomb
11 Big Country - In A Big Country
12 Gary Moore - Don't Let Me Be Misunderstood
13 Dokken -Breaking The Chains
14 Anthrax - Indians
15 Helloween - Dr. Stein
16 Kreator - Pleasure To Kill
17 UFO - Doctor Doctor
18 Status Quo - Mean Girl
19 Joe Walsh - Rocky Mountain Way
20 The Allman Brothers - Ramblin' Man
Disk 3 von 5 (CD)
1 Asia - Heat Of The Moment
2 Magnum - Just Like An Arrow
3 Nazareth - Piece Of My Heart
4 Bachman-Turner Overdrive - Roll On Down The Highway
5 Uriah Heep - Gypsy
6 Simple Minds - Don't You Forget About Me
7 Blondie - Call Me
8 The Cure - Just Like Heaven
9 Roxy Music - More Than This
10 The Damned - Life Goes On
11 Hawkwind - Night of The Hawks
12 Nazareth - May The Sunshine
13 The Damned - Lovely Money
14 Hanoi Rocks - I Want You
15 L.A Guns - The Ballad Of Jane
16 Bonnie Tyler - It's A Heartache
17 UriahHeep - Lady In Black
18 Barclay James Harvest - Mocking Bird
19 Status Quo - Pictures Of Matchstick Men
20 The Moody Blues - Your Wildest Dreams
Disk 4 von 5 (CD)
1 The Scorpions - Wind Of Change
2 Extreme - Hole Hearted
3 Magnum - On A Storyteller's Night
4 Girlschool & Motorhead - Please Don't Touch
5 Little Angels - Too Much Too Young
6 Hawkwind - Motorway City
7 Venom - To Hell And Back
8 Girlschool - Hit And Run
9 Atomic Rooster - The Devil's Answer
10 Helloween - I Want Out
11 Samson - Riding With The Angels
12 Juicy Lucy - Who Do You Love
13 Climax Blues Band - Couldn't Get It Right
14 Rose Tattoo - Rock'n'Roll Outlaw
15 Be Bop Deluxe - Ships In The Night
16 Atomic Rooster- Tomorrow Night
17 Curved Air - Back Street Luv
18 Tenpole Tudor - Swords Of A Thousand Men
19 The Cooper Temple Clause - Who Needs Enemies
20 Black Rebel Motorcycle Club - Ain't No Easy Way
Disk 5 von 5 (CD)
1 Queens Of The Stone Age - No One Knows
2 Papa Roach - Last Resort
3 Marilyn Manson - The Beautiful People
4 3 Doors Down - Kryptonite
5 Puddle Of Mudd - Blurry
6 Breaking Benjamin - The Diary Of Jane
7 Fall Out Boy - My Songs Know What You Did In TheDark (Light Em Up)
8 Hoobastank - The Reason
9 Sonic Youth - Incinerate
10 Lenny Kravitz - Fly Away
11 Hole - Celebrity Skin
12 Gun - Word Up
13 Blink-182 - What's My Age Again
14 Weezer - Beverly Hills
15 Ugly Kid Joe - Everything About You
16 Alien Ant Farm - Movies
17 Sum 41 - In Too Deep
18 Therapy? - Screamager
19 Raging Speedhorn - The Gush
20 The Cooper Temple Clause - Promises Promises