Made To Measure Vol.1
CD
CD (Compact Disc)
Herkömmliche CD, die mit allen CD-Playern und Computerlaufwerken, aber auch mit den meisten SACD- oder Multiplayern abspielbar ist.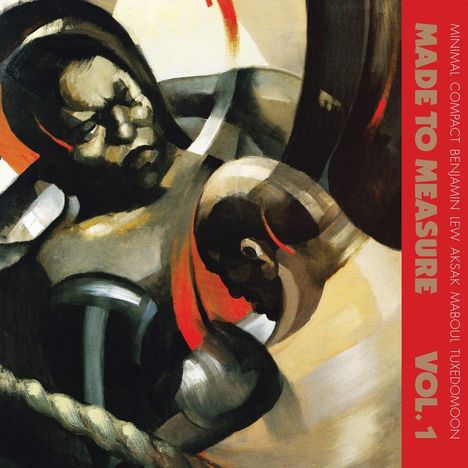 lieferbar innerhalb 2-3 Wochen
(soweit verfügbar beim Lieferanten)
Label: Crammed
Bestellnummer:

10457163

Erscheinungstermin: 30.4.2021
Weitere Ausgaben von Made To Measure Vol.1
*** digitally remastered
*** Digisleeve
Product Information

Crammed's legendary Made To Measure Series of New Music was described at the time as the aural equivalent of a collection of art books. Charting a map of some of the most interesting instrumental music of the era, thirty-five albums came out between 1983 and 1995, including works by artists such as Hector Zazou, John Lurie (his soundtracks for the Jim Jarmusch films), Fred Frith, Arto Lindsay, Zelwer, Steven Brown, Peter Principle, Harold Budd, Brion Gysin, David Cunningham, Benjamin Lew, Ramuntcho Matta, Karl Biscuit, Daniel Schell, Aksak Maboul, Minimal Compact and more.

The loose idea behind the title of the series was: this is music which has been or could have been "made to measure" as a soundtrack for other media (film, theatre, dance, video). We'll also be rolling out selected vinyl reissues of some of the series' classic early releases, starting with the inaugural volume, Made To Measure Vol. 1, the multi-artist album from 1984, containing music created by Minimal Compact, Benjamin Lew, Aksak Maboul and Tuxedomoon for films, theatre plays and dance performances.


Disk 1 von 1 (CD)
1 Various Artists: Bat-Yam - Minimal Compact
2 Various Artists: Too Many Of Them - Minimal Compact
3 Various Artists: Immer Vorbei - Minimal Compact
4 Various Artists: Animal Killers - Minimal Compact
5 Various Artists: AÇ La Recherche De B. - Benjamin Lew
6 Various Artists: Scratch Holiday - Aksak Maboul
7 Various Artists: Odessa - Aksak Maboul
8 Various Artists: Chez Les Futuristes Russes - Aksak Maboul
9 Various Artists: Ossip Et Lili - Aksak Maboul
10 Various Artists: Lili Danse - Aksak Maboul
11 Various Artists: Retour Chez Les Futuristes - Aksak Maboul
12 Various Artists: Mort De Velimir - Aksak Maboul
13 Various Artists: Fanfare - Tuxedomoon
14 Various Artists: No One Expects The Spanish Inquisition - Tuxedomoon
15 Various Artists: Driving To Verdun - Tuxedomoon