Looking At The Pictures In The Sky: The British Psychedelic Sounds of 1968
Looking At The Pictures In The Sky: The British Psychedelic Sounds of 1968
3 CDs
CD (Compact Disc)
Herkömmliche CD, die mit allen CD-Playern und Computerlaufwerken, aber auch mit den meisten SACD- oder Multiplayern abspielbar ist.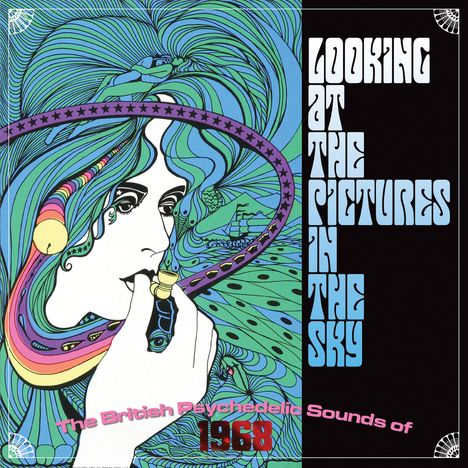 lieferbar innerhalb 2-3 Wochen
(soweit verfügbar beim Lieferanten)
Verlängerter Rückgabezeitraum bis 31. Januar 2024
Alle zur Rückgabe berechtigten Produkte, die zwischen dem 1. bis 31. Dezember 2023 gekauft wurden, können bis zum 31. Januar 2024 zurückgegeben werden.
Label: Cherry Red, 1968
Bestellnummer:

7612405

Erscheinungstermin: 10.11.2017
*** Papersleeves in Stülpdeckelbox
Gesamtverkaufsrang: 16242
Verkaufsrang in CDs: 7202
1968 erschienen viele, vom LSD-Konsum geprägte 45er-Vinylsingles von einer Reihe jüngerer Bands. The Factory, Mike Stuart Span, Fleur de Lys, The Fire, The Barrier, Boeing Duveen, Rupert's People und viele andere veröffentlichten Singles, die von etlichen Psychedelic-Fans als Klassiker des Genres angesehen werden.

»Looking At The Pictures In The Sky« vereint all diese Klassiker, bietet einen faszinierenden Einblick in diese britische (und irische!) Szene des Jahres 1968 und beleuchtet unveröffentlichte Juwelen, Kult-Klassiker, erlesene Aufnahmen, vernachlässigte B-Seiten und alternative Versionen.

Ebenso wie das Äquivalent über das Jahr 1967, »Let's Go Down And Blow Our Minds«, kommt »Looking At The Pictures In The Sky« als vierstündige Anthologie mit 78 Tracks auf 3 CDs in einer auffälligen Box samt 44-seitigem Booklet, das vollgepackt ist mit biographischen Informationen und seltenen Fotos der hier präsentierten Acts.
Rezensionen
»Das informative Booklet der Clamshell-Box lässt dann allerdings den einen oder anderen bekannten Musiker aufschlagen.​ Beispielsweise verstecken sich hinter Jethro Toe die späteren Jethro Tull, und bei Episode Six wirkten die Deep-Purple-Protagonisten Roger Glover und Ian Gillan mit.​ Klar ist unter den knapp 80 Songs Material dabei, das zu Recht in Vergessenheit geraten ist, doch selbst das trägt dazu bei, heutigen Hörern den Sound britischer Rockmusik von 1968 zu vermitteln.​ Und die eine oder andere vergessene Perle findet sich dann doch auf Looking At The Pictures In The Sky.​« (Good Times, Dezember 2017/Januar 2018)
Disk 1 von 3 (CD)
1 PATH THROUGH THE FOREST / The Factory
2 FATHER'S NAME IS DAD / The Fire
3 GONG WITH THE LUMINOUS NOSE / Fleur De Lys
4 MIND'S EYE / Ramases & Selket
5 SPONTANEOUS APPLE CREATION / The Crazy World Of Arthur Brown
6 LULLABY (ALTERNATIVE VERSION) / Grapefruit
7 I WILL NOT BE MOVED / Circle Plantagenet
8 SUNDAY BEST / Turquoise
9 MY SON JOHN / The Onyx
10 THE FANTASTIC STORY OF THE STEAM / DRIVEN BANANA / Legay
11 MR. PARTRIDGE PASSED AWAY TODAY / Fortes Mentum
12 JABBERWOCK / Boeing Duveen & The Beautiful Soup
13 HAZE WOMAN / Anan
14 TALKING ABOUT THE GOOD TIMES / The Pretty Things
15 SUNDAY MORNING / Guy And David / The Five Day Week Straw People
16 ANIMAL MAGIC / Graded Grains
17 SHE / Tuesday's Children
18 MR. LION / The Marmalade
19 UPSTAIRS DOWNSTAIRS / Graham Gouldman
20 FESTIVAL OF THE HARVEST MOON / Joker
21 SO YOU WANT TO BE A ROCK'N'ROLL STAR / Sun Dragon
22 NEVER CARE / Eyes Of Blue
23 NIGHTMARE / The Gass Company
24 IN THE WEE SMALL HOURS OF SIXPENCE / Procol Harum
25 DID YOU DIE FOUR YEARS AGO TONIGHT? / The Web
26 FREDERICK JORDAN / The Glass Menagerie
Disk 2 von 3 (CD)
1 CHILDREN OF TOMORROW / Mike Stuart Span
2 DAWN BREAKS THROUGH / The Barrier
3 MR PINNODMY'S DILEMMA / The Attack
4 TRYING TO GET A GLIMPSE OF YOU / The Freedom
5 I CAN SHOW YOU / Rupert's People
6 LOCKED IN A ROOM / The Poets
7 BLUEBELL WOOD / Wimple Winch
8 TECHNICOLOR DREAMS / The Status Quo
9 MUSIC SOOTHES THE SAVAGE BREAST / The Spectrum
10 HEAD FOR THE SUN / The Movement
11 MIDNIGHT LOVE CYCLE / The Klubs
12 LOVERS FROM THE SKY / Contact
13 JAMIE'S SONG / The Deviants
14 SYDNEY GILL / The Smoke
15 BIRTHDAY / Peter & The Wolves
16 LOVE IS A TOY / Jon Ledingham
17 YESTERDAY WAS SUCH A LOVELY DAY (ELSIE) / Sadie's Expression
18 OMNIBUS (EXTENDED VERSION) / The Move
19 I GET SO EXCITED / Real McCoy
20 MR. GOLDEN TRUMPET PLAYER / Junior's Eyes
21 YELLOW RAINBOW / The Picadilly
22 TIME SELLER (LP VERSION) / The Spencer Davis Group
23 PANTOMIME / Tony Rivers & The Castaways
24 GO AND SAY GOODBYE / Katch 22
25 CORNFLAKE ZOO / Andy Ellison
26 FOR YOUR THOUGHTS / The Alan Bown!
Disk 3 von 3 (CD)
1 HOLD ON / Jason Crest
2 GIRL OF INDEPENDENT MEANS / Honeybus
3 RAINMAKER / Rhubarb Rhubarb
4 HELLO ENID / The Mirage
5 LUCKY SUNDAY / Episode Six
6 WHAT'S THE RUSH, DILLBURY? / Paradox
7 CAVE OF CLEAR LIGHT / The Bystanders
8 ROUND AND ROUND / Skip Bifferty
9 COME ON DOWN / Motivation
10 COUNTRY LIFE / Blonde On Blonde
11 VIRGINIA WATER / Cats Pyjamas
12 AEROPLANE / Jethro Toe (Tull)
13 RAMBLING BOY / Timon
14 ICE MAN / Ice
15 NOW AND AGAIN REBECCA / The U (Don't) No Who
16 FELICITY JANE / Writing On The Wall
17 SYCAMORE SID / Focal Point
18 DO YOU DREAM? / Circus
19 MAXWELL FERGUSON / Brass Tacks
20 PAWNBROKER (DEMO VERSION) / Barbara Ruskin
21 SOFT WINDS / The Orange Bicycle
22 WITHOUT YOU / Coconut Mushroom
23 HAUNTED / Peter Thorogood
24 WHICH DREAMED IT / Boeing Duveen & The Beautiful Soup
25 TURNSTYLE / Trot
26 PICTURES IN THE SKY / Orange Seaweed